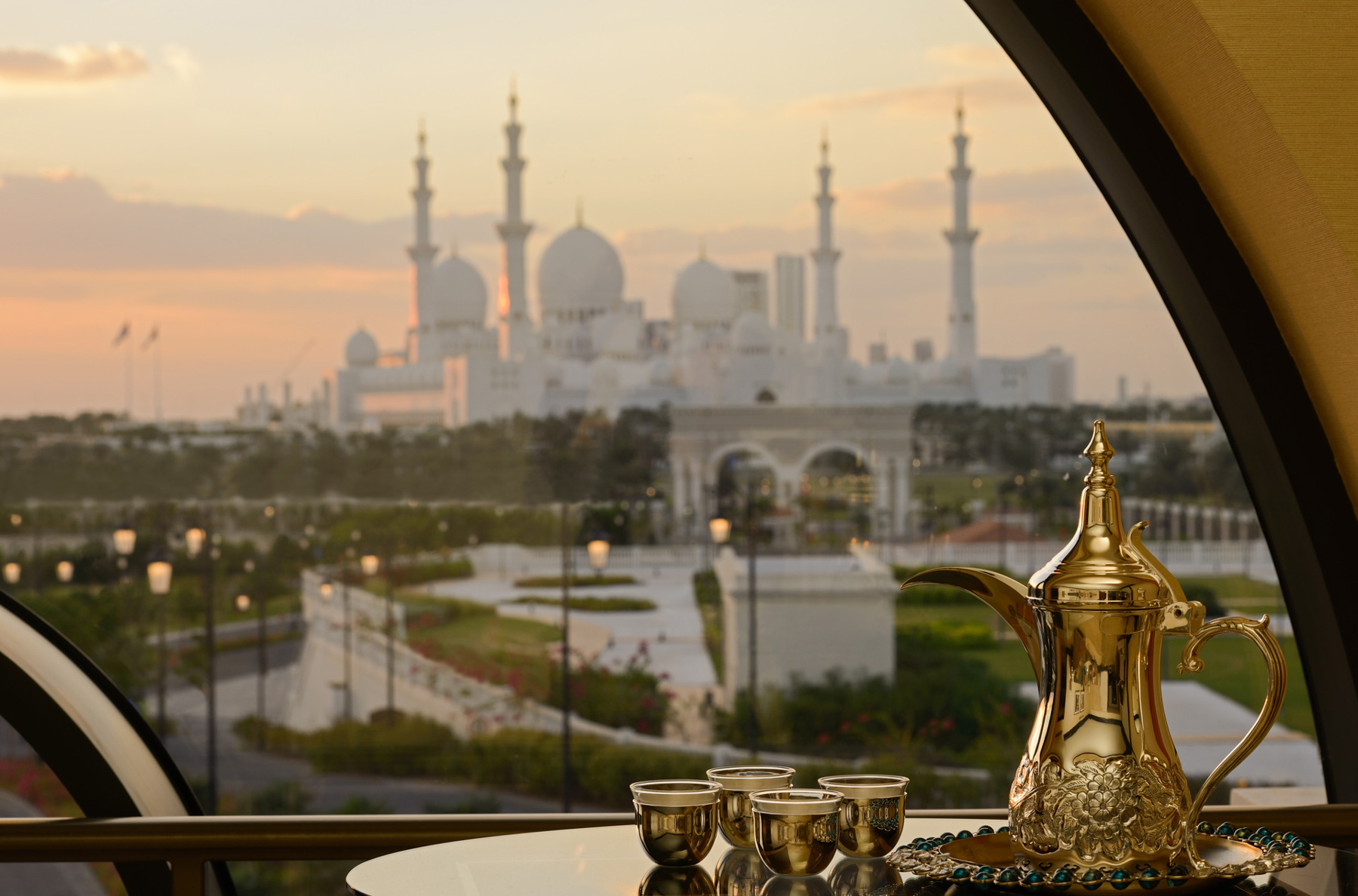 Barreling along in a black Mercedes sedan past mountainous sand dunes in the Abu Dhabi desert at a speed of roughly 99 miles per hour, I learned three interesting things from my Emirati travel guide. The first is that some camels, depending on breed, cost upward of $1 million. The second is that some camels participate in beauty pageants. The third—and the presumed explanation for such extravagances as camel beauty pageants—is that sovereign investment and a nine-percent share of the world's oil reserves have fueled growth and wealth in Abu Dhabi ever since it became the capital of the United Arab Emirates 43 years ago.
Merely getting to this fascinating city was a luxury experience on Etihad Airways, the national airline of the UAE whose home base at Abu Dhabi International Airport is accessible via direct flight from North Texas. In business class, uniformed flight attendants pour champagne and pass out amenity kits stocked with eye masks and earplugs. Meanwhile, fliers may order from an internationally culled menu at any time during the flight. Business class seats are equipped with personal entertainment consoles and adjust to lie flat. First Class status books a whole "apartment" that's spacious enough to walk around in. If you need even more privacy and perhaps an in-flight butler, reserving The Residence gets you both—plus a living room, bedroom, and en-suite bathroom.  
I was visiting for the 2014 Formula 1 Etihad Airways Abu Dhabi Grand Prix, which has been held each year since 2009 at the Yas Marina Circuit on Yas Island. Development of the man-made island began in 2006, and it now boasts an array of entertainment amenities alongside, oddly, IKEA and Ace Hardware stores. Yachts dock at the Yas Marina while their passengers golf Yas Links' 18 holes or ride the "world's fastest rollercoaster" at Ferrari World, the Formula Rossa. The coaster launches riders from zero to nearly 150 miles per hour in less than five seconds, and Ferrari World itself is an even wilder ride. (It's billed as the "world's largest indoor theme park" and has a huge collection of the Italian supercars on display.) An apparent home to all things extravagant, Yas Island also is where I dined on stuffed lobster in the swanky Formula One Paddock Club suite, while British Mercedes racer Lewis Hamilton won the Grand Prix and a champagne shower from Prince Harry. But, such royal-caliber goings-on seem routine in Abu Dhabi.
After I landed and enjoyed the Etihad Arrivals Lounge's après flight refreshments, a concierge helped me into a car to the Ritz-Carlton Abu Dhabi Grand Canal. This elaborate hotel features Italian Renaissance-inspired architecture and is situated almost directly across from the magnificent Sheikh Zayed Grand Mosque—a pure-white marble monolith that houses the world's largest hand-knotted carpet, plus a nighttime lighting system that mimics the phases of the moon. (If you plan to visit, long sleeves and pants are required, and women must cover their hair with a headscarf.) When I arrived at the hotel there was a shiny red Ferrari parked out front, part of an owners' convention that was in town. The Ritz oozed extravagance with its 532 rooms and nine restaurants built on 57 acres of waterfront real estate, but it's a gem among gems in Abu Dhabi.
Along the city's oceanfront Corniche sits another sprawling hotel, Emirates Palace, which holds the title of the world's second-most-expensive hotel ever built, at a cost of nearly $3 billion. It was constructed from the sand-up over three years, and much of it is decorated with gold. Visitors looking to take a piece of the palace home with them can purchase gold in various shapes and sizes from an ATM in the hotel's lobby.
Beyond all the glitter, there's plenty to see outside the city limits as well. Al Ain, a city built atop a cluster of oases whose name translates to "the spring," was named to UNESCO's World Heritage List in 2011. It's one of the few places in the emirate that has maintained traditional cultural authenticity. The oasis in the heart of Al Ain houses a massive array of palm plantations with shady walkways, allowing for peaceful escape from the noise of the city (though you'll still hear adhan, or calls to prayer, when they reverberate from neighboring mosques).
During a desert excursion, my travel companions and I stopped for lunch at Al Bada Hotel & Resort—but not in the resort itself. Under a colorful tent, we sat atop pillows arranged around a long tablecloth and ate a traditional feast of mansaf (goat cooked in fermented yogurt and served over rice) from a communal bowl with our bare hands as nomadic, desert-dwelling Bedouin tribes had for centuries. It was a far cry from stuffed lobster, but the Arabic coffee that followed was delicious. The drink is made from boiled, ground coffee beans with added saffron and cardamom, and it's poured from a pot called a dallah into handle-less cups called finjaan. They're the size of espresso cups and filled only enough to cover the bottom.
Arabic tradition says that, in the spirit of the vast hospitality of the desert, even your enemies should be served at least one cup. In an emirate as friendly and as generous as Abu Dhabi, though, I challenge you to make anything but friends.