I've always been a tough sell on the West Coast, despite the fact that most of my oldest friends have moved to Los Angeles. I've found the culture of Tinseltown's entertainment industry to be especially unnerving, and I don't appreciate the collective head-turns—made in restaurants, bars, shops, and really anywhere a person could walk into—to determine whether a celebrity is gracing the place with his or her presence. So imagine my delight when, while temporarily living and working in Hollywood one summer, I discovered the serenity and charm of Santa Monica in western Los Angeles County. A shimmering diamond in the rough landscape of La-La-Land, this beachfront locale has several merits: It's relatively removed from the materialistic "industry" bourgeoisie, it delivers a balanced mix of upscale and laid-back, and it's an environmental embodiment of California cool.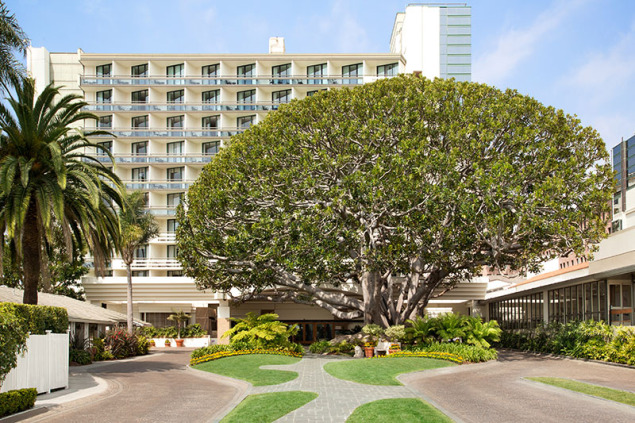 That summer, I slipped out of Hollywood to drive westward toward Santa Monica's iconic pier every chance I got. On a more recent trip, booked when Texas' sweltering summer temperatures were looming, I bypassed downtown L.A.'s famously insufferable traffic and posted up beachside with a glass of rosé immediately after my direct flight from DFW Airport to LAX. The Fairmont Miramar Hotel and Bungalows, a luxe enclave built in 1921 whose entrance is flanked by a nearly-130-year-old fig tree, puts you about as close to the waves as possible while still providing direct access to shopping, dining, and sites of interest.
I stayed in a corner suite in the hotel's Ocean Tower, which was recently revamped by interior designer Lynda Murray to feature neutral beach-toned décor and L.A.-sourced furnishings that create an authentically Southern Californian look and feel. For guests requiring more space and luxury, there's the newly unveiled three-bedroom Bungalow One, whose Michael Berman-outfitted interior features a perfectly circular bathtub and the designer's huge Bijou bed. It's topped with a $35,000 mattress—yes, $35K—on which visitors sleep like true California kings.
Head down to the beach in the morning after the fog starts to roll in—don't mind the hotel's Beach Club beach butlers carting down lounge chairs and sandcastle-building equipment—and grab a bicycle from Perry's Café and Rentals. The bikes come in all colors and varieties, including tandems for coupled cyclists and adult-sized tricycles for beginners. Time flew as I navigated a bright-green bike across the sandy, meandering oceanfront sidewalks on Perry's historical "Legends" tour, which provides tidbits on John F. Kennedy, Marilyn Monroe, George Carlin, and Shirley Temple—all of whom have ties to Santa Monica.
Though bikes aren't technically allowed on the tattoo shop- and street vendor-packed Venice Beach Boardwalk, about three miles south of our hotel, we delinquently took this route to the neighborhood's namesake canals. The waterways were built in 1905 by developer Abbot Kinney to achieve an Italian aesthetic on the California coast. And, though many have been filled since to accommodate roads and neighborhoods, the canals that still exist were picturesque enough to have me forgetting that I was not in Europe.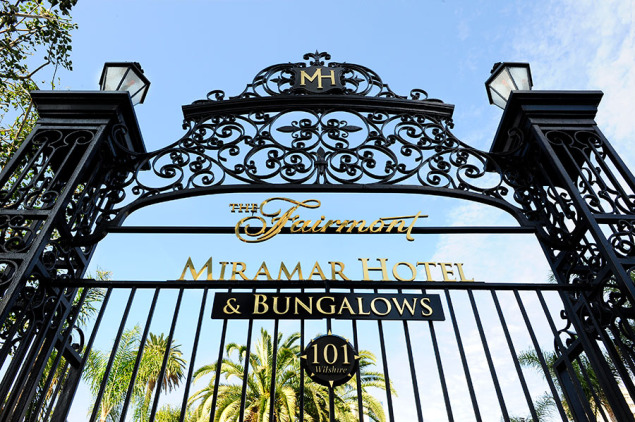 The area's locals range from Old Hollywood transplants to tattooed surfer types and Free People-adorned hipsters. But the laid-back clientele intermingles in Abbot Kinney Boulevard's high-end coffee shops and boutique versions of big-city brands like Jack Spade, Aviator Nation, and Le Labo, which custom-pours perfumy candles and bottles bath amenities for the Fairmont Miramar. (The hotel even personalizes en-suite bath products with guests' names, which is a fun surprise to discover upon arriving in your room.) If you're not a cyclist by nature, the Fairmont's house car service—a fleet of black luxury cars in sedan and SUV varieties—is happy to deliver guests gratis to the area's many attractions.
But without the aid of a car and within walking distance, there's plenty to do in and around Santa Monica. The Fairmont Miramar is also home to The Bungalow, a trendy bar and lounge whose indoor/outdoor setup and ambiance is reminiscent of a Lucky Brand denim commercial set to the sounds of classic rock and soul. The happy hour crowd there is business casual, but the scene changes in the evenings to include crop-top-wearing twentysomethings who wait in line for hours to get their hands on cocktails with names like "Kick in the Junk" and "Bitchin' Sangria."
For a more refined bar and restaurant experience, have a car drop you at Areal on Santa Monica's Main Street. The locally sourced, all-organic menu does not disappoint (its nighttime party scene starts much later). Or, stick to Fig at the Fairmont Miramar. Named for the iconic tree out front, the seasonal bistro is a charming setting for candlelit dinners as well as a favorite brunch spot of former California Governator Arnold Schwarzenegger.
Aside from easy access to drinking, dining, and playing in the waves, Santa Monica's front-row seat on the Pacific Coast Highway provides both breathtaking views and a direct route to the Pacific Palisades and Malibu. I found peaceful repose after a quick ride up the PCH to the Getty Villa, whose outdoor spaces and architecture are as impressive as its ancient Greek and Roman art collection. This museum is a favorite for out-of-towners and K-12 school groups, and lends itself extraordinarily well to summertime picnics. (Just pray they have enough rosé on hand to last an entire afternoon.)
Get the TravelClub Newsletter
Explore the best deals, inspiration, and opportunities for your next travel destination to escape in style.