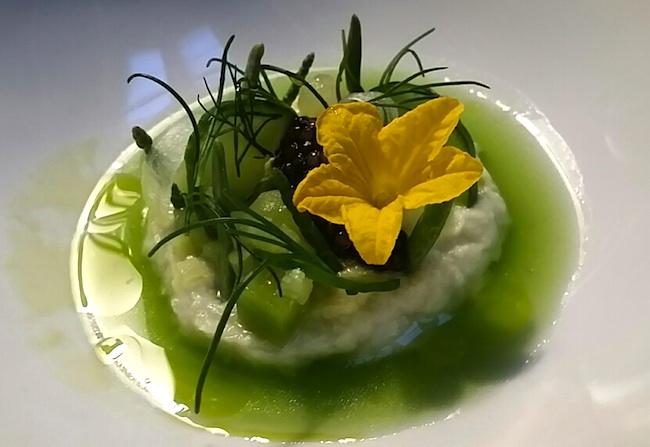 When you think wine country, California cuisine from the Napa Valley your mind might immediately go to seasonal, fresh creations, perfectly paired with wines of the region, or to the flavorful, often whimsical creations from celebrity chefs like Thomas Kellar, Cindy Pawlcyn and Michael Chiarelo. But just a touch up valley from where these chefs made their names well known to tourists and locals alike, Chef Christopher Kostow is making his own celebrated name for himself. At the 3 Michelin star rated Restaurant at Meadowood, Chef Kostow uses seasonal ingredients, picked that day from the abundant Meadowood Culinary Garden, or from the expansive garden he manages with the nearby St. Helena Montessori school, creating refined, thoughtful and simply divine meals for guests. He is completely modern, with classic influences. He embraces all that California affords while remaining true to his ever evolving vision, inviting others – from growers to foragers to artists to guests, to come on this culinary journey with him.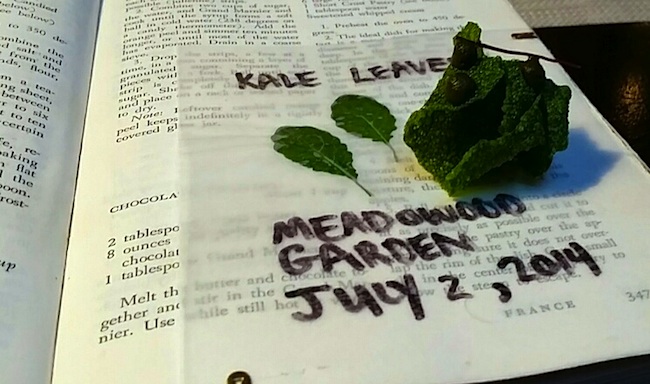 This is tweezer food…at the highest level. Every carefully placed element representing Kostow. Each lightly resting on dinnerware designed for his creations resembling rustic elements of nature and the beauty of the earth, much like the surroundings at Meadowood, enhancing the sensory experience. The dining room, featuring 10 course tasting menus, has been a part of the Restaurant since before Kostow started in 2008. Last year, after an expansion of the bar and building of a new lounge area, The Restaurant added a three course tasting menu at the bar, as well as a few playful bar snacks available with intricately designed cocktails from lead Bartender Sam Levy.
A few years ago I enjoyed the full 10 course menu, at the time when the Restaurant had earned 2 Michelin stars, shortly before earning their third. I had a chance to try the three course bar tasting, with wine pairings, recently while traveling in the area on vacation, not as a work offering, but paying for our experience and look forward to again, as it was a meal that ignites inspiration and creates long lasting memories on the palate and in the mind.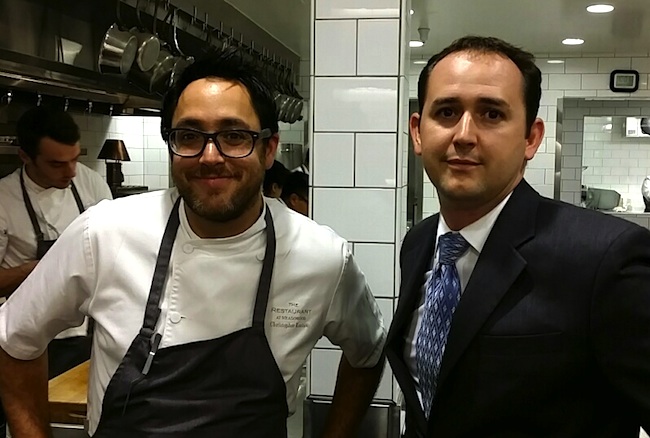 After enjoying a cocktail in the lounge, my husband and I started our experience at the bar, greeted with a personal, hand written note and then welcoming handshake from Restaurant Director Nathaniel Dorn. An Arizona graduate with a degree in Architectural and Mechanical Design and Drafting, Dorn is the eye behind many of the aesthetic elements scattered throughout the dining room, bar and lounge. The surroundings are enhanced by the flawless, unobtrusive service of Dorn's staff, May 2014 recipients of the Outstanding Service Award from the James Beard Foundation.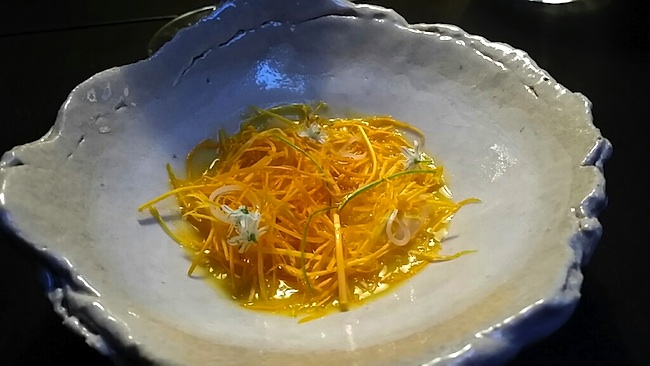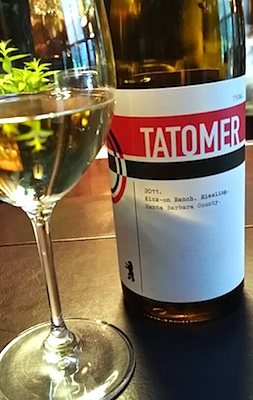 For our tasting menu we opted to include the wine pairings, which this night started with a dry Riesling from Tatomer Vineyards in Santa Barbara…an interesting selection for Napa wine country, but accordingly, you pair the best wine with the flavors presented, sourcing from any place in the world. Garden inspired bites, like baby vegetables slightly fermented with Champagne and fried garden kale with capers started the night, leading into a chilled creamy Daylily Broth with roe, creating a floral and fresh palate, with a light rich creaminess from the slight cooking of the flowers, paired with a flash fried lobster stuffed lily blossom.
Cucumber Risotto (pictured above) followed, with an almost porridge-like texture in the "risotto" created by pressure cooking the seeds of English cucumbers and mixing in a touch of crème fraiche, then adding fresh cucumber, briny coastal grasses, edible flowers and sturgeon caviar to the dish with a light cucumber broth. Green and fresh, yet with richness and texture created through the pressure cooking of the seeds. Seeds….
My husband swooned over what was perceived to be an egg dish, which in reality was a potato dish created by dipping baby fingerling potatoes in beeswax and poaching them to create a perfect creaminess, resting atop airy white mashed potatoes with crispy potato crumbles. Simplistic, yet elegant, enhancing the paired glass of Morey-Coffinet Premier Cru "Dent de Chien" Chassagne-Montrachet.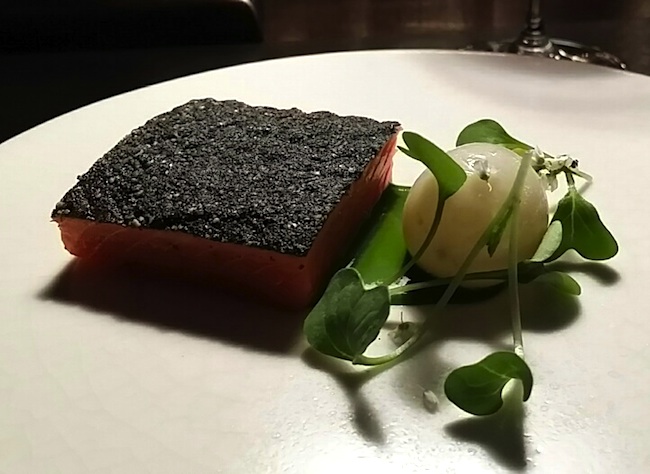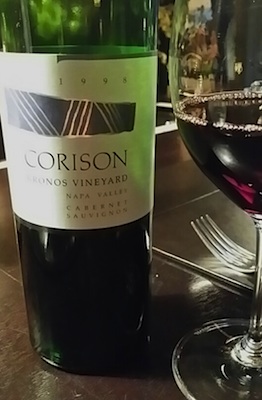 Preferring fish, my main course was a barely warmed, skinless wild salmon with a light buckwheat shell mimicking the look of crispy salmon skin. For my husband, simply seared, fork tender Koji beef, enhanced with earthy Chanterelles, pairing with a nicely rounded 1998 Corison St. Helena Cabernet Sauvignon.
A dram of Madeira was poured to pair with an elegant display of desserts, including coconut borage with a healthy dash of olive oil and a green rhubarb puree and chewy pralines. The 3 courses in reality is quite a few more, as chef's playful additions enhance the experience by leading the palate into the headlining show with tasty warm up acts.
Watching the chefs in the kitchen of the Restaurant at Meadowood you would think they are a part of a well trained theater troop, gliding the meal from scene to scene, from one station to another, led by their technical and artful director, Chef Kostow.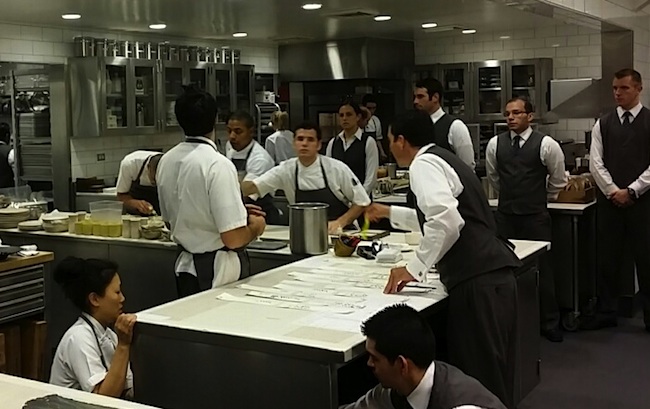 The full experience of a 10 course tasting in the dining room is $225, the three course is $90 with wine pairings added for $60 a person. There is also the option to enjoy an extensive 20 course tasting seated in the kitchen, overlooking the chefs at work for $500 a person. Reservations for the dining room and 20 course tasting menu options can be made 3 months in advance for their Monday-Saturday dinner only service. If you know you are going to be traveling to Napa, which so many of us from Dallas do often, go ahead and make your reservations, especially if opting for the 3 course tasting at the bar where there are limited seats. You won't be disappointed.
October will also be an exciting time for Chef Kostow as his first book, A New Napa Cuisine, will be released. The book is as much a cookbook through a professional eye, a heartfelt memoir, and a celebration of the influences and inspiration Chef has found throughout his career, paying homage in particular to the artisans, products, growers, foragers and guests that make Napa Valley so special. As a fan of Kostow's, who has watched him excel in his journey over the past several years, I can't wait for this release. More information here.
Get the SideDish Newsletter
Dallas' hottest dining news, recipes, and reviews served up fresh to your inbox each week.