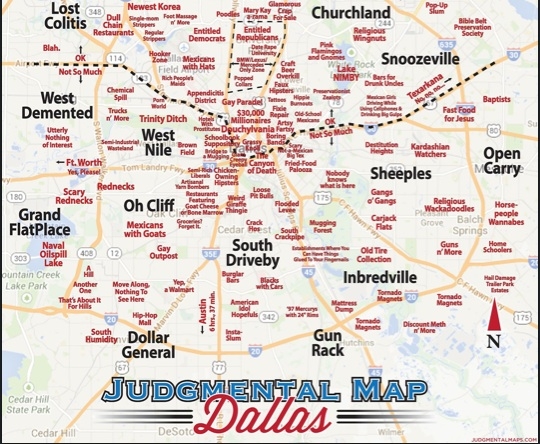 I love maps of Dallas. I can't read a traditional map to save my life, which pre-iPhone days, made for many hours lost somewhere between point A and point B. But I love maps that tell me something about my city. One of my favorites is this map by David Harman, which is screen-printed and hand made. It's pretty, and I've seen it framed and hanging in various coffee shops around town. (David created these maps while in Dallas, but is now pursuing an MFA in Painting in Knoxville.) My other favorite is this one, created by the folks at bcWorkshop. This map portrays the 318 communities in Dallas. I printed this out and put it on my desk for a few days. I heard, "I didn't know that part of town is called that" multiple times while people studied the map. It also led to an argument or two. Both of the above examples are made with love and lead to a better understanding of the city. I don't think this Judgmental Map of Dallas was made in the same vein. And while I don't agree with most of the stereotypes, it does make for an interesting read.
Get the D Brief Newsletter
Dallas' most important news stories of the week, delivered to your inbox each Sunday.