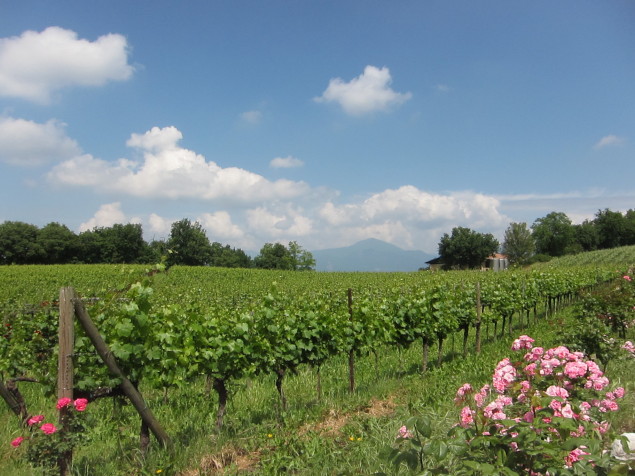 Franciacorta…a name, a region, a wine…all completely Italian from a majestic wine country, so pleasing to the eye that it is the facade that New World wineries should look to when they want to create an aesthetically pleasing, welcoming property….the beauty of Franciacorta, though, is this region is not created or falsified, it simply is.
The Italian sparkling wine region of Franciacorta is perhaps the first intentionally created wine region in an Old World country.  Sitting outside of Milan in Lombardy near Lake Iseo, the historic region has a past record of ties to the rulers of Venice, and the Holy Roman Emperor before that, with Roman ruins still standing in Brescia, the largest town of the region, dating back to 90 A.D. But most recently Franciacorta has been known to be a summertime and weekend playground for the wealthy of Milan, throwing lavish parties for friends in their lakeside estates.
In the 1960's, a handful of these wealthy weekend visitors and businessmen got together to create something in the area that was unlike anything else, something that they could enjoy and would also be a draw for visitors. The group, partially made up of well known Milan fashion and business aristocracy, like the heads of Prada, Escada, Dolce & Gabbana, Beretta and more, led by winemakers like Franco Ziliani, recognized as the father of Franciacorta, created the sparkling wine region in Franciacorta with the goal to rival the best Champagne houses of France, and in elegant, tasteful, chic, very Italian style…no expense was spared.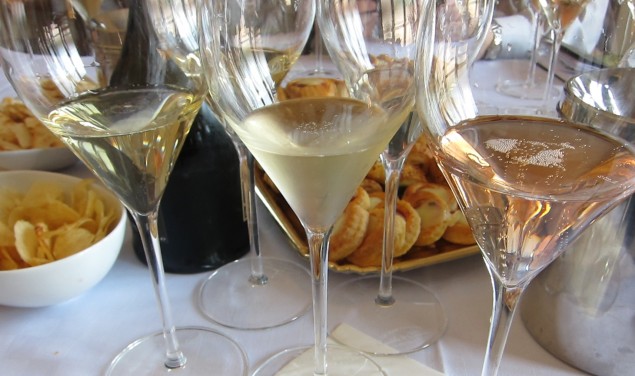 I visited the region recently, traveling as a guest of the Franciacorta Consortium, a group that officially formed in the 1990's by 29 producers who joined together to create a governing body to ensure the highest production methods for their sparkling wine were kept, while monitoring the region and respecting its goals, all built around creating quality sparkling wine. Today there are over 120 members led by Mauricio Zanella, president of the Consorzio Franciacorta and owner of prestigious Ca'del Bosco winery, ensuring the DOCG, Denominazione di Origine Controllata e Garantita (Denomination of Registered Origin Guaranteed,) wine continues to meet its standards, the highest standards set for any sparking wine region in the world…yes, even more than Champagne. Franciacorta was the first in Italy to achieve this prestigious DOCG, quality designation, obtaining it in 1995. Previous to 1995 the region had gained DOC status in 1967.  Often, when you think Italy and sparkling wine you may think of Prosecco or Moscato d'Asti. Franciacorta is neither….it is traditional method, it is high quality, it is refined, and it is very special.
Though there are various house styles evident throughout the 19 communes of Franciacorta, there are a few basic similarities – these wines are fresh, vibrant, lively and crisp….and each has its own personality.  Each winery uses similar techniques, like they only make their sparkling wine in the traditional method with the second fermentation taking place in the bottle; the only approved varieties grown in the region for Franciacorta are Chardonnay, Pinot Noir and Pinot Blanc; aging stipulations are very specific, as are spacing and how vines can be planted; each winery produces similar types of Franciacorta, like their Pas Dose or zero dosage wines, meaning after the second fermentation and extensive bottle aging has occurred, and the settled yeast from the second fermentation has been removed trough disgorgement, the winery simply adds a neutral base wine to replace what was lost in disgorgement, then they cork the bottle instead of adding a touch or more of a sugar solution with a base wine, and then adding the cork, as is typical in all sparkling wine styles made around the world from Extra Brut to Sec.
The resulting product of these Pas Dose sparklers is a lively, persistent and pure wine with great acidity and balanced fruit, honey and faint floral notes that could very well be how Franciacorta will make a name for themselves throughout the world as this is not typical, but it is delicious.
Why is this Pas Dose, or zero dosage, wine so good in Franciacorta?
The region has very hot days in the summer, but also benefits from maritime temperatures filled with cool nights and swift breezes flowing through the vines from Lake Iseo, creating very ripe fruit that is juicy enough on its own that additional sugar isn't needed to soften the wine, while cool breezes ensure vibrant acidity remains in the fruit and in its resulting wine, creating a combination that is difficult for other wine regions to achieve.  For instance, in a region like Champagne, their location in northern France is inherently cooler making it difficult to achieve the naturally ripe, sweet, juicy flavors in the fruit, resulting in grapes with high acid levels which is softened with the addition of dosage, even in their driest, Extra Brut wines.
Through all of these benefits and regulations of the region, the key to its success is the people and the passion they feel about what they are doing and the future of Franciacorta. Still new in Old World Wine terms, each producer in the area believes in their mission and abides by the regulations to fulfill their common goals. Their love and heart comes through in their vibrant wines filled with tiny dancing bubbles.
And, for the wine of the region, local chefs and restauranteurs have mastered the art of pairing an entire meal with Franciacorta, from dishes like rich, barely seared Char with baby beets and herb oil paired with Brut Franciacorta; to a wide array of risotto dishes filled with regional, seasonal ingredients like asparagus and artichokes paired with a crisp and lively Pas Dose, clearly mastering the most difficult food pairing in most chef's repertoire; to a favorite traditional dish of the area, hearty filet of beef covered in Bagoss, a regional cheese of the region, paired with a 60 or 72 month bottle aged Franciacorta Brut Rose of 100% Pinot Noir.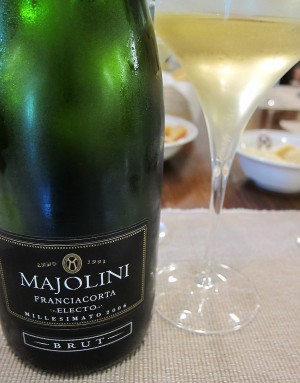 Throughout the course of this majestically beautiful trip we visited some of the oldest wineries in the region, from the special Majolini, a winery that dates back to the 15th Century producing the red Majolina grape variety, but was reestablished in the late 1960's when the region became dedicated to Franciacorta by Valentino Majolini. Today the winery is run by his children and grandchildren. On our tour throughout the winery we saw the dedication both to artistic craftsmanship in the wines, as well as artistic design within the work that is done, with grandson, Simon, taking the lead to work with different designers and artists to create experiences within the winery for guests to understand their devotion to all things beautiful and ethereal. And, the wines were simply incredible.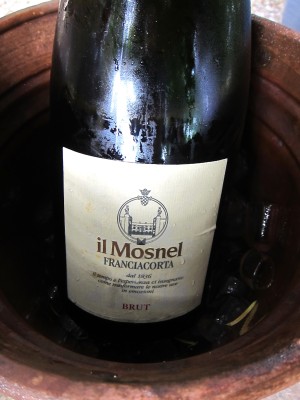 Il Mosnel also has been growing grapes in the region since 1836 when the Barboglio family inherited their 16th century property. It was Emanuela Barboglio, who had the insight and determination to create something special on her family land, and planted the first modern vineyards for Franciacorta, becoming one of the first to produce DOC Franciacorta wine in 1968, shortly after the region gained the designation. Today, her children manage the property with Giulio Barzanò overseeing production and Lucia Barzanò handling marketing. I had a chance to taste with Lucia over an incredible lunch of handmade pasta with ricotta and herbs paired with their bone dry, citrus and white flower filled Il Mosnel Pas Doce. Unlike many in the region who learned the business from their fathers and grandfathers, Lucia had a chance to watch her determined mother create one of the most well respected wineries in the region, producing crisp, fresh and balanced bubbles, enhanced by the tranquil garden setting of their 1550's estate…a place to put on your must visit if traveling to the region.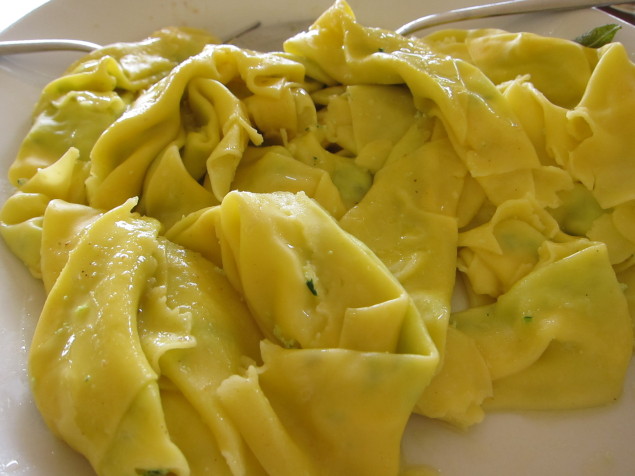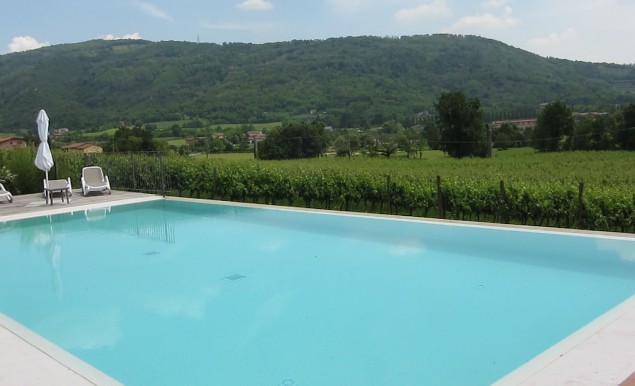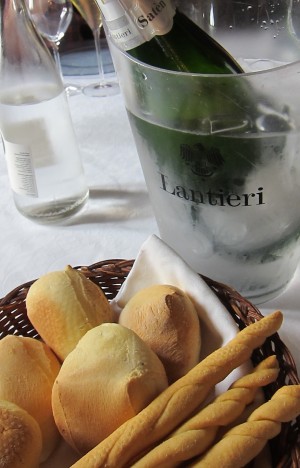 Lantieri, with roots dating back in the region to 950 A.D., brings an extra bonus to visitors of the region with their Agriturismo, giving guests the opportunity it's to rent guest rooms on their pristine property or enjoy a lavish lunch at their gorgeous winery. They have 7 guest rooms available, starting at around 100 euros a night, ideally situated in the middle of their vineyards adjacent to their dining area that is open to guests staying at the winery as well as visitors to the town.  As beautiful as our travels throughout the area was, the second I saw their property, all I wanted to do was curl up in the Italian sunshine by their immaculate swimming pool in the middle of their lush vineyards sipping their small production Franciacorta bubbly.
Details on each winery in the region can be found on the Franciacorta Consortium site here.
Luckily, there are a number of Franciacorta sparklers that are available locally at wine shops throughout Dallas, with Jimmy's Italian Market on Fitzhugh in Dallas carrying the largest selection. A few to look for include Montenisa from 26th generation winemakers, Alessia, Albiera and Allegra Antinori, daughters of Piero Antinori, creating Montenisa to honor their grandfather, who once made Italian sparkling wine. I had a chance to sip the Montenisa Franciacorta Brut at a luncheon with Allegra recently at The Mansion on Turtle Creek, where I attended as her guest. It had been 20 years since the middle Antinori daughter last visited Dallas and on that hot June afternoon we agreed that Dallas is still sweltering in the summertime, and nothing is better to sooth the heat than a refreshing glass of Franciacorta, hers made with a surprisingly high amount of Pinot Blanc, about 30%, blended with Chardonnay and just a touch, around 10%, Pinot Noir. Between $30-$35 a bottle, available at Jimmy's Italian Food Store and Dallas Fine Wine.
Guido Berlucchi, descendent of the Conti Lana de' Terzi, was the first producer of Franciacorta sparkling wine in the region in 1961. The Count had been making a Pinot Nero at the time, but couldn't stabilize the wine throughout the production. A young enologist, Franco Ziliani, was brought on to help with the current wine production and proposed to the influential Count the idea of making a French style sparkling wine of the highest quality, in the traditional method from the Pinot Nero grapes. In 1961 the first bottles of Pinot di Franciacorta were bottled. The Berlucchi 61 Franciacorta Brut and Brut Rose honors this first bottling, the first of the region. $20 available locally at Total Wine and More Stores.
Ca' Del Bosco Franciacorta Cuvee Prestige Brut NV, from Mauricio Zanella, president of the Consorzio, utilizes the traditional technique of blending several vintages to ensure the house style of the wine is consistent from year to year. Zanella is also a fan of Pinot Bianco, Pinot Blanc, blending high percentages of the fruit into his Brut Franciacorta in any given year. Full bodied and beautifully well rounded, filled with flowers, toasted vanilla and green apple for a lively, yet balanced sparkler that would be ideal for enjoying with creamy risotto dishes. $35 at Pogo's and Jimmy's.
Bellavista, or "beautiful view," could not describe the location of Vittorio Moretti's Franciacorta winery better.  Nestled in a hillside overlooking the village of Edbrusco Bellavista rests on almost 470 acres of land, of which 264 are planted to vineyards, managed completely organically. Though not the first in the region, the winery was founded in the mid-1970's when Moretti turned his winemaking hobby into a business, they are considered one of the best, highest quality in the region, with highly complex, rich, refined characteristics.  Their sister winery, Contadi Castaldi, takes a slightly different approach while maintaining the quality.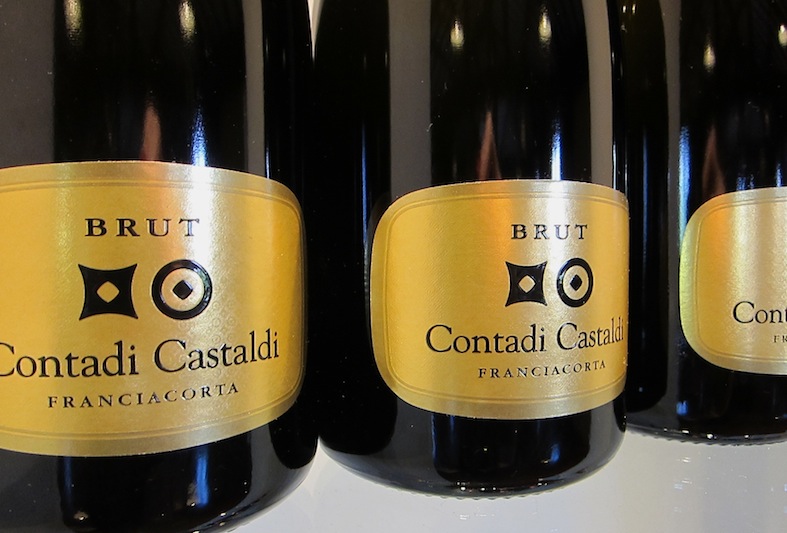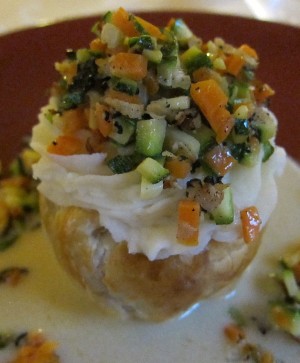 Contadi Castaldi has a lighter, approachable, fresh style and feel, targeting a younger palate both in price point and overall taste.  Made from fruit sourced from vineyards they manage with precision, yet are not owners of, scattered throughout all of Franciacorta, benefiting from all elements the region has to offer with different soil types and micro climates, adding to the complexity of the wine without diminishing its overall fresh characteristics. Both Bellavista and Contadi Castaldi are available at Jimmy's starting around $24 for the Contadi Castaldi Brut and Brut Rose up to $148 for the Bellavista Vittori Moretti Extra Brut, an incredibly special and very dry 50/50 blend of Chardonnay and Pinot Noir created to honor Bellavista's founder, which I had paired with a puff pastry filled with creamy potatoes topped with a raw artichoke salad with black truffle (pictured right.)
Get the SideDish Newsletter
Dallas' hottest dining news, recipes, and reviews served up fresh to your inbox each week.