There are some very exciting things happening these days in Willamette valley. Yes, it is a region known for their stellar Pinot Noir, but beyond that the region continues to make headway on a few beloved varieties that are just now really developing in the area, like Chardonnay. I was up in the region last weekend, sampling through a selection tasting as a guest of the wineries, and without question, a handful of these special producers have figured out what will work in the volcanic soils of the region, and what won't, delivering bright, balanced, elegant wines with character. Promising for the future as these wines are a far cry from some of the first Chardonnay wines produced in the region only a few years ago.
A little history on Chardonnay in Oregon and why now, over 40 years into growing grapes in the region, they are finally producing quality Chardonnay.  The region was developed to focus as, and always has been, on makingPinot Noir.  The founding winemakers in the Willamette Valley came to these volcanic soils, with terroir so similar to Burgundy, and knew it was the right variety. Planning and vineyard management chose the most ideal spots of land in the Dundee Hills or Chehalem Mountains to plant Burgundian clone vines – Pommard, clones 777, 667, 115, etc.  They knew the Oregon Coast created constant breezes that kept mildew off temperamental vines; they understood the volcanic soils would create flavor-filled wines full of character; and they knew the climate was perfect to create wines with great depth, balanced acidity, and  richness.
Pinot Noir was the focus, the star, the dream. White wines were usually  an afterthought. Some winemakers planted the beloved Chardonnay vines because they needed a lush white wine in their wine program. Often these vines were planted in poorer quality soils from those used for their Pinot Noir, and at the time, primarily planting Chardonnay clones that had come into the state from California, like the popular Wente clone that was the go-to for many California winemakers. However, Oregon is much cooler than California, with much higher amounts of rainfall and soils that are quite different.  It was also a time when full-bodied, oak and butter filled Chardonnay wines were the go to.  In the early of days Oregon Chardonnay the wines were often described as flabby, unbalanced, and drab or highly acidic. The vines for the type of fruit they had planted couldn't ripen in Oregon soils.
Then, along came David Adelsheim, one of the father's of Oregon wine country. He will never to say so because technically he didn't  arrive to the region as early as Dick Erath( Erath) David Lett (Eyrie), or Dick Ponzi (Ponzi). However, he has been making wine in Willamette for over 40 years. I'd say he's earned his credibility.  In the late 1970's David, went to Burgundy to work harvest. He experienced the effect of the cool climate on Chardonnay which were born out of clones (or the specific DNA of the variety) from the region which produced elegant, balanced, and very beloved Chablis and Montrachet.  He came back to Oregon and immediately set on a quest to bring these "Dijon clone" Chardonnay vines into Oregon. He followed proper practices and worked with Oregon State University instead of bringing a few vine cuttings back in his bag and creating a whole line of "suitcase clones" that had become very popular with the region's sister variety, Pinot Noir.  Over time and with great determination, the clones were tested, identified, and deemed clean (without phylloxera or other harmful diseases) and eventually planted into Oregon soils.
The result, now after 20 years of use in Willamette, are stunning wines filled with crisp acidity, lively citrus and stone fruit notes, some with layers of tropical and tree fruit, but mainly, interesting wines that you drink to savor and truly enjoy.  Those California clone Chardonnays are also still being produced today as he clones, like anything put in a different environment for a lengthily period of time, will adapt to the current conditions. Our palates also have changed. Wine drinkers aren't looking to enjoy the big butter bombs of days past.  Though, I admit, I do occasionally like a super creamy, very rich, and full-bodied Chardonnay, especially in the winter.  However, the lighter, fresher, more approachable white that clearly represents the terroir of the region is more of an every day wine, and the following from Willamette will not disappoint. As these wine are all their special reserve or 2nd tier labels, they will be available via their winery website. Locally most of these winery's first tier wines are available at Spec's and Total Wine and More.

Oregon native Tony Soter cut his teeth on not only making stellar Pinot Noir from some of those "suitcase clones" in Napa Valley, but also some incredible Cabernet Sauvignon, making wine for everyone from Shafer to Araujo to Spottswoode, to his own property, Etude, where you can still find his Heirloom Pinot Noir that may be the result of some of those suitcase clones.  2007 was his last vintage in California, leaving Napa to give his full attention to Soter Vineyards, his stunningly beautiful winery in the Yamhill-Carlton AVA of Willamette, owned with his wife Michelle.  His Pinot Noir continues to be exceptional, from his sustainably farmed, estate grown Mineral Springs Ranch to fruit sourced from throughout the Northern part of Willamette with his North Valley.  Along with Pinot he has made textured, elegant and beautifully balanced sparkling wine for years, with a good portion of the winery Chardonnay included in this production of their "Soter Pop." This year they are releasing a special 2011 Reserve North Valley Chardonnay along with their entry level 2012 North Valley Chardonnay.  Both fully express the region and how different the seasons were from the cool vintage 2011, creating very crisp, mineral and earth driven vintage with incredible acidity and ageablity, to a much riper, fruit forward, juicy citrus and tree fruit filled, warm weather vintage in 2012.  The Reserve balanced steely, stone fruit and mineral notes with a layer of lemon balm, toasted vanilla and Asian spice. Interesting, complex and very balanced, a wine that is delicious now, but can also be easily aged for a period of time. $50 available via their website.
I don't know that I have tasted to vintages back to back of the exact same wine (same fruit, same vineyard, same winemaking process) from 2011 to 2012 that have been more different, and both quite special, than the Reserve Chardonnay from EIEIO.  Founded in the late 1990's by owner Jay McDonald, EIEIO was born out of a love of the grape and a dedication as much to the region as to the process. In the 1990's, after a childhood of traveling throughout the world with his family (his father was in the oil business), and an education outside of his Houston, TX birthplace at Texas A&M, Jay opened a tasting room in the small town of Carlton, in Willamette's Yamhill-Carlton AVA. Today Carlton is one of the most charming wine communities I have seen, filled with artisan shops, winery tasting rooms, local craftsmen, and even a food truck or two that are open on weekends to please both the locals and tourists with their all-day breakfasts or house-made tacos.  At the time Jay joined this community though it was a sad town in desperate need to love…Jay gave this with his Tasting Room, providing an outlet for wineries that didn't have a place for customers to try their wine and making Carlton a destination for tourists to have a chance to try wines from Ken Wright, Bergstrom, Cristom and others that at the time didn't have tasting rooms at their facilities for visitors. Jay provided this….and started to get in on the other side of the business, initially in a negotiant style and eventually starting EIEIO, a name only appropriate for Farmer McDonald. Today he has developed relationships with so many key players in the region that he is able to source some of the best fruit in the valley from vineyards like Saffron Fields, Meredith Mitchell, Canary Hill to produce his Mother Nature driven, earthy, robust yet balanced Pinot Noir and Chardonnay wines.
Tasting side by side the vintage 2011 and 2012 EIEIO Reserve Chardonnay (with the 2012 on the edge of being released as he is waiting for his labels to arrive from the printer) your palate can immediately understand the difference in the two vintages.  Year to year the wine, produced in the exact same manner using native yeasts with new oak barrel fermentation that is then racked off (moved) into stainless steel or neutral oak after fermentation has completed (keeping the actual influence of oak on the wine present but to a minimum,) the 2011 is a wine I would drink on its own on a summer day, with a crisp, light, flint, fresh herbs and mineral driven profile, representative of the cool weather vintage.  The 2012 on the other hand was a very warm vintage, producing highly lush, fruit forward, expressive wine with a big punch of flavor, with ripe pear, juicy lemon pie and marshmallow notes, still easily enjoyed on its own but will leap from the glass with pairings like roast chicken, pasta with a lemon-cream sauce…or even one of my favorite pairings, popcorn, especially in cooler months when you want your wine to be richer and with more texture. Charismatic McDonald simply lets the fruit do what it is going to do, sourcing from high quality vineyards throughout Willamette Valley, managing the process with precision while always maintaining a hands off approach. While tasting with him last week Jay let me in on the real reason the Chardonnay only sees a minimal amount of new oak each year is because he buys 10 new barrels a year, and has them delivered around the time his Chardonnay is being harvested, on average a few weeks before the Pinot Noir harvest. When the Pinot comes into the winery he needs those barrels for his red fruit, so Chardonnay is removed, barrels are cleaned and the Pinot goes in…all using only the native yeasts available on the skins, in the winery, etc. The 2012 will be available shortly as labels should arrive this week and will retail for $50.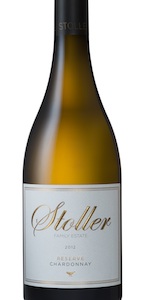 Of every area in Willamette, my palate is especially drawn to the Dundee Hills, sitting at a high elevation with volcanic Jory soils, the wines produced here have always tasted like Oregon, helped by many of the vineyards being established early and planting earthy Pommard clones of Pinot Noir, creating wines with characteristics that meld mushroom, herbal and earth notes with wild strawberry, tart Oregon marrionberry and black cherry.  The 370+ acre sustainably farmed estate, 190 acres planted to vines, of Stoller Family Vineyards in the Dundee Hills have established themselves as great growers and producers of stellar Pinot Noir, incredible wines especially for their price point (their entry level Dundee Hills Pinot sells for $25 a bottle.)  They also learned early on that they were in a prime location for growing incredible cool weather Chardonnay and in the 1990's, with those OSU approved Dijon clones, planted 55 acres of the variety.  Today they produce two levels of Chardonnay, their entry level, also priced at $25, and a Reserve, priced at a surprisingly inexpensive $35 for the quality.
In addition to making their own Chardonnay, with both tiers adding up to about 4000-5000 cases annually, they also sell off a good amount to other winemakers in the region, including Argyle, Chehalem and Adelsheim. The latter makes both a single vineyard Stoller Chardonnay as well as including Stoller fruit in their Caitlin's Reserve. The fruit is unctuous, lively and balanced, showing character, texture and personality in their volcanic soil filled wines.  The Reserve especially, tasting their 2012 last weekend with Winemaker Melissa Burr, showed how the Dundee Hills is perfect for this type of Chardonnay as the region was somewhat sheltered from some of the heat in the hot weather year that other parts of the region felt, benefiting from higher elevations and mineral rich soils. The result, a juicy fruit filled white, with golden apple, ripe pear and fresh lemon zest balanced by a layer of steely minerality and great acidity, helped by utilizing tools like neutral French oak, stainless steel and a cement egg…a normal technique in France and becoming more and more used in America today.

I am a great fan of David Adelsheim, co-owner of Adelsheim Vineyards located in the Chehalem Mountains AVA of Willamette. I like his persona and demeanor. I like his attention to detail, and the people he has around him that have helped him create a fantastic brand. I like his story, and why he is doing what he is doing. But mainly, I like David Adelsheim for his wine.  From his Elizabeth's Reserve Pinot Noir (Lizzy to David) that delivers Oregon profile consistency (ripe red berry, spice and earthy notes) year in, year out, benefiting from the ability to blend fruit from different estate vineyards located throughout the valley, and incredibly priced for the quality at around $55 a bottle, to his stunning "Vintage" wines, first released a few yeas ago when Adelsheim winemaker, Dave Paige (who joined the winery in 2001) tasted some of their estate grown, carefully managed fruit and was so blown away by the quality that he had to make a special bottling of their estate Pinot Noir, marking the 29th vintage since the winery's first release. Now on their "Vintage 31," filled with concentrated blackberry, cherry and spice notes layered with purple flowers and a touch of smoke for a truly wow wine that I felt privileged to have an opportunity to taste a few days ago with David Adelsheim at the winery. The Adelsheim Caitlin Reserve Chardonnay however is a very special story since David was at the helm of bringing the optional vines for the region, to the region, made even more special by the fact that he sources much of the fruit from vineyards the well-established winery doesn't own, including Stoller fruit, realizing that the best fruit will come from the vineyards in prime locations for Chardonnay and not trying to force it in areas that shouldn't be planted with the vine.  Caitlin is a mix of three Willamette AVAs, including volcanic, high elevation Dundee, warmer Chehalem Mountains and mineral rich Eola-Amity Hills.  The result is a special wine representing the land and the seasons, filled with a lush and lively mix of golden apple, hazelnut, juicy citrus and honeysuckle with texture and balance.  A special wine that is delicious now, but can also be held for a few years as it will continue to develop in the bottle.  It is also a wine I wouldn't serve super cold, as you want to be able to taste the rich characteristics of both great winemaking and stellar fruit in the bottle. The 2012 vintage was a warm, big crop year, delivering great quality and high yields, delivering about 350 total cases of this wine, that is $45 and available via their website.
Get the SideDish Newsletter
Dallas' hottest dining news, recipes, and reviews served up fresh to your inbox each week.