The region of Rioja, in Northern Spain, is one of the most well know wine regions in the United States, perhaps because Riojan winemakers led the way in exporting their lush, Tempranillo based wines to the U.S. early on. Though other Spanish regions, like Priorat and Ribera del Duero, have gained notoriety for their incredible wines in recent years, the wines of Rioja continue to deliver consistency and approachability, often for a very reasonable price. I recently visited the northern most part of Rioja, traveling as a guest of Gonzalez Byass, visiting their La Rioja Alta Bodega, Beronia. Named after the 3rd Century inhabitants of the region of Celtic origin that settled in the area, calling their land Beronia, the winery vineyards are nestled in between Ebro River and the valley looking out on to the Cantabrian Mountains.
My traveling companions and I arrived in the town of Haro late in the afternoon after a long bus ride from the Somontano region. A little weary, a little hungry, and all ready for a glass of wine, we were greeted with a lavish tapas dinner at a quaint spot in the Arrope Hotel matching palate pleasing bites with each of the varied wines of Beronia, creating pairings that will live in a very happy place in my memory for years to come.
Fresh goat cheese layered with seasonal vegetables and drizzled with fragrant Spanish olive oil started our evening, pairing the light yet complex flavors with a slightly barrel aged Viura, one of the few white wines produced in the region, giving depth and texture to the herb and citrus filled wine, complimenting the creaminess of the cheese, the freshness of the locally grown vegetables and the fragrant, fruity Spanish Arbequina olive oil.
Lightly grilled sardines on brioche pairing with a mineral rich Manzuelo red, a grape that is usually used as a blending variety in Rioja, but standing out boldly on its own, with layers of red fruit, spice and a touch of salinity, to pair with the decadent Spanish delicacy.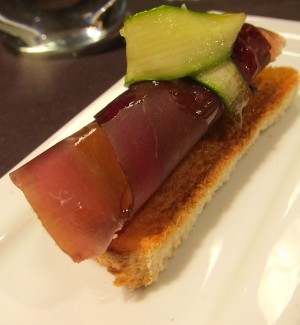 Followed by the country's beloved, cured Jamón Ibérico, made from black Iberian pigs that eat only acorns and grass, paired with Graciano, another variety usually used for blending, but matching with the briny, smokiness of the cured meat, cutting through its fatty richness with great acidity and mellowed balance.
The most surprising flavors were delicate, and decadent, roasted rabbit served beside a simple salad of local greens pairing beautifully with a rich 2007 Beronia 198 Barricas Reserva Rioja, with the gaminess of the meat subdued by the bold richness of the 24 month barrel aged, 24 month bottle aged wine.
Beronia was started in 1973 by a group of business men who came together to celebrate delicious food, talk wine and enjoy great camaraderie. The dinner we experienced was the norm for the bodega's founders and introduced us to what makes this region, and Spain, so special…celebrating incredible food and wine with great friends.
Speaking to winemaker, Matias Calleja, that next day at the winery you easily get his sense of both pride and passion as he has been with the 41 year old winery for much of his life, joining in the early 1980's, managing through their extensive portfolio with grace, elegance and charm.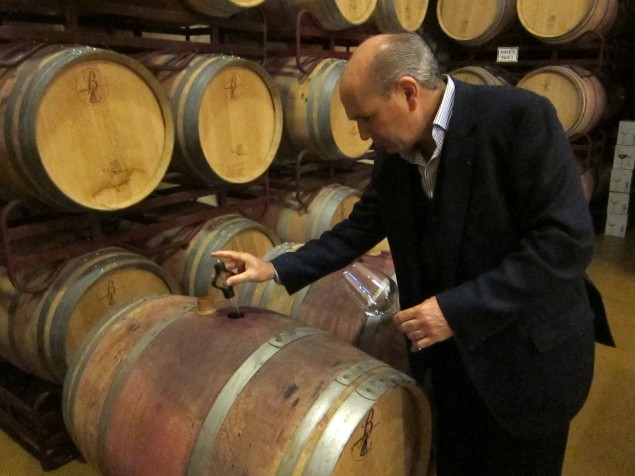 Though this is Old World wine country, Calleja is experienced and daring enough to be a winemaker who embraces change, enthusiastically refining techniques that will help him produce better wine, notably by utilizing both French and American oak for aging his wine, often using French barrel staves and American barrel heads, or vice versa, to develop flavor within his wines. American oak can add herbal, coconut and sawdust notes, French oak can give caramel, toast and chocolate notes, both delivering different textures, spice, richness.
A few decades ago American oak was the main go-to for many winemakers in Rioja, both as it is cost effective, but it also helps tame the bold flavors of the robust variety. Utilizing the elegance and finesse that French oak can give to Rioja with the traditional use of American oak, Calleja has elevated Beronia to their current highly respected level of quality, making wines with character and depth of flavor.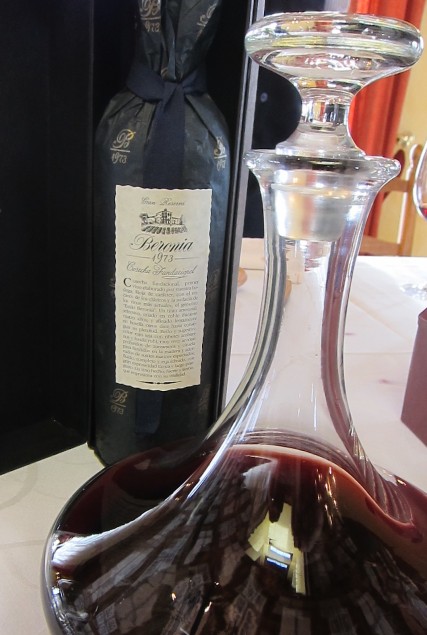 He is also always focused on the life of these wines, proudly opening older vintages to show the age-ability of Beronia. I hear consumers discuss that wines of Rioja often have less depth than other Spanish wines and should be enjoyed while still youthful, and though this thought does apply to some, particularly the Crianza wines, many have the ability to age for decades, as we tasted with a 1973 bottle of Beronia Gran Reserva from the first vintage year of the winery. Balanced, velvety and lush, with layers of delicious dried fruit and dried spice, quite special.
The wines that are available locally include the Beronia Gran Reserva Rioja, a blend of predominantly Tempranillo with a touch of Manzuelo and Graciano mixed in, from some of the best and oldest vines on the property, which is then aged 24 months in a combination of French and American oak. After oak agin the wine is bottled and held in the bottle at the winery before releasing for another 36 months, resulting in a robust yet elegant wine with structure, mingling dried herbs and wild mushroom notes with black fruit and licorice. The wine is balanced and well integrated, helped along by giving the wine time to settle in the bottle. The current 2006 vintage is available for $35 at Spec's, Pogo's has a few bottles of the 2005 available as well.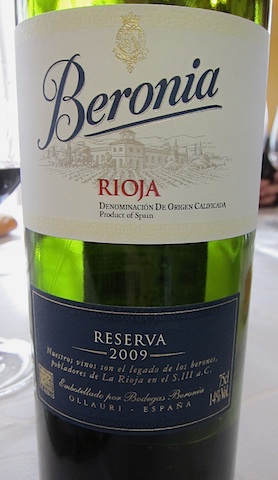 Spec's also has the slightly lesser aged Beronia Reserva, made with the same varieties in similar barrel aging techniques, but not for quiet as long, holding the wine in barrel a minimum of 20 months and another 18 months in bottle ensuring there is still good balance between ripe, black fruit, toasted oak and earthiness. Bold yet still fresh, and a great food wine, perfect for Texas favorites, like anything cooked on a grill or in a smoker. $18 at Spec's.
If your palate isn't as prone to like wines with big tannin profiles, but still good flavor and depth, the Beronia Rioja Tempranillo is a great introduction to wines of the Bodega and the region, delivering balanced red and black fruit with just a hint of earth, layered with spicy, licorice notes. $15 available at Spec's.
Get the SideDish Newsletter
Dallas' hottest dining news, recipes, and reviews served up fresh to your inbox each week.