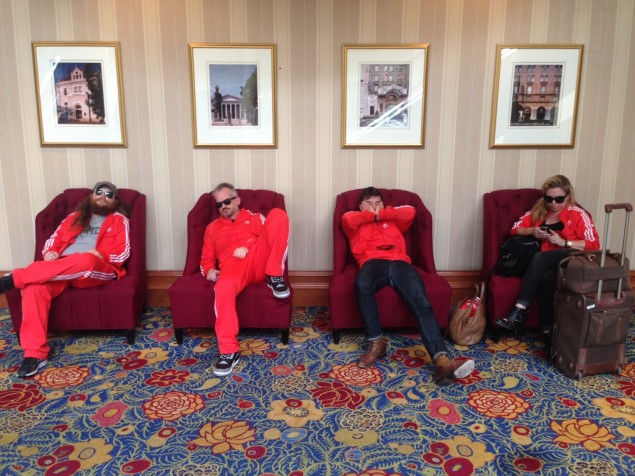 A longtime FrontBurnervian sent me a note asking why I hadn't put up a final postcard from our trip to D.C. He wondered if perhaps it was because we didn't fare well at the annual city mag awards. We didn't. Thanks for asking. But that's not why this post is tardy. Really, it was just fatigue. Now that I've had some time to recover, let's recap, shall we?
I'll let the other five members of our traveling party correct me if they disagree, but the 25-hour drive east was actually a delight. Six people in one car for a day. I expected at least one major blowup. If not fisticuffs, a yelling match sprinkled with profanity. Maybe an attack on someone's recent work product. "Screw you, asshole. Not only was that profile you wrote for the April issue trite, but my 8-year-old daughter could have structured it better." Something along those lines. Never happened. Even when the group's good humor was tested in Texarkana, everyone but Zac remained upbeat and cordial to each other.
I'm sorry. That was a shot that Zac didn't deserve. Even he was a pleasure to travel with.
The Yukon proved a fine chariot for a cross-country drive. I'm not saying you should drive it with your eyes closed, but you can drive it with your eyes closed — at least at highway speeds. Here's how: engage both the adaptive cruise control and the lane-drift warning system. The former makes it nearly impossible to run into cars in front of you, automatically adjusting your speed to match the traffic down the road. The latter vibrates your seat on the side to which you are drifting. In this way, you can cover great distances navigating with only your ass.
Zac and I did most of the driving to D.C. During the most soul-crushing hours of the night, we listened to movies. (The front dash video display won't show movies while the car is moving, for obvious reasons. GMC needs to invent a system that allows you watch movies with your ass.) Mike was the only one who stayed awake with us. The rest of the riders — Brad, Peter, and Elizabeth — were like Jesus' disciples at Gethsemane, sleeping like babies. When you listen to Caddy Shack, you realize it has even less of a plot than you remember. Pulp Fiction is a great movie to listen to. Lots of dialogue. Christopher Walken's monologue about the watch remains a thing of wonder. You know what's a horrible movie to listen to, especially if you've never seen it? Super Troopers. Listened to the whole thing. All I can tell you is that it involves cars and drugs. I wouldn't even watch it with my ass.
The highlight of the trip out was when we were driving through Virginia, toward the very end, and I said, "Hey, my in-laws live in Fairfax. Want to stop in for a quick visit?" I think everyone in the car was pretty strung out at that point, each expecting the other to object to my suggestion, because no one said much of anything. Whatever misgivings they had vanished shortly after we got there and my mother-in-law handed out bloody Marys and bacon and an assortment of berries so impressive that Brad was still talking about it hours later.
A fair amount of wagering took place on the trip. It began at my in-laws', with a pinball tournament. I must tell you that I feel a little guilty about the pinball tournament, both rounds of which I won. I've been married since 1996. I dated my wife for about six years before I made an honest woman of her. All that time, from what I can remember, my in-laws have had a pinball machine in their rec room basement. The same pinball machine. I've basically been playing it for 25 years. My brother-in-law destroys me on that pinball machine. Still, all that destruction has given me practice. Here's the trip tally:
Tim wins $30 playing pinball. The entry for each round was $3 per person. Zac quickly sussed out my scheme, I think, and played only one round. The rest of the guys went two. Elizabeth, if it were up to her, would still be in my in-laws' basement, sucking down bloody Marys, trying to beat my high score.
Tim loses $20 to Mike on wager over square footage of D Magazine headquarters. I have no idea how this topic came up. Mike said our two floors at St. Paul Place amount to 8,000 square feet. I said it was 50,000. The wager was who was closer to the actual figure. I got our CFO on the horn, and he broke the bad news to me. Actual square footage: 22,236.
Brad wins $20 from Elizabeth in a footrace. Rather than stay at the hotel, the five guys stayed at a rental apartment about a mile away. Either while walking from or to that apartment (it was late, hard to recall), the wager was made. The race was only about a 50 yards. Elizabeth ran barefoot. She did not run as fast as Brad in his shoes. Though I will say she made it a closer race than I would have predicted. Depending on her Wonderlic score, she could present good value in the third round.
Tim wins $15 from Mike in escalator challenge. This was the worst bet of the trip. Initially, he was going to give me $15 if I could run up the down escalator at the Marriott in under 60 seconds, which I probably could have accomplished on my knees. I gave Mike the opportunity to lower the time. He said 30 seconds. I did it in six. Some hotel staff stopped what they were doing to watch. They were impressed. Records are meant to be broken, but my six seconds is going to stand the test of time.
I won't bore you with details of the actual conference. What do you care? There were panels. We attended them. I was the only one with so little self-respect that I attended them in a red Adidas track suit. The suits were a hit, by the way. On the trip out, we drew looks and questions every time we pulled over to refuel. So, too, did people on the sidewalks of D.C. give us a wide berth upon our arrival. And at the awards dinner on the last night, a couple folks from magazines around the country asked why I wasn't wearing red Adidas (I went instead with blue Billy Reid). So that was nice.
What wasn't nice was the outcome of that awards dinner. We were up for eight awards. We won not a single one. To put that in baseball terms, that's like hitting .000, which is a terrible batting average. Oh, well. It is an honor to be nominated, right? RIGHT?
The drive home was longer than this post. Three of our party — Mike, Elizabeth, Peter — opted to fly home rather than crawl back into the Yukon. (Or should that be crawl back in the Yukon?) I would like to call them sissies and here point out their lack of commitment, their spinelessness. But I can't. The truth is, they were smart. No, not even smart. You didn't have to be smart to do everything in your power to avoid making that day-long drive twice. They were just sensible.
We listened to the comedy channel on XM radio for the entire trip. Surprisingly funny. Only we didn't laugh much. The highlight was dinner at the BBQ joint Calhoun's, in Knoxville, Tennessee, overlooking the river. The food was average, but the view was great. The lowlight was everything else, especially the times that I felt like steering the Yukon off the road and into a large tree so that sweet death could relieve my bone-bending road weariness. It probably gives Brad and Zac little comfort to know that I was navigating with my ass and fighting off suicidal thoughts while they were taking fitful 10-minute naps, but I suspect that they both faced their own demons when it was their turn behind the wheel.
Twenty-five hours there. Twenty-one back. Here's the thing, though: the human brain is an amazing machine. Millions of years of evolution have given it the power to recall a painful event without really remembering the pain itself. That's how women are able to have more than one baby. The drive home, I figure, was like childbirth. Even with just one night of sleep between me and it, I can already imagine doing it again.
Next year's conference is supposed to be in St. Louis. Google says that the drive should take 10.5 hours. I bet we can do it in 9.
Get the D Brief Newsletter
Dallas' most important news stories of the week, delivered to your inbox each Sunday.