The name Paul Hobbs is synonymous with greatness in the wine industry. The second child of eleven, raised on a farm in upstate New York, Hobbs grew up from humble means thinking he was going to be a brain surgeon, and attending Notre Dame. However, the wine bug bit, and when it did the stinger set so deep in Paul that a passion, and continued curiosity, rose that would not be contained in the sterile walls of a hospital. I had a chance to visit with Paul Hobbs about this and his resounding success recently, traveling to his Sonoma County property near Sebastapol as a guest of the winery.
Throughout his childhood and college years Hobbs helped his father tend the family working farm, replanting vines on their old apple orchard, becoming fascinated with the effects of terroir, and how their grapes would produce one flavor on one part of their property and the same variety could produce completely different flavors on another part of their property.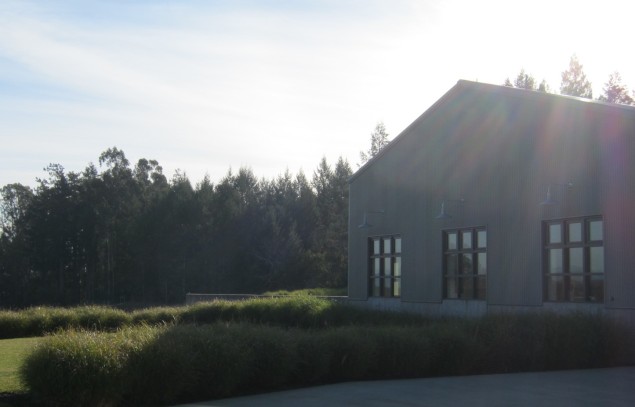 When Hobbs graduated from Notre Dame he made the move to UC Davis to study oenology where several major life events occurred, including becoming fully emerged in the passion for the grape. He also began an internship with Robert Mondavi and met Jorge Cantena, both of which would change his life. Jorge Catena, brother of Nicolas Catena – founder of Catena wines in Argentina, studied at UC Davis with Paul for 1 year, but the two built a friendship that would last for years, with Paul often receiving calls to join Jorge in Argentina that he would not take him up on until many years later.
His internship led to a job with Mondavi then a part of the inaugural team at Opus One during the 1980's, some of their early years of prominence, discovery and success. He was recruited away to Simi Wines, where he stayed for 7 years, then eventually branching off to start what still continues as a thriving consulting business for wineries throughout Napa Valley and throughout the world.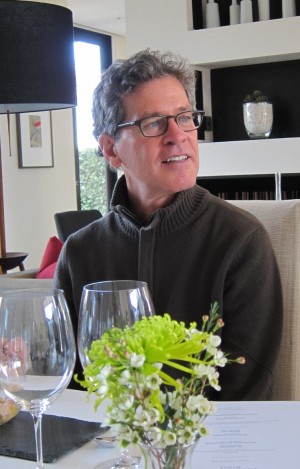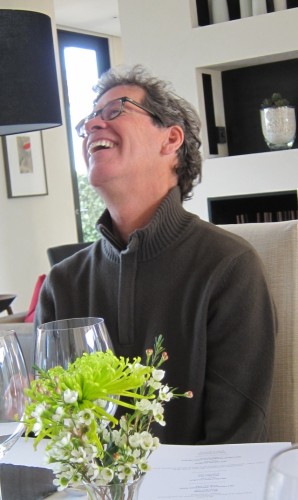 Hobbs thrives in his consultant role today as much as when he started, mainly because he isn't afraid to get his hands dirty, constantly visiting vineyards to see how his vines are growing, tasting fruit, pulling leaves, checking soil. Though this is quite common today with winemakers and vintners partnering in the work done in the vineyard, it wasn't always this way. He was one of the first to do this in Napa Valley, and initially saw great resistance from vintners when he would show up visit the vines. The status quo at the time was that a winemaker was usually only seen at harvest when they would come to pick up grapes. Checking the vines throughout the year was only natural to Hobbs, and very similar to how it is done in Europe. The two are intertwined, connected, and though many may not have liked his presence in their vineyards, Paul knew that was the only way to ensure that the grapes he wanted to make wine from were to the standard that he expected.
Hobbs made his first trip to South America in 1988, really looking for a new challenge and, as many who visit the region find, and fell in love with the grace, generosity and kindness of the Argentine people. And he saw a great opportunity as overhaul Argentine wine, much of which was being produced in the Eastern part of the country and was not very good. And, single variety Malbec wines were even worse, filled with overly oxidized and highly phenolic flavors from pergola style vines spaced wide apart.  When he traveled to Mendoza in the western half of Argentina and he found a few vineyards planted in more of an Old World, closely spaced style on its own rootstock. He knew he could work with this, and quickly, through a partnership with the Catena family, changed Argentine wine for the better and began his legacy in the country, producing finessed, refined and elegant Malbec based wines that were also robust, rich and bold, ideal for the meat-loving Argentine diet.
Shortly after he began consulting with the Catena brothers Hobbs began making his own wine, under the Paul Hobbs label, while looking for a California property to call his own. The first California wine under the Paul Hobbs Winery label was made in 1991, following in the philosophies he had believed in since we was a young boy working with his father in New York – make high quality, terroir driven wines that you can be proud to put your name on.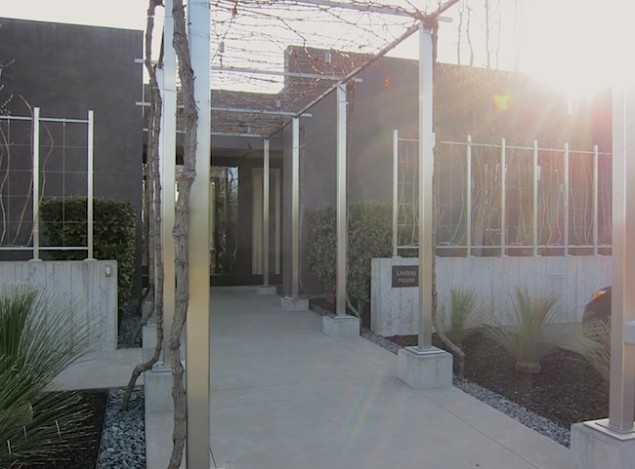 He purchased this winery property in 1998, falling in love with the area that reminded him of his New York home, also creating their Katherine Lindsey vineyard (named after his great-grandmother who started and worked his family farm,) with the building design completed by architect Howard Brackin in 2003, with a clean lines and functional design, resembling the farm he grew up on. The winery is beautiful, but beyond the aesthetic appeal, every inch of space has a function, believing that space is a commodity.
Also in 1998 he partnered with Andrea Marchiori and Luis Barraud and founded Viña Cobos in Mendoza, Argentina. Though he made a name for himself in the country by changing the way both Argentines and international wine lovers saw the Malbec varietal, growing its appreciation, he doesn't stop there with the wines of Viña Cobos, knowing that Argentine soil is ideal for growing stellar quality Cabernet Sauvignon, as well as other varieties.
Today, Hobbs remains a constantly busy man. While not working and consulting in Chile, Hungary, Argentina or other regions throughout the country (he announced his partnership for a project in the Finger Lakes of New York with Germany's Johannes Selbach of the Mosel Valley's Selbach-Oster when I was there,) he works along side Winemaking Director Megan Baccitich, who joined the Paul Hobbs Winery team in 2006, prodiucing a dozen different single vineyard and region specific wines at his California winery. They farm sustainably, work cleanly, and give attention each and every detail, ensuring the highest quality remains the primary focus.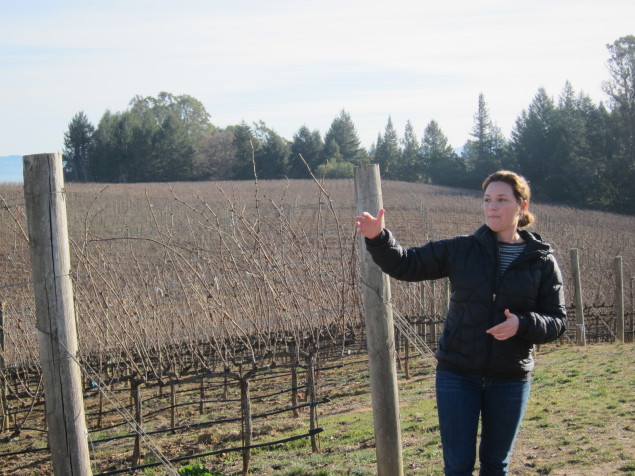 Russian River is a special place for growing Pinot Noir and Chardonnay. Cool coastal breezes, mineral rich soils, warm days and cool nights, and high elevations add up to ideal conditions for growing these Burgundian varieties. Paul Hobbs Russian River Chardonnay captures the elegance of this special area, enhanced by barrel fermentation, with malolactic fermentation occurring spontaneously in the partially new French barrels used each year. Aged an additional 11 months in oak, and bottled unfined/unfiltered, resulting in a spiced Asian pear, golden apple, fig and quince filled wine with toasted marshmallow notes. Lovely, a great winter white wine as it has warming richness, yet still balances acidity and bright, fragrant fruit notes.
Paul Hobbs Katherine Lindsay Estate Pinot Noir, from fruit grown right around their winery, is known for both its elegance and power….from the stories Paul told of his grandmother, the vineyard was aptly named. Layers of chalky clay, cola and baking spice notes rise from the glass followed by juicy blackberry, ripe cherry and dark chocolate notes, filling the palate of this concentrated, well integrated and balanced wine.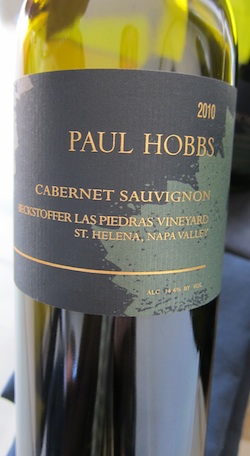 Understanding how different and unique each parcel of land throughout Napa Valley is to creating the perfect Cabernet Sauvingon is key in Napa Valley and the life long study Paul Hobbs has made of the region makes the wines he has chosen to make from there that much more special. Partnering with growers he has engaged in a lifelong friendship with also helps, with the Beckstoffers being one of the best partnerships he has. Paul Hobbs Beckstoffer Las Piedras Vineyard 100% Cabernet Sauvignon is created from fruit grown at the base of Spring Mountain in St. Helena, hand harvested and sorted, aged 20 months in 100% new French oak, and also bottled unfined and unfiltered to ensure the true essence of the fruit shines through with each sip of the velvety, luscious wine. Tobacco and leather with black licorice, black cherry and dark chocolate notes lift from the glass filling the palate. Subtle, silky tannins with texture and length linger after each sip of this sultry wine.
Paul Hobbs wines are available by allocation through his website; various local retailers, like Sigel's, Pogo's and Wine Poste, also occasionally have an allotment. Sigel's currently has the 96 point rated, 2009 Las Piedras Vineyard Cabernet Sauvignon available for $182 a bottle, as well as a magnum of the 95 point rated Katherine Lindsey 2008 Pinot Noir for $215. Call for availability at your favorite location. Wine Poste and Pogo's have a few of the Paul Hobbs selections as well as several of the Vina Cobos wines.
Get the SideDish Newsletter
Dallas' hottest dining news, recipes, and reviews served up fresh to your inbox each week.