Traveling executives looking to eat, drink, and be merry will find the ideal destination for doing just that in northern California's wine country. Stresses of the work world are quickly forgotten in a land where there's a deep appreciation for living well—and for the fertile earth that yields some of the country's best produce, including, of course, grapes.
About 60 miles from both San Francisco and Sacramento international airports, the Napa Valley is smaller and has a more intimate feel. The sprawling, 1,600-square-mile Sonoma County, situated between Napa and the Pacific Ocean, is wildly diverse. It's home to more than 400 wineries and viticultural areas that range from Alexander Valley and Caneros to Dry Creek and the Sonoma Coast. (Which, by the way, is one of the best places to experience California's famous Pacific Coast Highway, which meanders along the ocean. Don't become too distracted by the breathtaking views, though; there are steep drop-offs on the twisted, narrow roadway.)
Besides busy corporate types, northern California has also long offered an escape for Hollywood stars and executives seeking to reconnect with reality. Director Francis Ford Coppola went for a family-oriented vibe with his winery in Geyersville, which includes bocce courts, a pool, and a gallery that's crammed with mementos from his movie-making career, like Don Corleone's desk from The Godfather. 
Screenwriter and producer Robert Mark Kamen (The Karate Kid series, Taken, A Walk in the Clouds) used his first Hollywood check to buy property on the southwestern slopes of the Mayacamas Mountain Range in Sonoma. He and Phil Cotourri—a rock-star viticulturist who's known for pioneering organic growing techniques—somehow figured out a way to farm the steep and rocky terrain. Kamen, who says he doesn't like to talk in "wine speak," says it's the "mystery and romance" of winemaking that appeals to him. "Perfecting hedonistic pleasure in a glass of wine," he says, "is not a job, it's a mission."
Accommodation options in the county include The Fairmont Sonoma Mission Inn & Spa, which sits on a site that was once considered sacred healing grounds by Native Americans, due to the thermal mineral waters that lie underneath it. Its Santé restaurant is first rate and, like most of the eateries in the region, takes advantage of Sonoma's renowned produce. Access to fresh foods has lured a number of celebrity chefs to the area. Zazu Kitchen + Farm in Sebastopol is led by Next Iron Chef contestant Duskie Estes and her husband John, a "salumist" who runs their Black Pig line of meats. (Don't leave without trying the bacon; or, if you're more adventurous, the snout-to-tail sampler.) There's usually a line at chef Sondra Bernstein's The Girl and the Fig in Sonoma; Bottega in the Napa Valley town of Yountville features Michael Chiarello's Italian cuisine. Locals also recommend Tra Vigne in St. Helena, for its gourmet pizzas and hand-pulled mozzarella.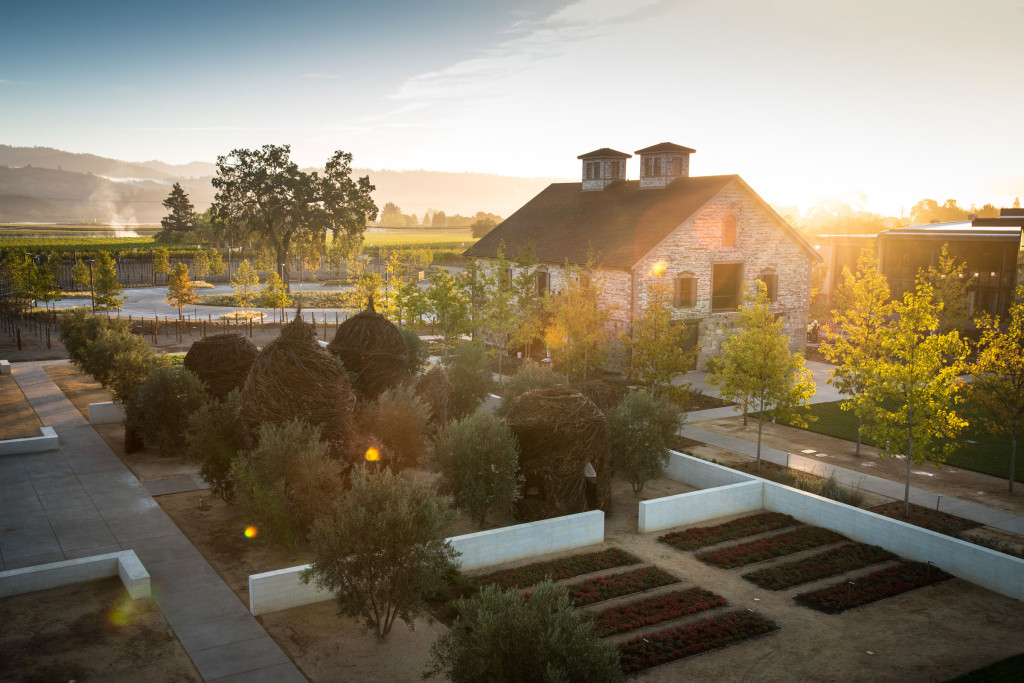 Many of the wineries in the Napa Valley—including the storied Robert Mondavi—are conveniently located along the area's main drag, Highway 29. Among them is the newest from HALL wines, led by Kathryn Walt Hall and her husband, Dallas real estate developer Craig Hall. The stunning glass-encased building showcases views of the Napa Valley and stands in stark juxtaposition to a restored 1885 building, the former Bergfeld stone winery, which shares the site. Like all Hall projects, there's a heavy emphasis on art. This one features a giant outdoor "stickwork" installation by Patrick Dougherty called "Deck the Halls."
Between the winery visits, the Oakville Grocery Co., on Highway 29 in Oakville, is a popular stop for picnic supplies. Founded in 1881, it features artichoke almond spread, lemon curd, and other locally produced specialty items, plus gourmet sandwiches like chicken gruyere with dijon aioli. Along with Napa Valley wines, Round Pond Estate in Rutherford has its own olive mill. It offers tastings of its olive oils and red wine vinegars for hardcore foodies.
For accommodations in the Napa Valley, Auberge du Soleil remains the area's most luxurious hotel and a popular choice for visiting North Texas executives. Featuring in-room fireplaces, it's located near the Halls' California home. It's also a short walk to Hall's Rutherford winery. This one features a long underground cave with a dramatic tasting room lit by a stunning grapevine-root chandelier that drips with more than 1,500 Swarovski crystals. (Visits are by appointment only.)
Beyond all of the eating and drinking, California's wine country offers a wide range of offerings for outdoor enthusiasts, too—from mountain lakes to redwood forests and myriad trails for biking and hiking. (The Halls' favorite has its trailhead at the entrance to Calistoga along the Silverado Trail.) Another popular activity: hot-air balloon rides. Says Kathryn Hall: "You have to be up at 5 a.m, but the views and the invigorating way to start the day make the effort well worth it."
A version of this story appears in the January-February issue of D CEO.
Get the TravelClub Newsletter
Explore the best deals, inspiration, and opportunities for your next travel destination to escape in style.