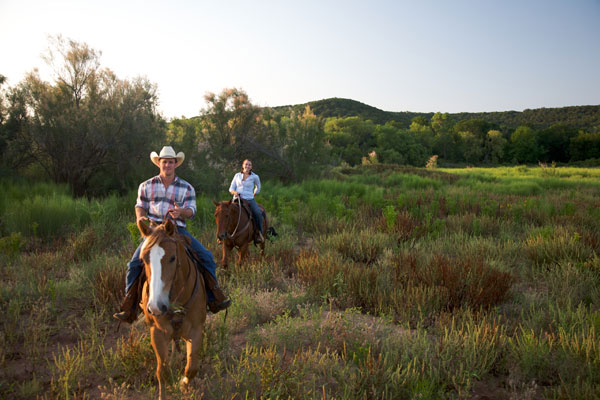 Wildcatter Ranch and Resort, Graham, Texas
We don't like using Texas stereotypes. Texas-size this and bigger-than-Texas that just seems like lazy writing. But when talking about Wildcatter Ranch in Graham, it's really hard to avoid those stereotypes.
Wildcatter Ranch is everything we love about this great state. Located just 20 minutes from the Goodnight-Loving Trail (of Lonesome Dove fame), Wildcatter is steeped in history. It embraces its past with 16 cabins that are all inspired by historical events that took place in Young County. You can stay in Fort Belknap, which is named after the camp founded in 1851 to encourage pioneer settlement in Texas, or perhaps you would enjoy learning about the Comanche, Kiowa, and Kowa Apache tribes by staying in the Famous Chiefs cabin. Whichever cabin you pick, be sure to build in some time to sit in a rocking chair on the porch and sip some coffee while you overlook the Brazos River. Then get to work.
You can ride horses through the 1,500 acres of Hill Country that make up Wildcatter Ranch. Or, you can participate in a clay shooting tournament, quickly explore the grounds with an ATV tour, canoe, bike, or go bird watching. Spend some time with Big Boy, a longhorn with a 98-inch horn span.
At the end of a long day of activities, stop by Wildcatter Steakhouse for dinner. The new executive chef, Jeffery Torres, is Texas-born and Cordon Bleu-trained. He uses Wildcatter's secret rub to spice up the steaks and baby back ribs.
The next day, you may need to schedule a visit to the spa. After herding cattle and canoeing the Brazos River, you may be a little sore. The specialists at Sage Spa can soothe your muscles. Afterward, spend a little time at the infinity pool and enjoy all the views the ranch has to offer.
Oh, and when you go to Wildcatter Ranch, don't forget your cowboy hat and boots. All Texans own these items, right?  Might as well put them to use.
Distance From Dallas:  118 Miles  // 2 Hours 15 Minutes