Lunch Box
This week, we turn over the Lunch Box column to a loving ode to an underrated sandwich you should be eating at any (and all) times of day.
Lunch Box
Tacos get all the attention at this beloved Mexican spot. But the high-quality masa here goes into other dishes, too.
Lunch Box
Plov is the national dish of many Central Asian countries, and you can find it at Bubala Cafe & Grill.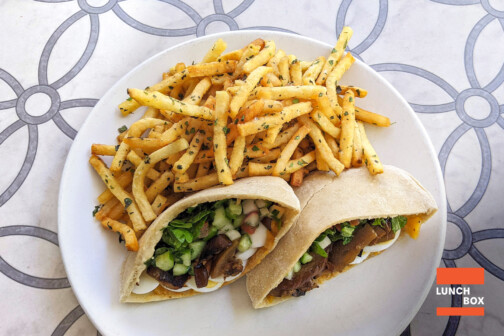 Lunch Box
Sabich is a street food sandwich that combines fried eggplant, sliced egg, salad, and hot sauce in a loaf of pita.
Lunch Box
Baro Baro Kimbap serves so many varieties of kimbap, it's hard to know which one to choose.
Food & Drink
Whether it's pho, a vermicelli bowl, or a rice plate, Lá Me won't disappoint.
Lunch Box
Mr. Po'Boys, just down the street from the Allen Premium Outlets, is unafraid to combine the classic New Orleans sandwich with other foods like gumbo and jerk chicken.
Lunch Box
Vrindavan offers just one menu option each day. Luckily, that option is always a massive, all-you-can-eat vegetable feast.
Lunch Box
A new installment in our ongoing series of suggestions on alternative uses for our favorite restaurants.
Lunch Box
La Bodega, in Oak Cliff, has a specialty in rotisserie chicken. But a more unusual ingredient is the star of a cult favorite hit.