Crime
Dirk won't leave the Mavs.
Yesterday, the Big German said he will opt out of the last season of his three-year contract in order to help put together the Mavs' roster for the following season. But first, he plans to
re-sign with Dallas
this summer for two seasons. The bad news is that Dirk can't play basketball forever. The good news is that, as long as he is playing in the NBA, it will be in Dallas.
Arlington murder suspect turns himself in.
22-year-old Ricci Bradden is
accused of fatally shooting
T.J. Antell outside of a Walgreens in Arlington yesterday. This is sad.
Tent city exiles may have another option.
As Tent City, the homeless encampment near downtown, is set to close for good today, those residents without a place to go may be able to soon move to an
old naval base near Grand Prairie
. Cedars Neighborhood Association president Michael Sitarzewski has proposed a sanctioned campsite at Hensley Field that would include tiny homes and various living facilities. City Council members have yet to review the proposal.
Arts & Entertainment
Continental Avenue bridge might be renamed.
Soon, the pedestrian bridge might be called the
Ronald Kirk Pedestrian Bridge
, after the former Dallas mayor. The name change will be voted on next month.
Dallas not doing well in water conservation contest.
Two years ago, the city won a
national water conservation contest
. Now, we're ranked 12 out of 26. It's true that water was more scarce then than it is now, but still.
Judge will rule on Exxxotica case.
Was the City Council within its rights to
ban the sex expo from the convention center
? U.S. District Judge Sidney Fitzwater will decide. If Fitzwater rules in Exxxotica's favor before the end of the week, the expo could still happen. If not, it would be too late this time. We'll have to wait and see.
How 'bout them mavs?
Their 85-84
victory over the Thunder
in Game 2 yesterday was pretty crazy after the previous game's intense humiliation. The rookies had a big night, and defense was strong. It'll be tough to keep this going in the next game, but, hey, the Mavs have surprised us before.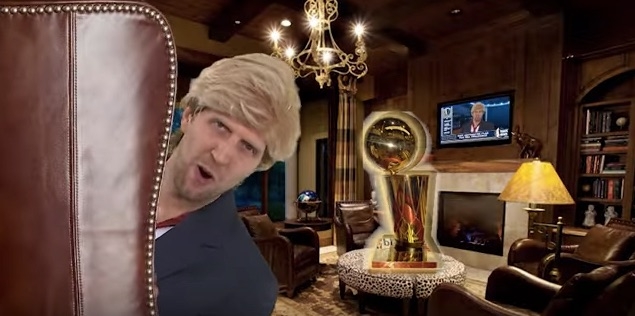 Uncategorized
Last night, the Mavericks -- who were actually trying, or should have been -- lost to the San Antonio Spurs' JV squad, at home. Yes, they were missing J.J. Barea and Devin Harris, in addition to Chandler Parsons, out for the rest of the season after knee surgery. And David Lee left the game early with a heel injury. But still. Not a great way to head into the playoffs. Even if they took care of business and smoked the Spurs like a Pecan Lodge brisket, it wouldn't have really mattered. Portland won and Memphis lost, so the Mavs were going to finish with the No. 6 seed and a first-round matchup with the Oklahoma City Thunder no matter what.
But still
. A little momentum going into
Saturday's game
against the Thunder and who knows what might happen? Well, probably not much.
Uncategorized
I'll be here tomorrow looking back at the Mavericks' season so far and ahead to the first round of the playoffs. But first, there is one more game to play, tonight, against a "San Antonio" "Spurs" squad that will not feature a single starter or player of any real consequence. I don't remember all the scenarios in play, but the team could finish as high as No. 5 (which would mean facing the Los Angeles Clippers) or as low as No. 7 (and play the actual Spurs). So, real fast, who would you rather have the Mavs' first round opponent? Let's go down the list.
Crime
U.S. requests extradition for Brenda Delgado.
Now that 33-year-old Brenda Delgado, the woman accused of plotting the murder of the dentist who was dating her ex-boyfriend, has been arrested in Mexico, the U.S. wants her back on American soil to face her charges of capital murder and unlawful flight. If Delgado doesn't appeal this, it could only be t
wo or three months before she is extradited
.
Tent city to be closed by May 4.
Last week, the Tent City situation seemed more uncertain, but now the homeless encampment near downtown is
set to be closed by May 4
. Residents who refuse to move to a shelter or other housing by then will be arrested. Dallas city officials have divided Tent City into five parts, and the first two will be closed next week. After these two have been closed, officials will decide when to close the others.
Mavs secure playoff spot.
The Mavs' 101-92 victory against the Utah Jazz last night
put them in the NBA playoffs
. Now Dirk and the Mavs can't finish any lower than seventh in the Western Conference, but I'm always stubbornly hopeful for a 2011 repeat.
Softball-sized hail hits North Texas yesterday.
Hail measuring 4.5 inches landed across North Texas yesterday. Wylie was one of the areas to be hardest hit; Wylie ISD cancelled all classes for today due to storm damage. Hopefully these spring storms are on their way out. Good riddance.
Arts & Entertainment
Happy St. Patrick's Day!
Hope you're wearing
green
today.
Dallas police reestablishes cold case unit.
This is the first time the department has had a
cold case unit since 2008
. It's a four-person team: two robbery division detectives, a homicide detective, and a crime scene analyst—working together to solve old cases.
Mark Cuban/SEC saga continues, this time to Supreme Court.
The shark schooled the Securities and Exchange Commission three years ago when he beat insider trading charges, but he isn't done negotiating. In a
brief filed with the Supreme Court
last week, Cuban joins others in attacking the SEC's use of in-house/administrative courts. Perhaps the saga will never end.
Off-duty officer charged with murder in death of teen.
Ken Johnson, the off-duty Farmers Branch police officer who
fatally shot 16-year-old Jose Raul Cruz and wounded Edgar Rodriguez
, has been
charged with murder
, a move that doesn't often happen. It's still unknown whether either teen was armed. The police chief for Farmers Branch said Johnson didn't follow policy when he went after the teens in his personal car.
Topgolf looking to expand.
The Dallas-based golf-while-you-eat-and-drink company says it's interested in
moving into more U.S. markets
, including El Paso, Albuquerque, and New Orleans, which would be added to its current 24 locations. Another Topgolf in Fort Worth is scheduled to open next year. Seems like the concept is, ahem, a hole-in-one.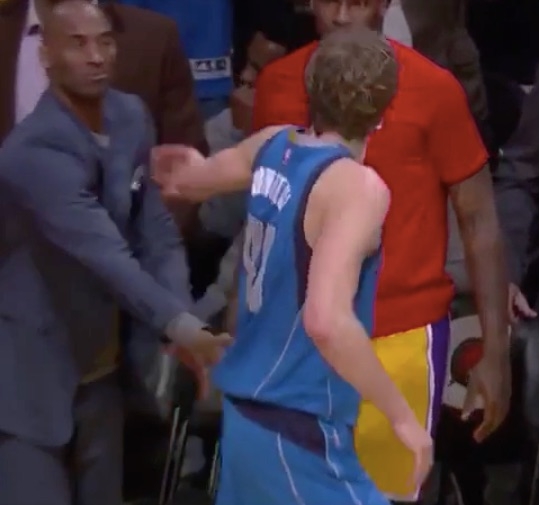 Super Heroes
Kobe Bryant first uttered my favorite sentence to yell-type near the end of a late-season Sunday afternoon duel at Staples Center not long after Jason Kidd was traded back to the Mavs. I was hoping they'd get to go at it again, but
this moment
, which Mike referenced earlier this morning, was the next best thing. I am going to miss this. I wish Kobe would coach if only because I want and need him to be involved in the game somehow.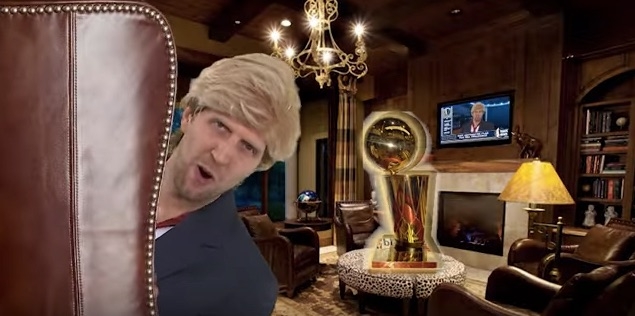 Local News
Tiny Crowd Turns Out To Support Small-Minded Irving Mayor.
It could be
worse
. Irving could still have the Cowboys.
Police Arrest Two Suspects In Early Morning Robbery At Gunpoint In Oak Lawn.
It's been a rough few months in the Oak Lawn area, with at least a dozen unsolved burglaries and attacks, so
this
was a bit of good news. The suspects haven't been tied to any of the previous crimes, at least for now, and police plan to keep up additional patrols. Could be worse. Oak Lawn could get annexed by Irving.
Two More Earthquakes Over the Weekend.
A 2.1 on Saturday and a 2.8 on Sunday. Guess where? Come on. Guess. I'll give you a hint. It rhymes with "
Irving
."
Wes Matthews Ties Mavs Record With 10 3-Pointers.
 His big second half -- he made eight 3s as part of his 28 points in the third and fourth quarters -- fueled the team's 
win
against the Wizards. You know where they struggle with their outside shots? Irving.
Business
Dallas to spend $3 million so Trinity Groves concrete plant moves.
The Argos Ready Mix facility at the foot of the Margaret Hunt Hill Bridge will move further into West Dallas near Thomas Edison Middle School. The city of Dallas is helping pay for that move to the tune of $3 million at the behest of
Trinity Groves
owners, who want to build the existing plant area up. Some West Dallas residents are skeptical at the thought of dust emission, while others say it will help the community. City council approved the subsidy for Argos yesterday.
Retail program that helps people advance to higher-paying jobs coming to Dallas.
The pilot program will help entry-level
retail workers
move up in their industry. Because turnover rates are so high in retail, it can be difficult to secure a promotion. Innovate+Educate is the nonprofit leading the program and chose Dallas due to its large retail presence and job openings. The program is set to start early next year.
Female prisoner escapes from Parkland Memorial Hospital.
47-year-old Anna Cardella escaped from
sheriff's deputies
at Parkland yesterday morning, according to the Dallas County Sheriff's Department. She was being held on drug-possession charges and driving with a suspended license. She was being kept in the airborne isolation unit, although deputies wouldn't say why due to federal privacy laws. She was wearing a black t-shirt and jeans when she escaped.
Mavericks come out swinging in opening game.
Last night, the
Dallas Mavs
smoked the Phoenix Suns, 111-95, with eight players in double figures. After an iffy offseason, this is a solid start to the 2015-16 season. Take that, Chandler.