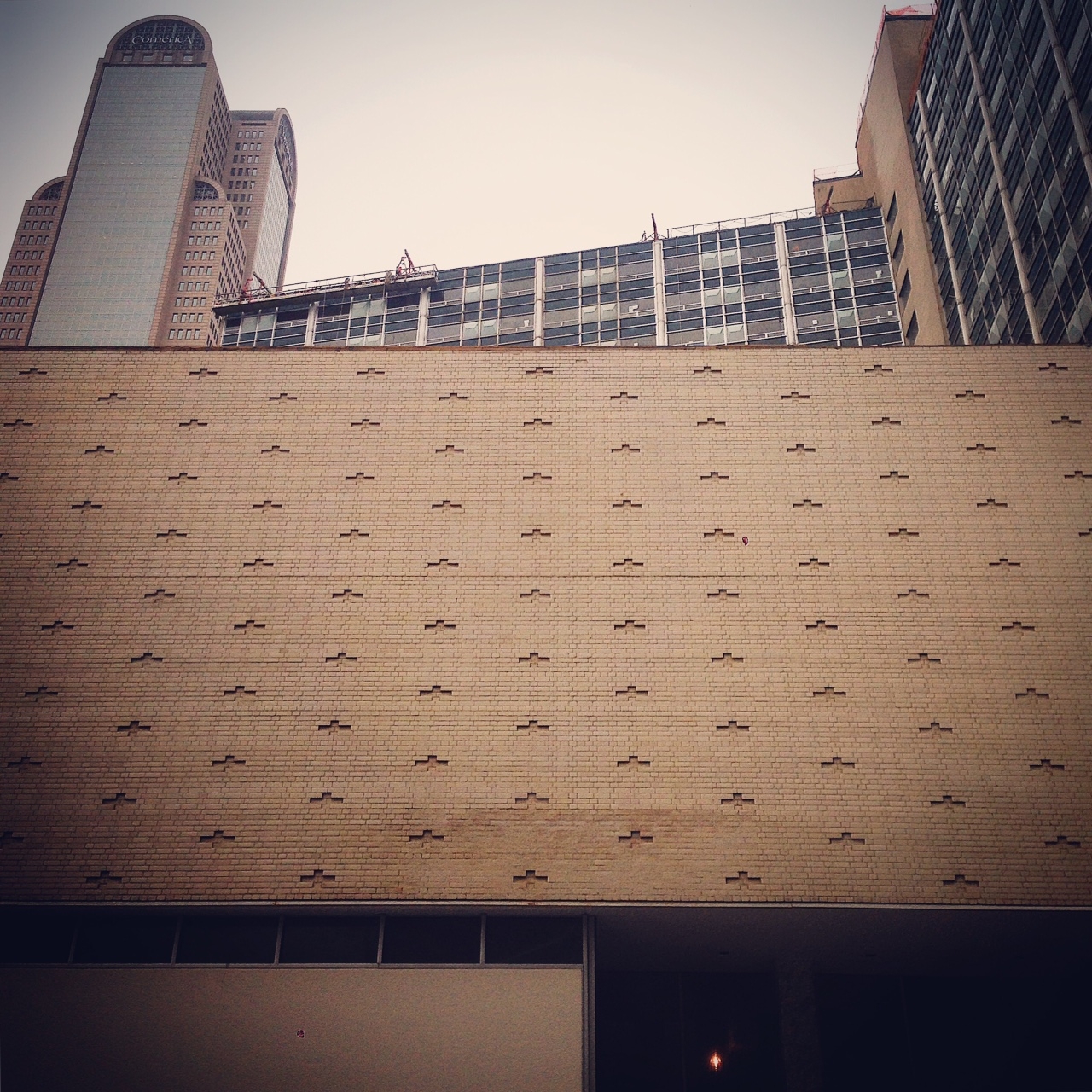 Local News
A couple of months ago, I started walking every day at lunch. Like any number of things I've done -- like most things I've done, actually -- it started on a whim and kept going on its own momentum. There was no real plan. One day, I went for a walk at lunch. A week later, I realized I'd gone for a walk every day. A month later, I realized I craved it. At first, I just sort of wandered. I don't remember those early walks very well, because they weren't the point yet. I needed a break from the office, and I decided to walk instead of sitting on a bench somewhere, but I wasn't going anywhere. I was retracing steps I've taken probably 200 times since we moved downtown. Was I looking at my phone? Probably. There wasn't much to see. But I got bored and curious, so I started leaving my phone in my back pocket and began doing something close to exploring, going a different direction every day, maybe a little bit further. Pretty soon, I'd walked every block in downtown, and then some. I've walked to Deep Ellum and through various parts of Uptown. I walked through the triple underpass by Dealey Plaza and back again. Last week I went to the Cedars a couple of times, and I went again today. I've realized everything is a lot closer than you might imagine. Is it all walkable? Not the way an urbanist means it. But you can certainly walk it if you want to. Beyond just going different places, I started paying better attention to my surroundings, seeing the details that pass by too quickly when you're in a car. Some stray thoughts: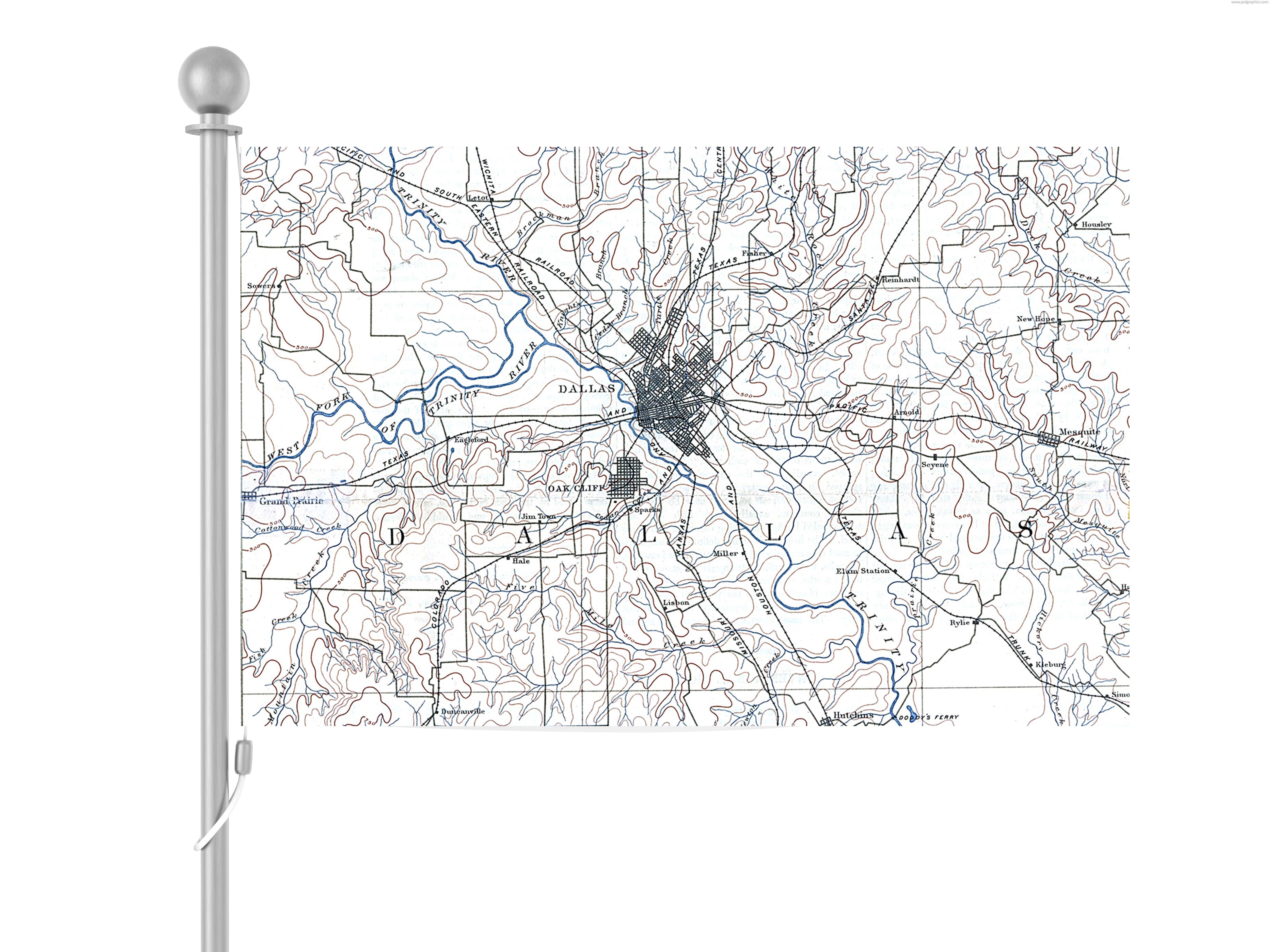 Defiance
I hope you like it. Also: WHO CARES? I mean, maybe the guys in our fife and drum corps, but that's about it.
Sports
First, a few caveats. I'm 41. I haven't played football since I was a sophomore in high school, and I missed most of that season due to a really nasty illness that required surgery, and when I did play it wasn't quarterback. I played, very sparingly, center and defensive tackle, and honestly I wasn't great at either. (I preferred -- and was actually decent at -- basketball.) Also, I'm left-handed, and so all the formations and plays will have to be adjusted to reflect that. Furthermore, I don't have a "prototypical QB body," either. I'm 6 feet tall and of average build. Actually, that's not a caveat. I'm taller than Drew Brees and Russell Wilson, so forget that. But, physically, yes, I do have some issues: I've got creaky knees, one ankle that is just this side of fictional, and an inherited tire fire of a back that has been going out on me since I was 18. I also can't throw too well. Not in terms of accuracy, or distance. I mean, I can throw, OK? But basically you're going to have to just rip any sideline outs or deep passes right out of the playbook. Also, I don't have a passion for the sport. As I mentioned before, I prefer basketball, and after that soccer, and after that The Challenge on MTV. But I do watch football. Some. I mean, I'm not going to freak out if my Sunday takes me away from the games. OK, and I have a demand for perfection that sometimes rubs my co-workers the wrong way, and that may be a problem if my co-workers are 300 pounds. Now that all that is out of the way, here is my case: I'm available, I'm cheap, my clavicle bones are in perfect working order, I've never lost an NFL game, I definitely won't be out hunting for my own stats, I already live here, I'm interested in a new career challenge, and I'm friendly with all the sports radio hosts that matter. You probably could use someone who can run a charm offensive right now. And it's not like I'm asking to play defense. That would just be dumb.
Things to Do in Dallas
The old-school barbershop in Exposition Park run by third-generation barber Rob Villareal -- and
recent Best of Big D winner
-- will celebrate two decades in business on Saturday with a
shindig
from 6 to 9:30 pm. Plus, it's Rob's 50th birthday. So after drinks and hors d'oeuvres at the shop, there's an after party at 10 at the brand-new Eight Bells Tavern (in the old Amsterdam space) with a performance by The Rhythmaires and tunes by DJ Mr. Rid.
Uncategorized
World class:
Unless you are talking about the late, great
World Class Championship Wrestling promotion
once ruled by the Von Erichs, or are saying it in a derisive manner ("another 'world class' idea by the mayor") followed by a dismissive wanking motion, or -- actually, those are the only two instances in which it is okay, and even the last one I'm not so sure about. We need about a solid century of never putting those two words together to make up for the damage done by constantly chasing approval from big-brother cities like New York or London or who cares. Stop saying it. Stop thinking it. Stop
kind of saying it
. Stop.
Signature
: This is like a cousin to "world class." How do you get a world class toll road? With a signature pedestrian overlook, of course. "Signature" is what gets us into messes. "Signature" bridges, etc. and so on. We are too old of a city to manufacture anything "signature" about ourselves, but we keep trying, which is actually our "signature" quality. Just to be safe, when you need someone to sign something, ask for their John Hancock instead of their signature. That will become tiresome pretty quickly, so then you need to start saying it in a funny, dorky voice, like you know it's a corny phrase. That will buy you some more time. But that, too, will get old. Then start asking for someone's "Juan Hancock." Say it in an elaborate accent. Not offensive. More just ... florid. Regal, almost. Then, when that stops working, just silently put one of those "sign here" post-its where you need the s_gn_t_r_.
"Feels like Austin."
1) Screw that place. They hate us. 2) There are now enough establishments around Dallas that have that leafy, repurposed, jackasses-in-flip-flops-and-beards thing happening that you can just reference one of them instead. Yeah, it's on its way out. Kill it completely.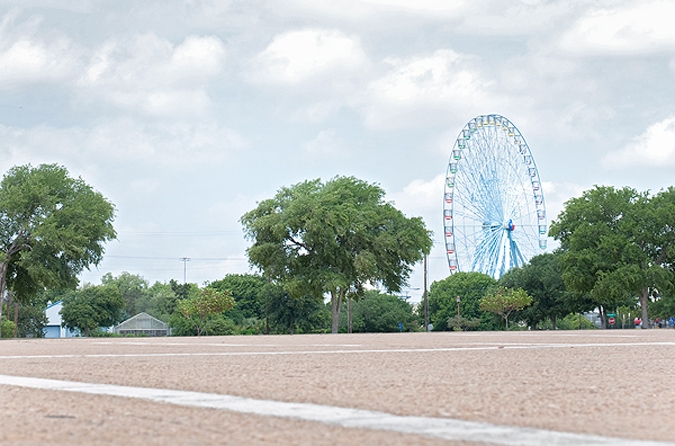 Dallas History
The president of the State Fair of Texas has said that adopting a new proposal for Fair Park would "effectively end the 129-year tradition of the State Fair of Texas in Dallas."
Friends
Some of these people could use a little love.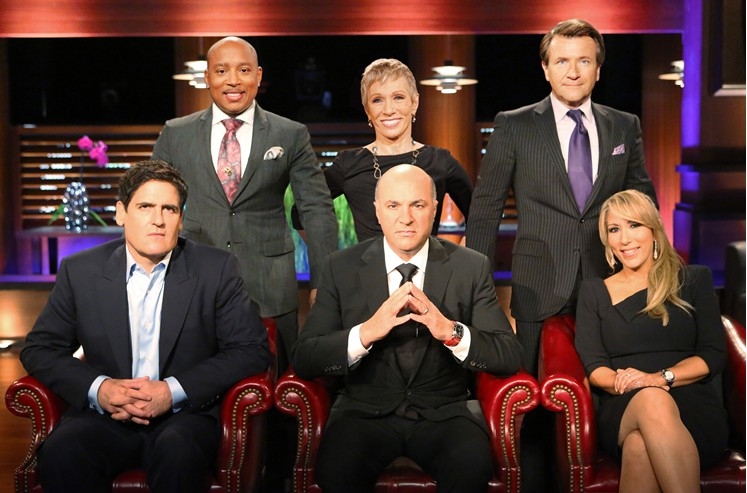 Civics
Mayor Rawlings pinky swears he won't touch money that came in before he announced his re-election bid in December. I don't know about you, but I didn't find that response terribly satisfying.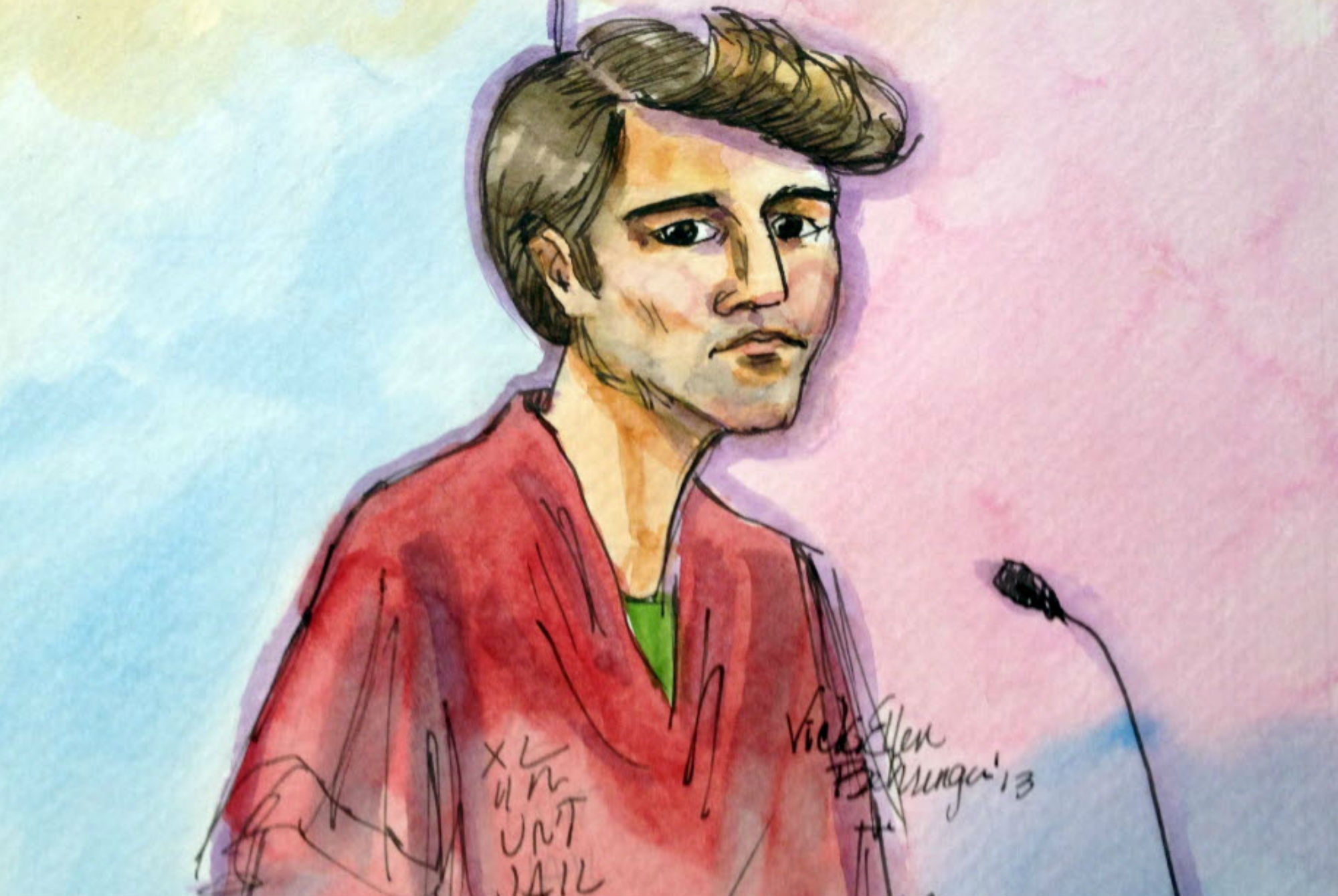 Gambling
Ross Ulbricht was convicted on seven counts, ranging from narcotics and money laundering conspiracy charges to a "kingpin" charge. He's now facing a minimum of 30 years in jail, and a maximum of life behind bars.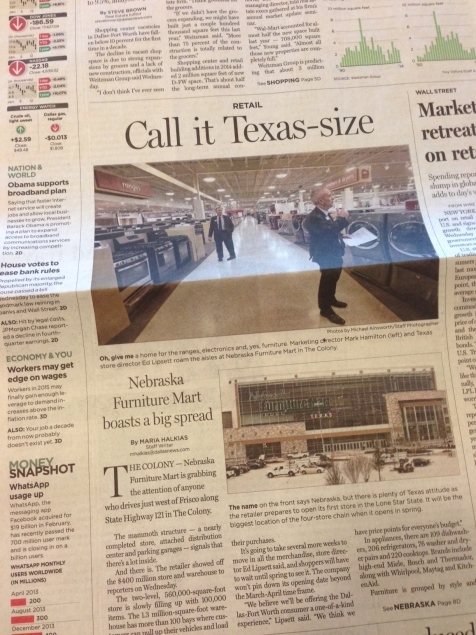 All Clichés Are Bigger in Texas
This headline, for a
preview
of the new Nebraska Furniture Mart, is not word-for-word the dreaded "everything's bigger in Texas" trope, no. But it is meant to evoke that phrase and for that is is close enough.
Too close
. It's hard enough when those jeans-kicking words are trotted out by carpetbagging Yankees, but much worse when the lazy cliche-spouting comes from inside the house.
KNOCK IT OFF
.