Sports
Hopefully the silliest question we'll ask this week.
Sports
It's not really about the no-hitter.
Business
Christopher Colbert, accused of killing ronald shumway, is back in Dallas.
Remember
The Mystery of the Oak Cliff Corpse
? Christopher Colbert, who was
accused of killing
DART driver Ronald Shumway and pretending to be him in order to sell his Winnetka Avenue house, is
back in town
after spending months in Los Angeles in jail. Colbert was in L.A. while prosecutors in Dallas worked to secure charges of murder, money laundering, and forgery. He was booked into the county jail over the weekend.
Lab tests returned in Midlothian murder.
Midlothian fitness instructor Missy Bevers was
found dead on April 18
. Her father-in-law had dropped off a bloodied women's long-sleeved shirt at Dry Clean Super Center four days after that. Yesterday, test results from the UNT Health Science Center Laboratory showed that it
wasn't human blood
. The family had said it was animal blood from breaking up a fight with their dogs. There is still a reward out for information leading to an arrest of the person responsible for her death.
Tesla coming to Plano's Legacy West.
The luxury
car manufacturer
plans to set up a showroom at Legacy West Urban Village on Windrose Avenue.
Rangers win with a walkoff double.
Rougned Odor took the Rangers to a
6-5 win
over the Astros last night to make it their seventh straight win over Houston. Here's a
video of Odor
celebrating the hit with lots of Gatorade and a busted lip.
Business
City manager A.C. gonzalez to resign.
64-year-old
Gonzalez plans to leave
in January, following three years as Dallas' city manager. He informed City Council of his plan yesterday. Council members Philip Kingston and Scott Griggs would prefer Gonzalez to leave sooner, but they did not have enough support from other members to accomplish that. Gonzalez has been one of the highest-paid city managers in the country, and now intends to make the switch to the private sector.
Rangers beat indians on memorial day.
The Rangers celebrated Memorial Day right with a decisive
9-2 win yesterday
over Cleveland, during which rookie Nomar Mazara hit a three-run homer. The Rangers are leading the AL West.
Man arrested in stabbing death of girlfriend.
45-year-old
Kenneth Alan Amyx was arrested
yesterday after his girlfriend, Jennifer Streit-Spears, was found stabbed to death at her apartment in Plano. After police received a disturbance call, they found Streit-Spears to be dead, as well as Amyx with knife wounds. A nearby hospital determined his wounds to be possibly self-inflicted, and Amyx is now being held in the Collin County jail after being charged with murder.
Controversy
Rain
. And lots of it.
Keep an eye on weather reports
, folks, and avoid those flood waters.
Video released of Midlothian fitness instructor's killer.
Police
released surveillance video
of the person suspected of murdering Terri "Missy" Bevers in a Midlothian church. Students arriving for Bevers' Camp Gladiator class discovered her body early Monday morning. The videos show the suspect walking through the halls of the church wearing a head-to-toe, SWAT-like getup. Reports say the suspect vandalized the property for a half-hour before Bevers arrived, but nothing appeared to be stolen. The suspect's distinctive gait will hopefully lead to a quick capture.
Manziel had a terrible, horrible, no good, very bad yesterday.
It all started when Johnny Football got word that
a Dallas county grand jury will hear his domestic violence case
on Thursday. Then his second agent of the year—who, granted, gave Manziel an ultimatum that wasn't met—
officially dropped the 2012 Heisman winner
. Sponsorships from Nike and a sports trading card company quickly followed, leaving
the Cowboys reject
with zero endorsement deals. Manziel must have seen this coming because reports reveal the Tyler native was laying low and getting some alone time over the weekend. Ooooh, he was laying low…alone…in a Coachella ball pit? Gotcha. Ok. Hmm. So,
this is what rock bottom looks like
.
Local man's son loses big time in New York.
Even John Kasich got more delegates
than Ted Cruz
in Tuesday's New York primary. Trump and Clinton won the state by landslides.
Rangers beat Astros.
But the real winner was
Beltre's Andrus-directed stink eye
.
Would-be gun thieves foiled by pillar.
Surveillance video shows three men attempting the ol' smash'n'grab at a Garland gun store. The truck momentarily gets stuck on a waist-high pillar. The best part of this news segment, however, is at the 20-second mark when a man walks out of the shop at just the right time. It's slightly entertaining. Definitely eat that bagel first, though. Then the news segment. And coffee. I mean, start with coffee. You know what, do coffee, bagel, the Beltre thing,
theeennn this video
.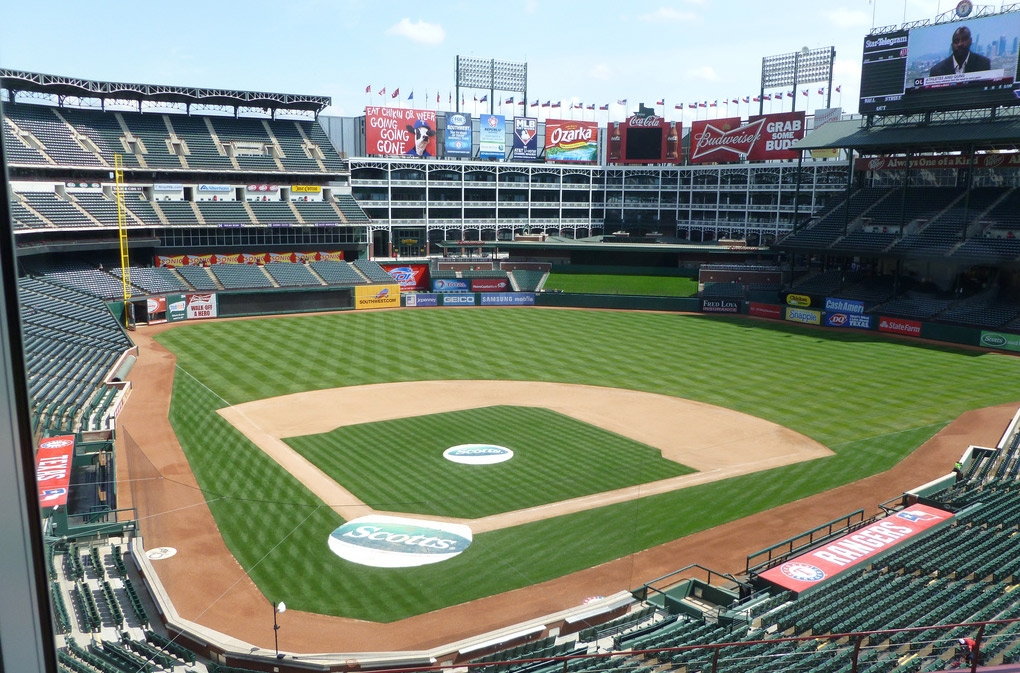 Arts & Entertainment
It wouldn't be terribly wild speculation to suppose that the Texas Rangers downtown ballpark is already part of a giant secret plan for the southwest corner of downtown.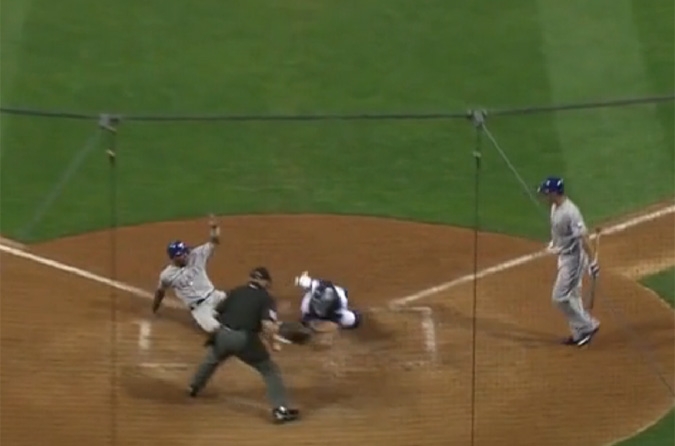 Sports
First time a Rangers player as done it since 2000.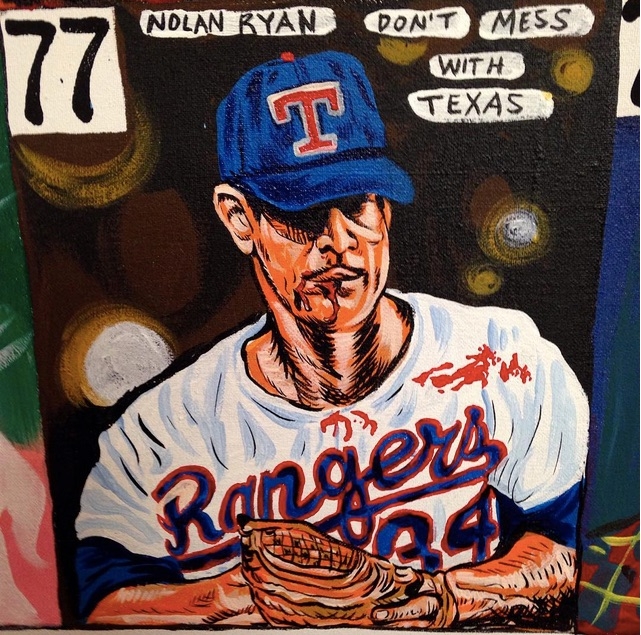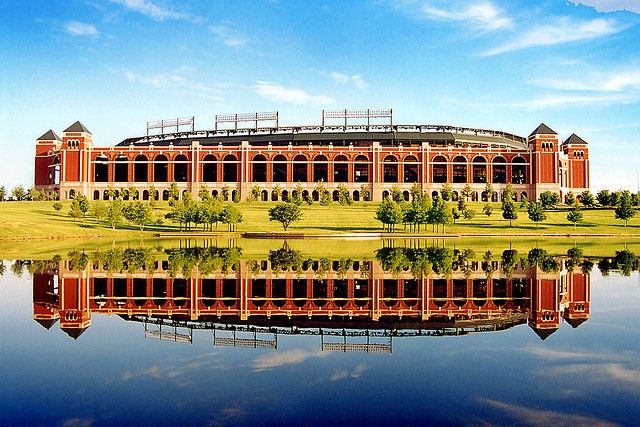 Business
Baseball stadium's new moniker to be announced today