For Oak Cliff began in a classroom.
Co-founder and CEO Taylor Toynes recognized a need in his community when he was teaching at W.W. Bushman in South Oak Cliff. Many of his students did not have school supplies. 
So he got to work. He helped organize the inaugural Back to School Festival in 2015, a now-annual event that equips students with the supplies they needed.
"Our community was in a space where [there was] always negativity," says Toynes. The problems went beyond a lack of school supplies. Toynes saw systemic issues that affect the area. But he also saw plenty of positivity and potential.
In the years since that first Back to School Festival, For Oak Cliff has grown dramatically in scope and scale. The organization that began in a classroom now provides resources for Oak Cliff community members of all ages. They host job fairs and offer GED and phlebotomy programs, helping train residents for specific jobs.
These services are often held at the For Oak Cliff Community Campus, a 20,000 square foot former YMCA that sits on 10 acres of land. It has classrooms, a gymnasium, tennis courts, a pool, and an e-sports center.
"Our mission is to liberate Oak Cliff from systemic oppression by building a culture of education to increase social mobility and social capital," says Xavier Henderson, For Oak Cliff's co-founder and chief development officer.
A bimonthly farmers market is one of the ways For Oak Cliff hopes to achieve its mission statement. Much of the 75216 ZIP code is federally-designated as an area with "low access" to quality fresh food. This has a significant impact on the health of residents.
"[Oak Cliff] has some of the highest rates of early death. We have the highest rates of chronic disease," says Julianna YeeFoon, For Oak Cliff's director of food justice. "One in three people in our zip code is walking around with a diagnosed chronic disease, and plenty of other people are undiagnosed, which reduces…quality of life…and life expectancy."
The life expectancy for residents of the 75216 ZIP code is 70.8, according to data compiled by UT Southwestern. That's eight years fewer than the Dallas County average and 14 years below 75205 in Highland Park, just 12 miles north.
To address this, YeeFoon says For Oak Cliff wanted to find ways "to bring more fresh food to [the] community and make sure people are learning how to eat healthy" while also providing access.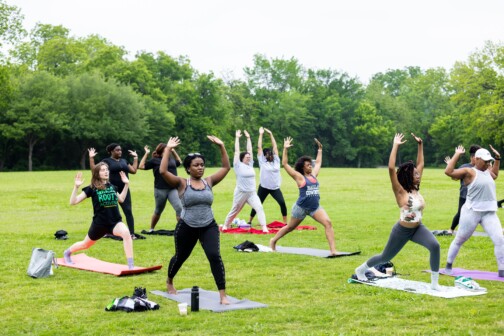 With support from Dallas County Health and Human Services, along with a USDA grant, For Oak Cliff began hosting farmers markets in 2022 on the first and third Saturdays of every month. YeeFoon says that making sure the products are affordable is a major focus for For Oak Cliff. They accept SNAP and WIC as payment and match every dollar spent through SNAP up to $30. That means residents can get $60 worth of food from the farmers market for half the price.
This month, For Oak Cliff hosted its third annual Juneteenth celebration in combination with the farmers market last Saturday. The event involved free food, a live DJ, and a water slide, with activities for kids and fresh produce for sale.
Even when For Oak Cliff is not hosting events, the Community Campus remains open during the summer, providing a safe space for kids who are out of school to spend time.
The organization also provides summer internship opportunities for high school and college students. Luis, a recent high school intern, says that For Oak Cliff is important to the community. "It's a safe place… I really found myself within this community and it [helped me] feel at home."
Sydney, another recent intern, says For Oak Cliff gave her the opportunity to go to Washington, D.C. and lobby congressional representatives for funding a trail and parks along the nearby Five Mile Creek. "[For Oak Cliff] gives you a sense of community, and I want to help and be there for my community," she said.
While internships, educational programs, and community celebrations are ongoing throughout the summer, For Oak Cliff will ring in the school year the way it does every year—by going back to its roots and hosting its Back to School Festival on August 12. The program has grown alongside the organization itself, and now provides supplies to over 4,000 students each year.
To learn more about For Oak Cliff, check out volunteer opportunities, or make a donation, visit the For Oak Cliff website.
Get the D Brief Newsletter
Dallas' most important news stories of the week, delivered to your inbox each Sunday.
Author