Dallas-based menswear brand Mizzen + Main, known for its moisture-wicking, four-way stretch, and wrinkle-resistant shirts, revealed the results of its flagship store renovation in West Village. "The notion was, how do we create a physical experience for our customer that really aligns to the full brand, tone of voice, and imagery that we're trying to put forward on all of our channels," says president Ryan Kent. The store reopened yesterday after two months of closure.
The renovation follows a brand refresh completed in 2022, in which Mizzen + Main revamped its digital assets and social media approach. The new look of the retail store incorporates some of the changes made within the brand's digital transformation. "We have a lot of brutalist architecture as the backdrop of our photography and imagery, because we feel it's a great contrast to the comfort and the movement that our products provide," Kent says. Concrete walls behind the store's fashion products and wood display islands serve as the physical representation of this hard and soft contrast. Additionally, displays of technology from the 80s and 90s atop store shelves tie in elements from recent Mizzen + Main imagery.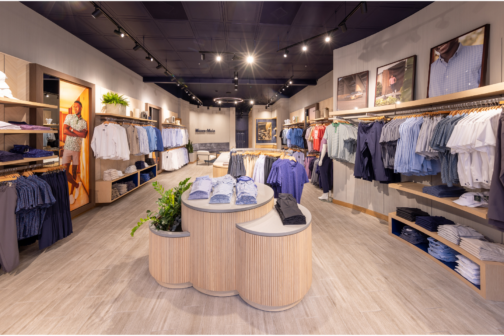 In response to retail-s post-pandemic shift toward providing a comfortable consumer experience, the store's new layout does not feature a fixed point of sale: Two counters at the center of the store house equipment to wrap purchased products and mobile POS technology will allow customers to make a purchase anywhere in the store. "While [the store experience] always needs to be transactional to some degree, we don't want it to feel like it's just a transaction," Kent says. Lounge areas and redone fitting rooms with concrete and felt-covered walls amplify the welcoming and experiential feel.
Finally, the store features a new layout, organized around where a Mizzen + Main customer might wear its products, rather than specific collections or product features. This allows the brand to highlight its interaction with the golf world—it has six signed sponsorships with PGA athletes—and better connect with customers, Kent says. "As the brand has evolved and we've tried to think about how we get deeper emotional connection with our customer, [we realized] that's not going to happen through just a trim or a classic-fit shirt. It's going to happen with connecting to the experiences that they're doing in their life, so we tried to evolve the store to match that."
The brand has plans to update its other five locations nationwide as well, carrying over many of the elements of the new West Village layout and aesthetic where existing lease terms will allow. "It'll be a rolling change probably over the next 12–18 months," Kent says. New locations will be modeled after the West Village store, and the first of these will open in Southlake Town Square in June. Locations in San Antonio and Houston will follow, bringing the company's total store count to eight soon. Mizzen + Main currently has around 60 employees.
Multifamily Housing Company Homz Raises $50 Million to Build Wellness-Focused Neighborhoods
Frisco-based Homz secured $50 million in pre-seed funding to fuel the development of affordable, sustainable, wellness-focused multifamily neighborhoods throughout the Southeast region. Dallas-based venture capital firm Nanban Ventures led the funding round.
With the funding, Homz is striving to create partnerships with cities throughout the Southeast region. In all, Homz is aiming to construct 50 sustainable, wellness-centric multifamily units with a goal of increasing socioeconomic diversity while providing public access to urban environments. All the assets in the portfolio will feature the same design, layout, and amenities—similar to a hospitality portfolio. Homz target cities for the communities are tier-two markets located within a 20-to-30-minute drive from major metropolitan areas.
"It's no secret that there is a lack of attainably-priced housing in the U.S, which severely restricts optionality and socioeconomic advancement," Kim Diamond, a board member for Homz, said. "We are committed to changing this by delivering a uniformed brand of sustainable, wellness-centric communities at attractive price points that people actually want—and can be proud—to live in."
Homz expects to invest between $140 million and $170 million in each community and will secure financing from the Department of Housing and Urban Development. It plans to own each investment for about 25 years.
DFW's nVenue Selected to Join NBA Launchpad Program
Micro-betting and predictive analytics startup nVenue was selected as one of seven global companies to join the NBA's Launchpad initiative, which is designed to source, evaluate, and pilot emerging technologies that advance the NBA's top priorities.
Within the cohort, the nVenue team will develop a NBA-focused micro-betting curation engine to create unique, contextual in-game micro-betting markets, props, and parlays. The platform will be on display at the NBA's Summer League which tips off on July 7 in Las Vegas.
Micro-betting is betting on individual moments in a game not related to the final score. Micro-bets happen in real-time throughout a given game.
Inclusion in the NBA's Launchpad initiative is the most recent move in nVenue's rapid growth. During the 2022 MLB season, nVenue—a portfolio company of the Comcast NBCUniversal Sports Tech Accelerator—powered on-screen predictive analytics for the league on its Friday night games on Apple TV+. And in October 2022, nVenue launched its NFL micro-betting platform and added renowned fantasy football analyst Matthew Berry to its list of advisers. As of October 2022, the company had raised more than $5 million in funding.
SMU Receives $20 Million Gift from Templeton Family and $11 Million Gift from Jack Knock
Mary and Richard Templeton, the CEO of Texas Instruments, gifted $20 million to SMU's Lyle School of Engineering. Sixty percent ($15 million) of the gift will go toward postdoctoral fellowships and research, financial assistance for doctoral students, and undergraduate scholarships for women and students from underrepresented populations. The remaining $5 million will endow and name the school's dean position.
"SMU provides the kind of robust education and research opportunities that are vital to the success and growth of Dallas," Richard said. The inaugural Mary and Richard Templeton Dean will be Nader Jalili, who joined the university on March 1.
Jack Knox—a general partner of Texas Flags, formerly Six Flags Over Texas Fund, which owns the real estate and facilities of Six Flags Over Texas—also gave $11 million. His gift will go toward the university's campaign, SMU Ignited: Boldly Shaping Tomorrow. "SMU helped shape me as a person and as a professional," he said. "I am pleased to support the exemplary work SMU does for its students, the North Texas community and beyond."
Get the D CEO Newsletter
Stay up to speed on DFW's fast-moving business community with weekly news reports, interviews, and insights.
Authors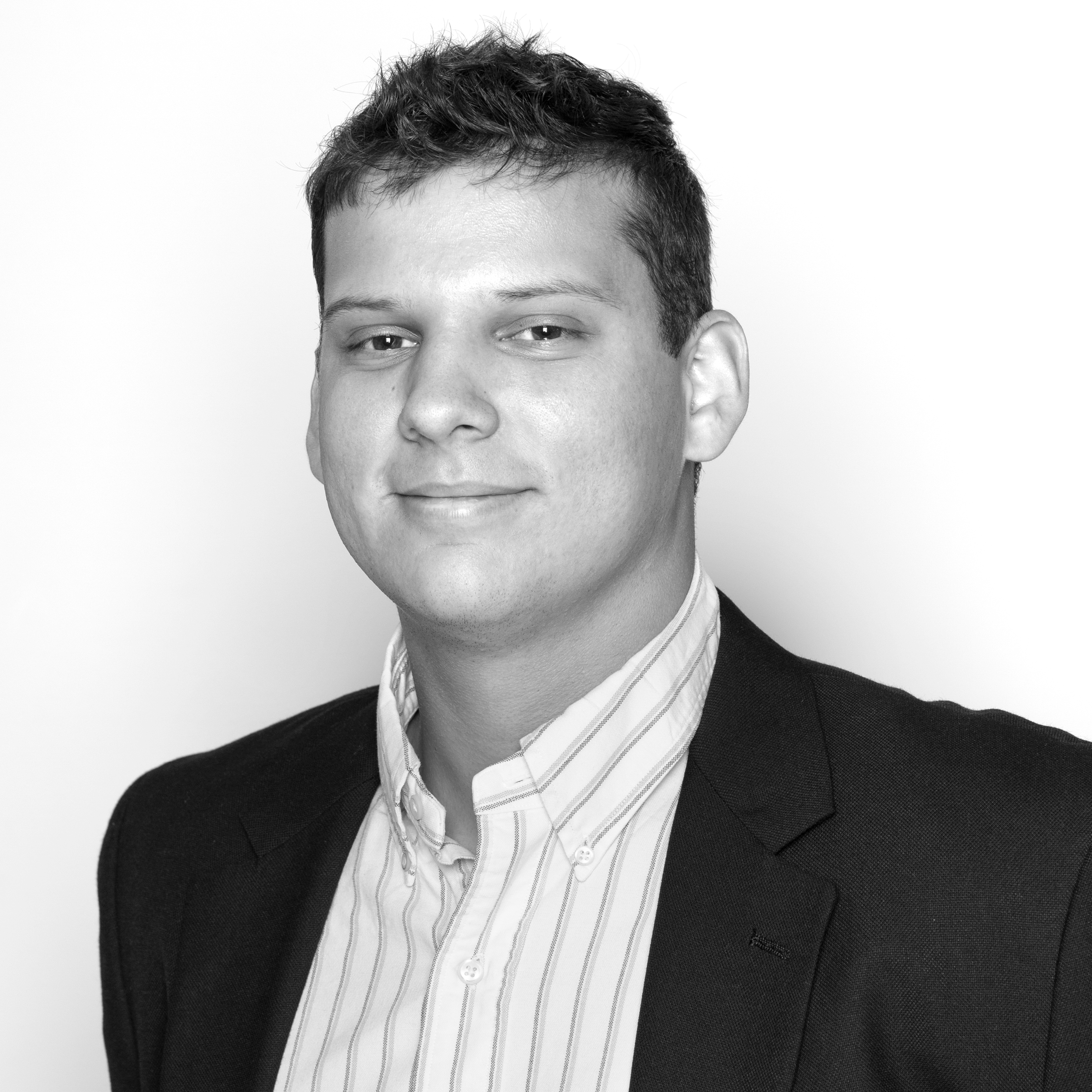 Ben Swanger is the managing editor for D CEO, the business title for D Magazine. Ben manages the Dallas 500, monthly…
Kelsey J. Vanderschoot came to Dallas by way of Napa, Los Angeles, and Madrid, Spain. A former teacher, she joined…