Hi everyone, I'm Catherine, an online editor here at D, covering lifestyle and wellness. Everywhere you look, there's a chain or local studio enticing you to come in, say a couple of positive affirmation mantras, drop a ton of money, and get fit from a super skinny, buff instructor—cycling, pilates, HIIT, you name it. Think I'm exaggerating? Search fitness in Dallas on Class Pass, and more than 300 spots pop up.
To be honest, this scene has always intimidated me. One, because it's hard to live up to this idealized lifestyle in my everyday life. But also, because I am disabled, and I have been my entire life. I was born with a rare condition called arthrogryposis, which means I have very tight joints and very weak muscles, and practically no core. Throughout my life, I've been wheelchair bound, worn leg braces, done years of physical therapy, and had multiple surgeries. I've never felt like I belonged to this world of athleticism and studio fitness, and I didn't want to write about a culture that excluded me.
But then I began to wonder, was I actually excluded? Are these bougie boutique gyms accessible to someone who isn't able-bodied? I decided to put them to test. In a new fitness series that we're calling Shape Up, I'll review all these places. I'll take the class and report back on their accessibility. If the gym is great and I felt empowered and supportive, I'll sing their praises. If they were the opposite, I'll talk about that, too.
Here's how these reviews will work: I'll start by recapping my experience, what the place was like, how I liked the instructor, what I did in the actual class—pretty much everything you're used to seeing in a gym review. After that, I'll go my final thoughts. What are the aesthetics of the gym—is it fun? Will it look good on my Instagram feed? How difficult was it? Was the class doable? Looking around, were others struggling like me?
Then I'll break down the accessibility of the class, from the actual gym space itself (can you even get in the door), to the range of equipment available, to the modifications (or lack thereof) offered, to the instructor's general attitude. I'll also consider another form of accessibility: cost. Can the average person afford this class? Does the gym offer new client discounts? Do they charge for equipment?
Finally, I'll answer one last question. Would I go back? We'll be running these every Friday. Have a suggestion for a gym I should try out? Here's my email. I'd love to hear from you.
---
As I pulled into Mockingbird Station one morning this summer, the bright, siren-like Dallas Grilled Cheese Co. sign called out to me. It's a cruel temptation when you're already booked next door at StretchLab.
Opened in late April, StretchLab specializes in assisted stretching. Trainers here, called "flexologists," use Proprioceptive Neuromuscular Facilitation, or PNF, stretching to work with clients in 25- and 50-minute sessions. Supposedly, PNF activates the muscles into a deeper stretch, helping clients increase range of motion and relieve tension and pain in their joints. At the studio, the flexologist puts you into a stretched position and asks you to push against them for a few seconds before relaxing.
This technique intrigued me. I have a condition called arthrogryposis, which basically means I've had super weak muscles and super tight joints, plus scoliosis, my entire life. Tl;dr, it means a good, deep stretch is exactly what I need.
I walked in five minutes early for my 50-minute mobility assessment stretch, armed with the required grip socks. In the lobby area, they had some leather chairs and a few plants. Soft coffeeshop music, circa 1970-something, played overhead. Besides the wall of athleisure for sale, the studio felt a bit like a doctor's office.
My flexologist greeted me, then led me to our spot. The Mockingbird Station location has an open area of 10 beds—like the exam tables you'd see in training rooms—that have cubbies for your personal belongings and for equipment, like foam rollers.
We spent the first few minutes of my session chatting. My flexologist asked me about why I came today and about my physical activity. Despite having lived with my disability my entire life, I sometimes still feel awkward explaining my limitations. But my flexologist listened, asked questions, and even grabbed a pen and paper to take notes about my condition and research it later.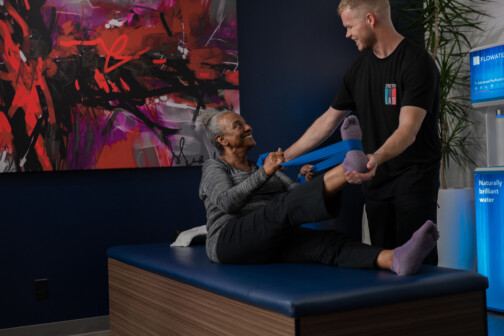 Finally, she had me lie down on the table. She spent most of the assessment working on my lower body. She'd position my leg in a place then ask me to breathe in and push against her to engage my muscles and activate the stretch. Each time she moved me to a new stretch, she'd explain what she was doing, ask how I was feeling, then push me farther if I felt I could.
If there ever was an issue with a specific position—at one point, I felt pins and needles in my leg—she'd readjust until I was comfortable again. I've had several surgeries on my feet, so she was careful to not overstrain my tendons.
I appreciated how professional my flexologist was throughout the session. She'd give me warning when she had to touch somewhere sensitive, like just below my glute. At various points of the stretch, my flexologist had my legs up in what could only be described as a compromising position. While all I could do was giggle, she was calm and collected the whole time.
"Oh yeah, this is tight," she said as she got to my wrists, which I cannot flex, even with assistance. We talked about how I crack my fingers and wrists to relieve tension, then moved on to shoulder rotation.
Soon enough, though, the 50 minutes were over.
We hadn't done much upper body stretching, which is where most of my pain and joint issues are, but she encouraged me to come back. While I wished we had focused more on my back and neck in this session, I was happy how everything went. My legs felt good and loose as I headed back out past Dallas Grilled Cheese Co.—and to my car.
Final Thoughts
Aesthetics
The studio has a relaxing, friendly atmosphere. The staff is genial, often joking with each other as they work with clients. At one point during my assessment, they all sang along to the music. But despite the chill vibe, this isn't the spot for your next Instagram. You're here to get something accomplished.
Difficulty
Perhaps it was because this was only an assessment of my flexibility, but I didn't find my session difficult at all. The flexologists only push you as far as you can go, and, honestly, the stretches felt good.
Accessibility
This place is primed for someone in physical recovery from an injury or surgery, or someone with a disability like me. The flexologists take care to understand your abilities, which hasn't always been my experience in studios. My flexologist was constantly checking in to make sure I was doing okay and asked questions about my disability, which made me feel more comfortable than I thought I'd be going in.
The Cost of It All
My mobility assessment cost $49. A normal one-on-one, 50-minute stretch is $105; a 25-minute session, which, depending on the area you're isolating, is probably not enough time to do any serious work, is $55. StretchLab also offers packages, starting at $149. For some, this pricing isn't a huge deal. As someone who qualified for the full stimulus check amount in 2020, I'm not sure I'd want to spend 100 bucks a session. However, StretchLab does accept insurance, which is something I'd consider pursuing in the future.
Would I go back?
Yes. I want to get my upper body worked on, too.
Get the AtHome Newsletter
Enjoy Dallas' best trends, hot properties, and tips from local designers to help you nest in style delivered weekly.
Author
Catherine Wendlandt is the online associate editor for D Magazine's Living and Home and Garden blogs, where she covers all…