Social Studies, a luxury party supply delivery service company, has joined the East Coast exodus, moving its headquarters and distribution center from Brooklyn to Dallas' Design District.
The companywas co-founded in 2019 by native Texans Jessica Latham, CEO, and Amy Griffin, also managing partner at venture capital firm G9 Ventures, to provide rentals of party supplies within a week of ordering. The concept quickly caught on with the celebrity crowd, landing investments from Gwyneth Paltrow, Reese Witherspoon, and Bumble founder Whitney Wolf Herd.
Social Studies' first round of funding net the company $3 million; its seed round, which is nearing its finish line, will close between $4 million and $5 million. But where did the idea originate?
"I threw a lot of baby showers and engagement parties for my friends and I would run all over town and buy a bunch of stuff that I didn't really need," Latham says. "And I just thought, 'Why is there not a company that exists that sells party kits with everything that you need, from the tableware to the decorations to the flowers, even down to printed menus and place cards. But not only sells; why isn't there a company that exists where I can rent this stuff, because I don't need 30 pink china plates for the rest of my life.'"
Social Studies, which has eight full-time employees, reported just over $1.2 million in revenue for 2021. According to Latham, 2022 will be the company's first profitable year, as it is on pace to take in between $3 million and $4 million. "Startup culture is all about raise, raise, raise. And never really getting to profitability. But for us, we're out to build a real, profitable business," Latham told D CEO.
As to why company leaders decided to move the enterprise to Texas, it comes down to a couple key things.
"The cost of doing business in Texas is just much better than it is in Brooklyn," Latham says. "And being located in the center of the country just made sense from a distribution process. So, we first discussed moving distribution down to Dallas, but we just decided to rip the Band-Aid off and move the whole thing. It doesn't hurt that Texans love to entertain, and Texans are good at entertaining, too."
Social Studies' sweet spot is delivering party supplies—which the company has started manufacturing itself—for events ranging between four and 40 people. During the busy months around holidays, Latham says she and her team will ship out approximately 1,000 four-person kits.
Kits range in occasions from date nights and picnics to small weddings and birthdays—pretty much anything that involves entertaining, food, and drinks, Social Studies provides a party setup for the event. Latham is proud of her company's low 2 percent break rate (the biggest concern of customers), but she says Social Studies always ships an extra set of anything that could break.
Now anchored in Dallas, Latham has plans to expand Social Studies' offerings into the kitchen, pantry, and home verticals—while leaning into vintage looks. She's also excited to experiment with two-hour delivery service in DFW, possibly a subscription service, all while continuing to initiate collaborations with high-end brands such as Tory Burch, Double J, Aerin Lauder, Goop, and more.
Latham's background is rooted in Hollywood. She studied film at The University of Texas and for nearly six years worked as a director of special events for Vanity Fair. In that time she coordinated Oscar afterparties, produced Vanity Fair Campaign Hollywood (the magazine's legendary weeklong celebration leading up to the Academy Awards), and more.
She eventually grew weary of hosting the parties; she wanted to be the party-goer. So, in 2013, alongside her husband Ryan Brooks, Latham helped produce the Oscar-winning documentary Inocente—and then attended the Vanity Fair party she used to put on.
After stints with a couple of independent film production companies, Latham formally founded Social Studies in 2019. Since then, she has utilized her diverse expertise, expanding the company into the retail and media landscape. Its media platform is partnered with James Corden's company Fulwell 73 Productions to explore entertainment possibilities ranging from a YouTube TV series to long-form opportunities on Netflix and Amazon.
"The sky's the limit for us," Latham says. "As long as we continue to bring on great partners like we have been, $5 million to $7 million in 2023 is in play. We're feeling very good about our projections for this company."
Social Studies' new headquarters and distribution center, located at 154 Express Street, totals 5,040 square feet. Garrison Efird, Jim Cooksey, and Dalton Jernigan with Newmark represented the tenant. Edge Commercial represented the landlord.
Get the D CEO Newsletter
Stay up to speed on DFW's fast-moving business community with weekly news reports, interviews, and insights.
Author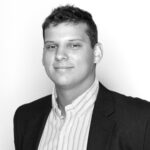 Ben Swanger is the managing editor for D CEO, the business title for D Magazine. Ben manages the Dallas 500, monthly…