On a Thursday night this past spring, about 15 dogs and their owners filed into the backyard of Bevill Dog Behavior. "They weren't just a bunch of good, calm dogs," owner Brad Bevill says. They were "gnarly," with cases of hyperactivity, anxiety, and even some aggression.
Everyone was there for a meditation class, led by Dallas Meditation Center director Miguel Chen. As Chen led the, ahem, human group through the mindfulness and yoga exercises, the dogs started to calm down. "By the time Miguel was done, most of them were sleeping," Bevill says.
The class was a test-run for Bevill and Chen's new online class, "Sit. Stay. Breathe." The course, which launched online last month, combines dog training with meditation practices.
Bevill, an Irving native, began his career as a personal trainer then worked in marketing for 18 years, convincing people to buy vodka and eat burgers. Wanting a change, he began dog training in 2013. Bevill had grown up with lots of pets—dogs, parakeets, hamsters, ducks, a rabbit, and even a rooster—and was good with them. He transitioned into Bevill Dog Behavior full-time in 2017.
Chen, who grew up in Wyoming, started out as a punk rock musician. Chen says his mother had always tried to teach him mindfulness practices, but he didn't take those lessons seriously until about 20 years ago during a period when he felt "deeply miserable." Meditation and yoga helped him find a sense of peace. He began formally teaching a decade ago and has since written a few books, started a Yoga For Punks newsletter, and opened Blossom Yoga Dallas. He's still a punk rocker, playing bass in the band Teenage Bottlerocket.
Chen and Bevill had been friends for years, bonding over their mutual love of baseball and music. About five years ago, Bevill visited Chen in Wyoming. He was about to have his first child and needed help calming his dogs down before the baby arrived. One night, over margaritas, they chatted about the similarities in what they taught, like posture, breathing, and energies. "A lot of the work I was doing in mindfulness and meditation was overlapping with the work that Brad was doing," Chen says.
"We realized we literally teach the same stuff," Bevill says.
The pair decided to collaborate. At first, they wanted to write a book together. They got an agent and put together a proposal. Chen moved to Dallas. However, the book evolved into something they didn't want, so they decided to create Sit. Stay. Breathe.
Priced at $95, "Sit. Stay. Breathe." is a three-week online video training course. There are three sections, "Body," "Mind," and "Heart," with five short videos. The longest clocks in just over 15 minutes. "We stagger, like, work on the human, work on the dog, work on the human, work on the dog," Bevill says.
The lessons themselves are straightforward, Bevill says. Chen teaches simple yoga and meditation exercises to improve your physical, mental, and spiritual wellbeing. Bevill teaches mirroring exercises to help improve your dog's wellbeing.
For example, in the first week, Bevill and Chen focus on "Body." Chen's videos lean into mindfulness while walking. You can't be talking on the phone while walking your dog, he says. "You have to be really present and connected to what's right in front of you." Chen explains how to adjust your spine and posture to improve your energy and find a state of calm confidence.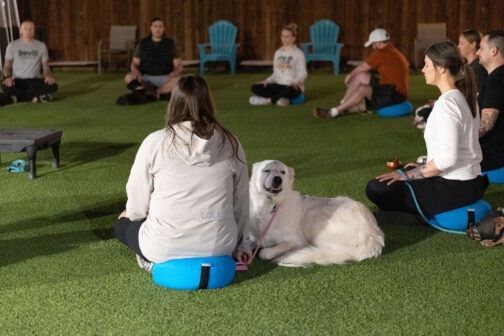 Bevill's videos take Chen's lessons, like confidence, and applies them to training. If you're walking your dog, he says, walk ahead of them and lead the way, setting the pace and path. The leash should be used as a communication tool, and your dog should mimic whatever energy you're putting out, Bevill says. "Your dog is your best mirror of who you are."
The course is relatively surface-level compared to what the pair eventually wants to do. But don't count it out, Bevill says. It'll get you about 80 percent of the way. "The biggest change happens with the easiest stuff."
The pair have high hopes for the other 20 percent. They want to build out more courses, like creating guided meditations on walks to "bridge the gap between meditation and movement," Bevill says. They want to host workshops. They want to bring in a nutritionist and psychologist for a more holistic approach in exploring nutrition, exercise, yoga, mental health, and human and dog psychology together.
"I'd like to build a team around body, mind, and heart that helps humans become better human beings," says Bevill, "which will then translate into a better relationship with their dog."
Get the AtHome Newsletter
Enjoy Dallas' best trends, hot properties, and tips from local designers to help you nest in style delivered weekly.
Author
Catherine Wendlandt is the online associate editor for D Magazine's Living and Home and Garden blogs, where she covers all…