We've all been there: You walk the produce aisle at the grocery store and find overpriced, mushy fruit. And then you sift through all the produce, hoping to find that one perfectly ripe apple, peach, avocado, what have you.
But grocery store fruit is often picked while still green and then shipped from wherever it's grown, says Sharien Strange of Ham Orchard. It's not as fresh as what is harvested on a local farm.
Jill Blase, who owns Blase Family Farm, a blueberry farm in Rockwall, agrees. It's so much tastier "when you get to pick a berry off a bush."
Instead of playing a fruit-driven Captain Ahab at the grocery store this summer, gather up the kids and make your way to a nearby pick-your-own farm. There are plenty around Dallas where you can gather fresh fruit and flowers yourself.
These farms often make a festival of it, with trailer rides, games, and plenty of snacks and baked treats to buy. Plus, it's a great escape from city life.
"I feel like people have gotten disconnected from just how beautiful the earth is," says Amanda Martin, who owns Green Valley Farm near Denton. Heading out into the country for the day and visiting places like her flower farm, is a "great opportunity to come see how pretty it can be."
We've rounded up four pick-your-own farms, selling everything from peaches to gladiolus, that are all less than an hour's drive from downtown Dallas.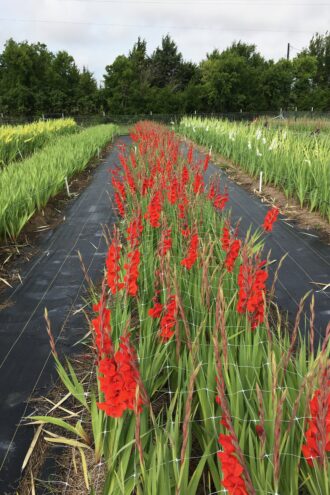 Gladiolus: Mars Hill Farm
After Mars Hill Farm opened in 2017, the owners noticed gladiolus did well in the Texas climate. The tall flowers don't have to be replanted each year, co-founder Julia Schwarz says. So she and the five other owners thought to themselves, "what if we planted our whole front beds with them?"
They planted 51,000 bulbs and opened the farm last year for the inaugural GladFest. Visitors could cut gladiolus stems, and there were trailer rides, a hay maze, a drawing class, a petting zoo, and more.
This year's GladFest begins Saturday, May 21, and will run Tuesdays–Thursdays by reservation and 8:30 a.m.–2 p.m. Fridays–Saturdays until about mid-June, when the peak gladiolus season ends. Admission is $5, and after you're handed scissors and a bucket, it's $2 a stem. "It's kind of addictive, actually," Schwarz says, "because you cut one, and then you see another one that's even more perfect and then you cut the next one."
20 minutes from downtown Dallas. 1604 Mars Rd., Ferris. marshillfarm.com
Blueberries: Blase Family Farm
After growing up on a large farm in South Dakota, Chris Blase "swore he'd never farm again," says his wife, Jill Blase. But after the couple got some land out in Rockwall, "he couldn't stand to not have the land working for him." The family decided to plant blueberries, opening their pick-your-own farm with 600 bushes in 2011.
Since then, the farm has expanded to 1,600 blueberry bushes. Winter Storm Uri destroyed almost their entire crop in 2021, but Jill thinks 2022 will be their best season yet. "The bushes, instead of growing blueberries last year, grew bigger and stronger," she says.
The season will open near the end of May then close again in early-to-mid-July. There's no entry fee, but the Blases charge $5.25 per pint or $7 for a pound for blueberries. The farm is open 9 a.m.–1 p.m. by reservation whenever there are ripe blueberries, so check the website a few days in advance to book.
35 minutes from downtown Dallas. 1232 E Fork, Rockwall. blasefamilyfarm.com
Peaches and Blackberries: Ham Orchards
What's the best time this summer to get peaches at Ham Orchards? Every week, manager Sharien Strange says. The Terrell orchard has 30 peach varieties, all of which ripen at different times throughout the summer. But, Strange says, the longer any peach hangs on the tree, the juicier it gets. While the end-of-summer fruit is the tastiest, "you won't find a sweeter peach anywhere else."
Strange's father, Dale Ham, founded the orchard 43 years ago. It's exciting to see how the orchard has grown over the years, Strange says. It'll all started with 100 peach trees, now there are more than 10,000. "Ham has become a family tradition here in Texas," selling peaches by the half-bushel, as well as ice cream, barbecue, jams, scratch-made pies and other pastries, and more.
Although guests cannot pull the peaches from the trees themselves, Ham has an 8-acre pick-your-own blackberry patch. The orchard is open for peaches until August 13, but peak blackberry season lasts only until mid-June, Strange says. Visit 9 a.m.–5 p.m. Mondays–Saturdays.
45 minutes from downtown Dallas. 11939 County Rd. 309, Terrell. hamorchard.com
Flowers: Green Valley Gardens 
For Amanda Martin, its magical walking around her flower farm just outside of Denton. "I feel like a garden fairy when I'm out here working," she says. She and her husband, Matthew Williams, have a little bit of everything, but they focus on celosias, amaranths, zinnias, sunflowers, and gomphrenas ("that's one of my favorites," Martin says).
Martin says Williams has always been a "gardener extraordinaire," but they wanted to grow something more profitable than vegetables. Someone on Facebook suggested they try flowers, and they opened their pick-your-own flower farm last year in the home's side yard. "People really enjoyed it," Martin says, "so we're going to keep doing it."
For their sophomore year, the couple moved their flower beds to a larger plot on their property. Visitors pay $25 for a 20-once paper cup, which holds 20–27 stems, Martin says. The farm is open 9 a.m.–6 p.m. Fridays–Sunday until the first frost in the fall.
50 minutes from downtown Dallas. 4987 Warschun Rd., Aubrey. www.gvgntx.com
Get the AtHome Newsletter
Enjoy Dallas' best trends, hot properties, and tips from local designers to help you nest in style delivered weekly.
Author
Catherine Wendlandt is the online associate editor for D Magazine's Living and Home and Garden blogs, where she covers all…