Wellness is a major buzzword these days, but it can mean a little something different to everyone. Does it stand for self-care and restoration, or is it more about strength and endurance? So, we created a series breaking down the healthy habits of local influencers and entrepreneurs, allowing them to define what wellness means on a personal level.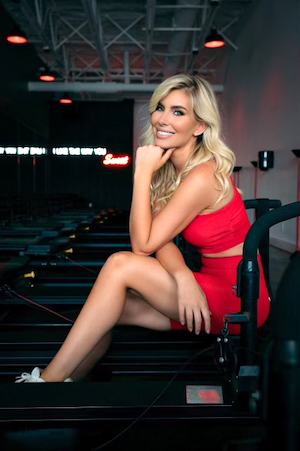 Jennifer Eitches, the owner of One Lagree, was one of the first to pioneer the Lagree Method in North Texas. (The patented workout balances high-intensity exercise with low-impact movements on a Megaformer M3X machine.) Eitches introduced the fresh concept to the Dallas wellness scene in 2017 and still teaches classes daily at her Oak Lawn studio. But her goal is much broader than helping Dallasites break a good sweat.
"Stop obsessing over fitness for solely physical appearance," Eitches says. "It's a good tool for mental health and overall wellbeing. This is something that took me years to fully understand and embrace."
We asked Eitches to share more about her wellness ethos and why she thinks working out is a critical component of a happy life.
Tell us a bit about your background before founding One Lagree in Dallas.
I used to live in L.A. and loved working out all the time. I took private pilates classes with Lia Bartha and became inspired to become a part of this industry. Once I settled in Dallas, I knew I wanted to leave my mark within the fitness industry while providing a service that makes people feel good, both mentally and physically.
What does healthy mean to you?
This is a complicated answer as I have struggled with my perception of health and wellbeing over the years. But I have evolved and realize now that I must be conscious of my overall health which includes all facets: mental, emotional, and physical.
How do you start and end your day on a healthy note?
I like to start my days early with thoughts of gratitude. I have so much love in my life and more than I could have ever imagined. That's something I want to take a moment each day and recognize. And to end the day, I like to eat dinner by 6:30 p.m. and be in bed by 8:30 p.m. so I can start to wind down in bed.
How do you influence your One Lagree clients to be healthy?
I tell my clients to stay uncomfortable, meaning that if they feel like they've hit a plateau, they should switch it up. I never try to sell clients on only exercising at my studio. I encourage clients to keep moving and doing different things. Keep moving and stay uncomfortable, while remembering that rest days and downtime are just as important as movement. Achieving balance is the ultimate goal.
How do you practice mental health and self-care?
Mental health is one of those things people don't talk about enough. I've always battled depression to a small degree, so I proactively do things such as seeing a therapist and surround myself with people who are uplifting and positive to those around them. This is so important to me. I also make sure to spend a fair amount of time on self-care for my physical and mental health. I have found walking to be one of the best ways to clear my head and I try to do it daily. Sometimes I even walk to my studio. I am also obsessed with going to Breathe Meditation and Wellness and using their Halo Salt Therapy, Glow Sauna Studio for the infrared sauna, and Ohzone Clinic for their ozone saunas and IVs. Once a year I check in at Formula Wellness for all my bloodwork to make sure everything looks right. I have found my balance, and am grateful to have these businesses to support my health.
Get the AtHome Newsletter
Enjoy Dallas' best trends, hot properties, and tips from local designers to help you nest in style delivered weekly.