Dallas retail mainstay
Ylang 23
, which specializes in high-end jewelry, has launched a sister concept in Highland Park.
Wildlike
is a piercing studio and jewelry store that offers an eclectic mix of pieces from respected brands and a new in-house line.
The Wildlike concept is the brainchild of Alysa Teichman, whose parents founded Ylang 23 in 1985. Teichman has worn many hats in the family business, including buying and business development. Ylang 23 carries necklaces, earrings, bracelets, and more from over 50 American and European brands, at price points ranging from affordable (under $100) to luxury ($10,000 and up). "
My parents are my investors in Wildlike, and they've been incredible to work with. We've been partners in Ylang 23 for a long time, and I've learned so much from their experience in owning and operating retail stores. That's why I feel remotely equipped to [launch Wildlike]."
Teichman has been considering a high-end piercing salon for a while. Ylang 23 hosted the first of many piercing events five years ago, and they were immensely popular. "They've been a huge source of joy for our clients and growth for our business," says Teichman. "I thought that piercing was a concept that deserved to stand on its own and be built out." When the pandemic hit and Teichman stopped traveling for work, she found the time to make the idea a reality.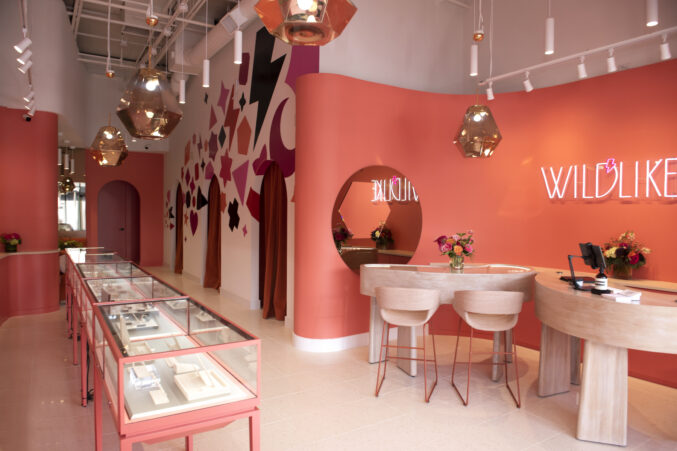 Wildlike occupies the old Blushington storefront in
The Shops of Highland Park
, which was given a refresh by
Swoon, the Studio
. The front area holds retail displays and a lounge area, while three private piercing rooms are situated towards the back. The space is anchored by a palette of pinks, corals, and metallics, with light wood furniture and Terrazzo accents throughout.
"Our high-end feel and fashion know-how are the secret sauce for Ylang 23," says Teichman. "We wanted to take those elements and focus them on piercings."
Her goal with Wildlike was to create a one-of-a-kind destination where customers had the power to choose a stylish, high-quality piece of jewelry, get their ear or nose pierced, and walk out with their selected jewelry in place.
 "A lot of people get their ears pierced at [non-specialty stores]," says Teichman. "With Wildlike, you don't have to put a low-quality, overpriced gold ball in your ear anymore."
Piercing guns, which are used at retailers like Claire's, can cause trauma to the lobe. Instead, Wildlike uses hollow needles, which are the industry standard for professional piercers. The safest way to do piercings is with is a flat back stud or a hoop, as both are designed with healing and swelling in mind, says Teichman. A large portion of the store's inventory falls into those categories, ready for customers who visit for a piercing.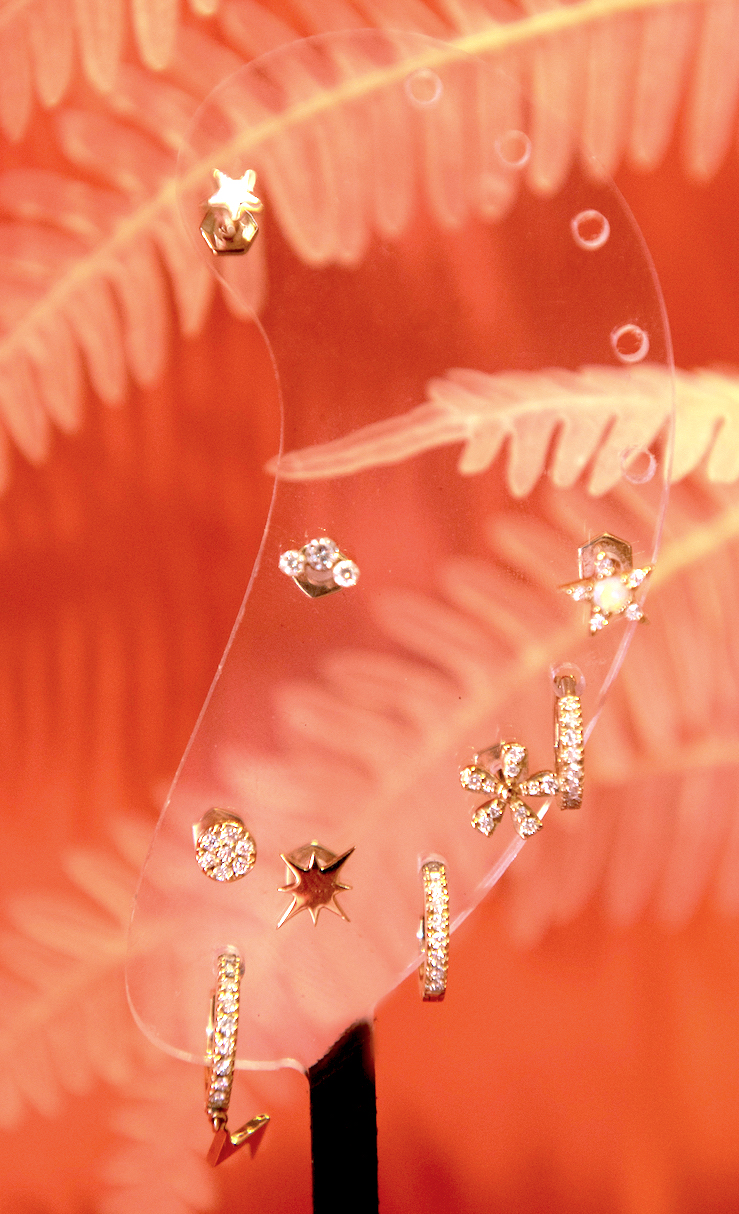 Like Ylang 23, Wildlike carries multiple brands, but this concept also boasts an in-house collection. Wildlike's earring designs focus on iconography (stars, shapes, and symbols). Some feature diamonds, opals, and other gemstones. You'll also find
pierceable jewelry from three major piercing lines, Maria Tash, BVLA, and Pamela Love. Those with healed piercings can peruse
other offerings, like traditional studs without flat backs, from brands like Sydney Evan, Jennifer Meyer, and Alison Lou.
Pricing is straightforward; piercings start at $40 for one nose or ear piercing and $20 for each additional. Jewelry, including the in-house brand, starts at around $90 per piece.
"We're really excited about the fact that these two sister brands play off of each other. In Wildlike, we're going to have a small selection of Ylang's jewelry, and vice versa. You're going to feel like you're in a distinctly different establishment, but we'll still have that beautiful selection, a warm and welcoming vibe, and a great team."
Having a highly skilled staff was paramount for Teichman. The store offers a styling bar where customers can consult piercers to get their desired look in the safest way possible. "These kinds of jewelry sales
require someone with a deep knowledge of anatomy and piercings," Teichman explains. "If you want to get your ear pierced but you have a really thin lobe, you're going to need a five-millimeter piece, while someone else might need an eight-millimeter."
Teichman also emphasizes the importance of listening to your piercer's guidelines on aftercare–don't sleep on your ear, don't twist and turn and touch the jewelry. "With that hollow needle piercing, the flat back jewelry, and following all the aftercare protocols, you have a really good shot of having a piercing that heals beautifully."
"Our high-end feel and fashion know-how are the secret sauce for Ylang 23. We wanted to take those elements and focus them on piercings.

Alysa Teichman
Wildlike also offers a menu of other services, including jewelry changes, cleanings, and consultations.
Teichman anticipates that the new storefront will attract some Ylang 23 loyalists, but she thinks Wildlike will develop its own customer base. The Wildlike concept was
designed to be approachable for anyone, including those who might feel intimidated getting pierced at a more traditional body jewelry salon or tattoo parlor. The minimum age for piercings is 10, but other than that, "our customer could be any age," says Teichman. "It's gonna start with 10-year-olds getting their first piercings, to teenagers getting a second hole for their sweet 16, all the way up to adulthood. We had someone over 80 who came to Ylang 23 to get a piercing."
Wildlike is now open for business at 4218 Oak Lawn Avenue. Stop by to shop or book an appointment here to get pierced.
Get the AtHome Newsletter
Enjoy Dallas' best trends, hot properties, and tips from local designers to help you nest in style delivered weekly.