Last week, we announced the top 20 pets in our 2021 Cutest Pets in Dallas competition. Out of 1,000 entrants—including dogs, cats, turtles, ponies, and a menagerie of other species—these pets had the highest number of votes. There were 16 dogs and four cats, and each is indeed exceptionally cute. Meet all 20 of them here.
Now, finally, it's time to introduce the winners of our fourth-annual Cutest Pets in Dallas competition. Drumroll, please.
Our Readers' Choice winner is Donut, a 13-year-old beagle who received the most votes out of all entrants. Our Editors' Choice winner is Mila, a 4-year-old domestic medium hair cat. To select Mila, our in-house judging panel looked at the top 20 pets with the most votes and considered their photos, bios, and overall levels of cuteness.
Look for Donut and Mila's feature in the September issue of D, and join us in congratulating both pets on a well-deserved win.
Meet Donut
Donut's owner, Eric, gives us some insight into this sweet and mellow beagle's hobbies, hidden talents, and favorite things.
How and when did Donut join your family?
I grew up having dogs. When I bought my first house, I began looking for one of my own. I found a shelter in Norman, OK that had taken in a stray pregnant beagle and listed her six pups for adoption. I chose one from the litter, and they gave me a date to pick him up after he was weaned. When I made the three-hour trip to Norman, I found out that the pup I'd chosen had been stolen the night before. Somehow, there was another dog in the litter that hadn't been spoken for by anyone, and that was Donut. He hadn't been my first choice, but now that I know him, I wouldn't have it any other way.
How did you choose Donut's name? When I was looking into the breed, I learned that beagles are extremely food motivated, so a food name felt fitting. Upon meeting him, he was just a sweet, squishy, drooly guy and Donut seemed perfect.
What was Donut like when he first came home, and how has his personality changed since then? Donut just turned 13, so he's mellowed out over the years and spends a lot of time sleeping. He's always been a happy, compliant pup, though his nose occasionally gets him into trouble. He loves people, and whether he's getting attention or not, he wants to be next to someone. True to the stereotype for beagles, he loves food and the mere sight of a treat makes him lose his mind.
You shared that Donut loves to visit White Rock Lake. What does he like to do there? When we walk at the lake, his scent hound lineage shines through and he is constantly distracted by new smells. He also enjoys going kayaking with me. He usually spends the first few minutes pretending to be a navigator, leaning way out over the nose of the kayak. Then he gets tired and naps in my lap.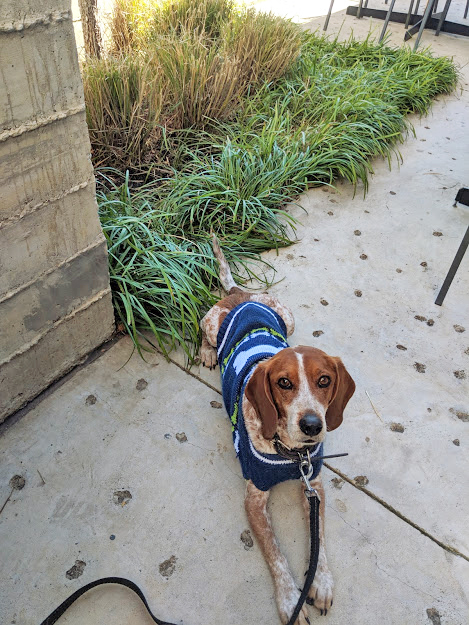 Donut is also a frequent visitor of bars and patios. Which are his favorites? We tend to frequent Armoury D.E., Hide, and Harlow MXM in Deep Ellum, and The Libertine, H.G. Sply Co., and Standard Service in Lower Greenville.
Does Donut have any hidden talents? He has a great sniffer. At my previous house, he was able to catch moles that had made their home in the backyard. He's always hungry and our neighbor's walnut tree had some branches that hung low over the fence; he discovered that he could jump up and bite a branch to get fresh walnuts to snack on. Also, if you wave hello to Donut, he'll wave back (and if he suspects you might have a treat, he waves with double the enthusiasm). Since teaching him that one, he's learned that waving at me when he catches my eye is a good way to get a few pets.
How would you describe Donut in three words? Loving, curious, and cuddly.
Meet Mila
Mila's owner, Jennifer, tells us more about Mila's gentle and sophisticated personality, her favorite things, and her love for her little sister. You can follow Mila at @milamimigoodlife.
You adopted Mila from a shelter. What about her first caught your eye? When my husband and I got married and bought a house in 2017, we wanted to add a pet to our new family. At the time, my husband volunteered at a cat shelter in Keller called Classy Cats. When we saw Mila (originally named Paris) there, we were smitten. She was a gorgeous kitten, only a few months old and happily playing with her brother and sister. Her mom is a Siamese and her dad is a black cat, but she was the only one to inherit the Siamese colors. We ended up adopting Mila and her tiny sister, who we named Mimi. Mila was so pretty and Mimi was so affectionate, we couldn't resist them. But to this day we regret not also adopting their brother, too.
How did you choose Mila's name? At the time, I was into some funny online videos about a little girl named Mila. I thought it was a really cute name and my husband agreed. We were going to name her sister Coco, but I started calling her Mimi (a Chinese nickname for "cat"), and my husband thought it was a perfect name to compliment Mila's.
What is Mila's personality like?
Mila is very affectionate to my husband and me, but especially to my husband. She follows him up the stairs, and anytime he sits down, she tries to get in his lap. If Mimi gets there first, she may still try to squeeze herself in. Mila is generally relaxed and doesn't often make quick movements, so it's easy to take photos of her when she's being silly or cute. We think this makes her good model material. Plus, when sitting, she has perfect posture with her tail wrapped around her toes, and when laying down, she crosses her front paws. She can be a bit shy–if we have friends or family over, she's timid and will hide behind the couch, but she will eventually come out to say hi. Mila does have a goofy side, though. On occasion, she goes into overdrive and zooms around the house, and when she hears a noise outside, she'll growl like a dog.
What is Mila's dynamic like with her sister Mimi? They are complete opposites. Mila is calm and sweet, whereas Mimi is hyper and plays rough. They're both affectionate, but Mimi demands attention all day and Mila waits for opportunities to get attention. Probably the cutest dynamic is that Mila looks out for Mimi like a big sister. If Mimi sneaks into a room and gets locked in, Mila gets our attention by meowing and scratching at the door Mimi is behind. When we take them to the vet, Mimi will whine and cry, and Mila grooms her to comfort her.
How would you describe Mila in three words? Goofy, elegant, and affectionate.
Get the AtHome Newsletter
Enjoy Dallas' best trends, hot properties, and tips from local designers to help you nest in style delivered weekly.