Wellness is a major buzzword these days, but it can mean a little something different to everyone. Does it stand for self-care and restoration, or is it more about strength and endurance? So, we created a series breaking down the healthy habits of local influencers and entrepreneurs, allowing them to define what wellness means on a personal level.
Kristin Barton, owner of Vivian's Boutique Spa in Dallas, has worn many hats in the last two decades. She graduated high school as valedictorian in Ennis, Texas, then spent time on Wall Street. While plugging away at a highly demanding career in the city that never sleeps, she started dreaming about opening her own spa one day.
"Working at an intense Wall Street job made me recognize the importance of seeking out ways to create balance, and I felt a strong pull towards creating an environment of self-care," Barton explains. "I'm a strong believer that incorporating moments of rest and self-care into your lifestyle is beneficial to your overall health."
Fast forward to the present day: Barton shares that ethos with everyone who walks into her restful haven, Vivian's Boutique Spa. Treatments at Vivian's, from manicures to massages, encourage self-care, and many incorporate natural products and are certified organic or vegan.
"Physical health and mental health are interconnected, and carving out time for a massage or facial promotes wellness for both the body and mind," Barton says. We asked Barton to share her self-care practices, from favorite workouts to nighttime rituals, to get a full picture of her wellness-centered life.
How do you start your day on a healthy note?
The morning is my quiet time to set intentions for the day. I start with a 10-minute stretching routine, including a few basic yoga moves, to get my body moving and raise my energy levels. Once I'm feeling more awake and limber, I'll go for a run outside, weather permitting. I live in a terrific neighborhood in East Dallas, and running helps clear my mind and gives me a boost of positive energy. Regardless of whatever else happens that day, I know I've accomplished a healthy start to my day!
What daily wellness benefits do you reap by owning a spa?
One of the benefits of owning a spa is that I get to try out a lot of skincare and wellness products. A couple of my favorite products are the Relaxation CBD gummies and Sleepy CBD gummies from Winged Wellness. Winged was founded by a woman (always love supporting a fellow female entrepreneur) and is formulated specifically for women. Their products combine specific herbs, cannabinoids, and adaptogens that help with stress, sleep, and hormonal balancing. As much as we try to manage it, stress and anxiety can creep up on us. These gummies are a great natural supplement to help ease anxiousness and lift your mood. I gave the Relaxation gummies as part of a gift set to my bridesmaids and they all raved about them.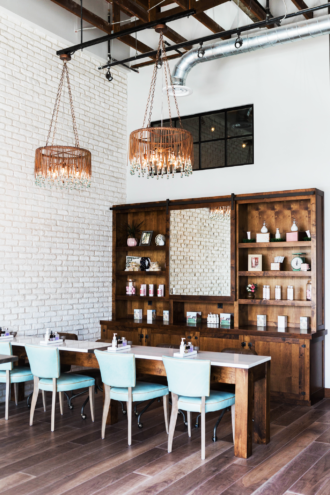 How do you take care of your mental health each day?
Taking a break. We are constantly bombarded with tasks and we are continually plugged into technology, so creating moments of rest is important to avoid feeling mentally drained. And yes, I recommend time for yourself at a spa! Truly unplugging and devoting an hour to yourself with a massage can work wonders. I also love spending time outdoors. My husband gave me a hammock a few years ago, and I love gently swaying as I read or journal. I treasure the time I can relax in nature and feel refreshed.
Favorite workout right now?
I discovered Tracy Anderson's online classes last spring in the early days of the pandemic, and I've been in love ever since! She creates new strength and toning workouts every week, and I can stream a class whenever I have time to fit it into my day. Tracy's programs call for minimal equipment and incorporate different fitness levels so you can grow at your own pace. I love that because it's a wonderful way to make health and wellness a welcoming space for everyone.
How do you end your day on a healthy note?
I've been an avid reader since childhood, and I've been making more time for it this past year. I read every night before going to bed, and it's such a joy to end my day on that positive note. Reading creates a nice transition from the busy day and helps quiet my mind to get a good night's rest.
Check out Vivian's Boutique Spa here or follow along at @viviansspa.
Get the AtHome Newsletter
Enjoy Dallas' best trends, hot properties, and tips from local designers to help you nest in style delivered weekly.