The SIL, an online retail platform known for its curated collection of emerging designers, is hosting an exclusive pop-up at The Rosewood Mansion on Turtle Creek on Wednesday and Thursday. The concept was created in 2017 by stylish entrepreneur and Texas native Natalie Bond Bloomingdale, who envisioned The SIL–a.k.a. 'Stuff I Like'–as a way to amplify her favorite indie designers by stocking exclusive pieces and collaborations.
Bloomingdale spent years hopping from L.A. to Dallas while establishing her PR career, eventually opening and running her own firm. She and her team worked with fashion lines like Eberjey and The Great and helped launch smaller local designers.
Bloomingdale often found it difficult to get her clients featured in fashion publications. "Editors would tell me that they loved whatever I was pitching, but they couldn't do anything on the brand because [the designer] wasn't an advertiser or didn't have the backing of a major retailer," says Bloomingdale. "If you're an independent designer and you're doing something fabulous, it's really difficult to hustle your way into the big fashion media landscape without being an affiliate in some way. That was disheartening."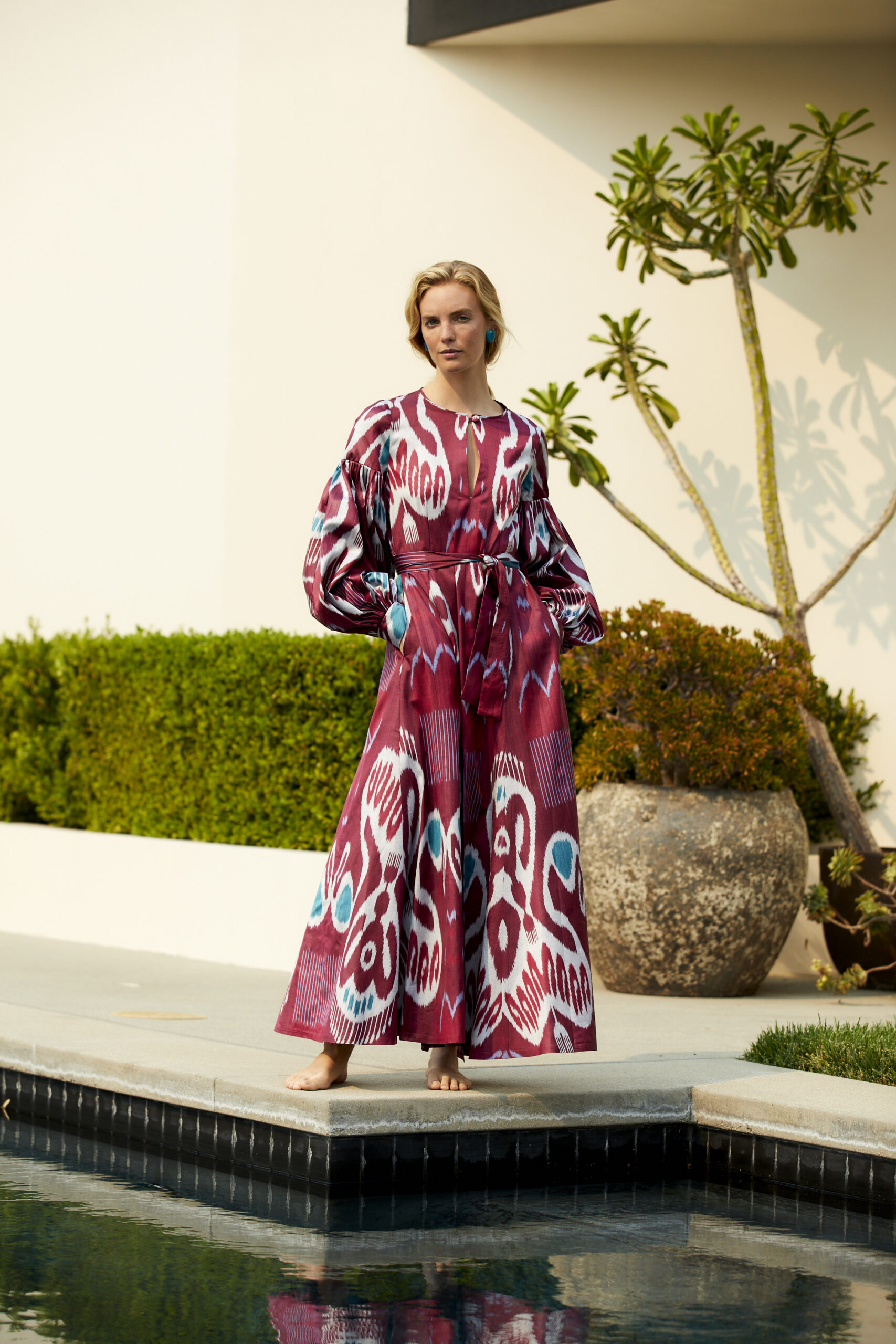 After five years, Bloomingdale closed the doors to her PR firm and set out to create a platform that rejected that influencer-driven industry mindset. She created The SIL, an unbiased incubator where her favorite emerging designers can share their wares with fashion-forward consumers.
The SIL experience is centered around exclusivity–nothing at The SIL can be found elsewhere. For some designers, it's the first time their wares are available online. For more established fashion lines, it's a chance to design never-before-seen pieces for sartorial-minded shoppers.
The SIL's first offerings included several Texan designs, like handbags by Houston-based Hayden Lasher and feminine pieces by Dallas-based Tish Cox. Now, The SIL carries goods from an international roster of independent brands.
Bloomingdale recently discovered a tiny couture atelier in Italy with a small following in New York. "They don't have an Instagram and aren't online," says Bloomingdale. "That's perfect for The SIL–we want the underrepresented, waiting-to-be-discovered brands."
Bloomingdale understands that for brand-new designers with little financial resources, creating an exclusive collection is daunting. "There is a risk, and we work with them and are flexible," says Bloomingdale. "We'll come up with an idea and have them produce a size run or do made-to-order. It's sort of a shared opportunity in that way."
Though instant gratification is the norm in today's retail atmosphere, The SIL focuses heavily on 'slow fashion.' "Our clientele is sophisticated and appreciates the quality" of handmade pieces, says Bloomingdale. "They don't mind waiting on made-to-order."
Though Bloomingdale currently calls L.A. home, Dallas is The SIL's top market. She and her husband recently committed to dividing their time between both cities, purchasing a house in Highland Park. "The older I get, my heart longs for Texas," she explains.
The Rosewood Mansion on Turtle Creek has been Bloomingdale's Dallas go-to and her "home away from home" for years, she says. Naturally, it was the ideal venue for The SIL's first-ever Dallas pop-up shop, set to take place later this week.
Initially, Bloomingdale hoped to tap local designers to create a capsule collection paying homage to Dallas and The Mansion. (A few years ago, she collaborated with The Beverly Hills Hotel–which heavily inspired The SIL's branding–to create a capsule collection, inviting designers to create pieces that celebrated the landmark establishment.) The chaos of 2020 derailed that plan. Instead, she's sticking with a pop-up shop format, which will be held in two of The Rosewood Mansion's presidential suites. "We've never had this many brands on board for a trunk show," she says. "It's really exciting."
Some of The SIL's designers will make an in-person appearance, while others are opting to ship their products to Dallas. Shoppers will find elegant eveningwear, womenswear, accessories, and more. Clothing designer Tish Cox is creating new pieces that her Dallas customers haven't yet seen, and one of The SIL's newest partners, Powderpuff Collection, will display their trendsetting neck warmers lined with cashmere and fleece. You'll also find handmade pieces by Bloomingdale's brother, who lives in Fort Worth and makes metal boot jacks that can be engraved with ranch brands, company logos, or monograms. Rounding out the selection is a small array of home goods by local designer Ann Mani, who makes artfully sliced minerals and gemstones on acrylic bases.
Due to COVID-19, both The SIL and The Rosewood Mansion are operating with an abundance of caution. Shoppers must wear face coverings at all times and reserve an appointment time to ensure a low capacity in the presidential suites. The pop-up will take place on November 18 and 19 from 10 a.m. to 6 p.m. To book your slot, visit shopthesil.com.
Get the AtHome Newsletter
Enjoy Dallas' best trends, hot properties, and tips from local designers to help you nest in style delivered weekly.