When the shelter-in-place order took effect in March, many of us developed a newfound appreciation for our backyards and patios. For Tara L. Paige, however, outdoor living spaces have always been an oasis.
Paige and her family moved into a new home last October. It's a tree-filled, nine-acre property with patios in both the front and backyards and a sweeping view of the Texas landscape. As she started to search for inspiration for her outdoor living areas, she noticed a lack of Black representation. From HGTV shows to Pinterest posts, "I didn't see anyone that looks like me," she said. "My mother always told me, if you don't find what you're looking for, go ahead and create it. And I did."
"This group is a space for healing. We support one another, love one another, and help each other create something beautiful.
Paige formed a private Facebook group, Black Women Who Love Outdoor Living Spaces, and invited a tight circle of friends and family to join. They, in turn, invited other women, and within a few months, the group exploded. Paige's close-knit group is now a passionate community of over 200,000 Black women worldwide.
The average age of members is 45 to 60, and Paige explains that most members are women who finally have time to focus on self-care: older businesswomen, retired women, grandmothers, seniors. Members share furniture finds, décor tips, sales, discounts, and more. Transformation posts, says Paige, always get the highest engagement.
"One member didn't have a patio and couldn't afford to lay concrete," says Paige. "So, instead, she created an outdoor oasis in a carport. It was just gorgeous. Her grandbabies loved it, and she loved it. To witness that transformation and the feeling she got from it was amazing."
Black Women Who Love Outdoor Living Spaces has an international reach, so members' surroundings vary greatly. One member posted a patio on an Italian mountainside. Another shared a tiny but tranquil outdoor living space in Kuwait. Even in the U.S., some photos feature beach homes while others showcase baby bears roaming through the woods.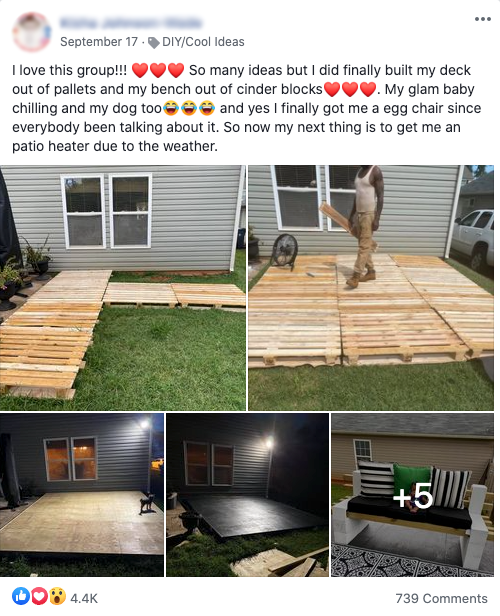 The group is so large, they've sold out products at major retailers. One woman posted a solar lamp from Kirkland's, and within 24 hours, it was sold out both online and in stores. Paige visited her local Kirkland's to check, and a manager told her that 'some Facebook group sold them out.' The group has also sold out products at Sam's Club, Michaels, and Walmart. Each time, it's a surreal moment for Paige. "Five months ago, no one was calling me," she says. "I wasn't speaking to media outlets. It really feels good that this group is positive, members love it, and it transcends all walks of life."
The members' outdoor living spaces are refuges from the stress of their daily lives, but the group itself is a refuge as well, says Paige, especially in a year fraught with racial unrest. "This was nothing new for us," Paige says. "We are dealing with this on a daily basis. This group is a space for healing. We support one another, love one another, and help each other create something beautiful."
Paige's own patio design is constantly evolving, thanks in part to the inspiration she gleans from group members.
"We think of our outdoor spaces as an extension of the home, not just 'outside,'" says Paige. "Create something that makes you feel warm and fuzzy when you go out there."
Paige is not a designer or decorator by trade–she has a master's degree in education. All of her skills come from watching her father. As a child, she watched as he tended to his yard every evening. "He was a master landscaper," she says. "He taught me about gardening, flowers, and keeping a space beautiful."
"My outdoor spaces bring me sheer joy," she continues. "They're family-oriented. I sit outside on the patio with my grandbabies; they love to play with chalk. I have a really large family, but we always make sure that there's seating for everyone."
At first, Paige's husband and kids gave her free rein to design their outdoor spaces. Now, as the family puts the patios to use, they're beginning to contribute their own ideas. Her husband built a massive fire pit–big enough to lay across, says Paige–and the family uses it for grilling and for warmth on chilly fall nights.
As Paige continues to build her outdoor spaces, she's also building her brand. She's capitalizing on her group's traction by creating a lifestyle concept called The Patio Chic. In contrast to the private Facebook group, The Patio Chic will welcome all consumers and connect with them via public social platforms. The Patio Chic's Instagram account will host classes, share DIY projects, and post outdoor living inspiration. The Patio Chic even has a product line in the works, featuring cushions, umbrellas, and more. It's in the initial stages, but Paige hopes that the line will hit shelves next year.
"I'm a Black woman, but I'm a lover of people, period," says Paige. "So The Patio Chic is for everyone. I love sharing my love for outdoor living, and I'm excited to see how this concept transcends to patios across the world."
Follow along at @thepatiochic
here
.
Get the AtHome Newsletter
Enjoy Dallas' best trends, hot properties, and tips from local designers to help you nest in style delivered weekly.