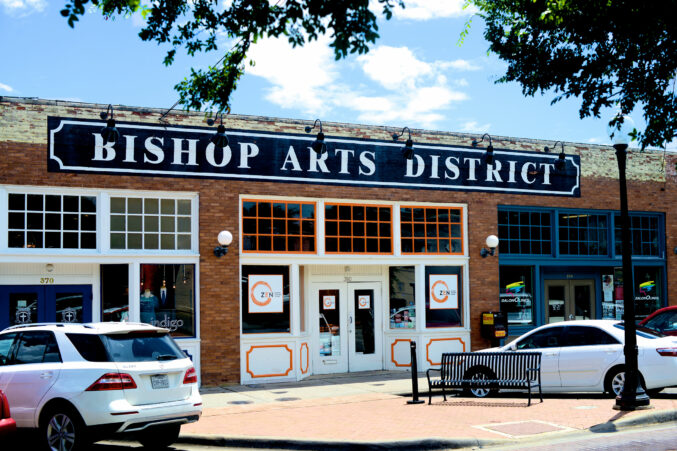 Dallas Retail Roundup: The Openings, Events, and Sales You Need to Know
Head to Bishop Arts tonight for extended retail hours and live music, shop TOOTSIES' biggest sale ever through Saturday, and more.
The Biggest Sale in TOOTSIES History Starts Today
TOOTSIES is making room for new fall inventory with an unprecedented Warehouse Sale. The retailer is offering an additional 70 percent off the lowest marked prices from their Summer Sale. (These items were already discounted by 50 percent, so you'll score serious savings). The Preston Center shop is also shipping in sale merchandise from its Houston and Atlanta locations. The sale runs through this Saturday, August 22; visit 8300 Preston Road, Ste. 200, to shop.
Retailers and Restaurants in Bishop Arts Will Stay Open Late Tonight for the First 'Bishop Nights' Event
This evening from 6 to 9 p.m., visit the Bishop Arts district to shop small businesses and enjoy live music, DJs, cocktails, food, and more. Retailers along Bishop Avenue (from Melba to 9th) are staying open late so you can shop as the sun goes down, and restaurants will offer specials, food carts, and liquor tastings. Don't forget to mask up! Get the full details on this neighborhood celebration here.
Loyd Paxton Set to Close on August 31
Earlier this month, PaperCity reported that storied antique showroom Loyd Paxton is permanently closing its doors. It's been a Dallas fixture since 1985, when co-founder Loyd Taylor, now 86, and his late partner Paxton Gremillion opened their first location on Cedar Springs. Art collectors and antique enthusiasts frequented Loyd Paxton to browse an impeccably culled collection of furniture and home furnishings from across the globe. On August 31, Taylor will close his showroom to focus on the interior design business he started with Gremillion in the 1960s. All inventory, from antique Chinese artwork to art deco furniture, will be heavily discounted. Stop by 3137 Irving Boulevard, Ste. 313, to peruse the treasures that remain.
La Perla Opens in Highland Park Village
Celebrated Italian lingerie brand La Perla has made its Dallas debut. Since 1954, La Perla has crafted timeless and elegant pieces for women; as styles changed, this evolved from corsets and lingerie to sleepwear, beachwear, and swimwear. The new 730-square-foot storefront in Highland Park Village is intimate and inviting, with a vintage chandelier as the focal point. Current inventory includes pieces from Spring/Summer 2020, a preview of Fall/Winter 2020, and more. Shop in person or at us.laperla.com.