Calyan Wax Co. has a simple goal: to bring light to a dark world. The company works with nonprofits that empower survivors of human trafficking and has donated over $54,700 to date. Calyan's most popular scent is Oakmoss + Amber. "It's fresh and earthy–like taking a walk in the garden on a cool summer afternoon," says the company. "It smells wonderfully of sage, moss, rose, and orange zest."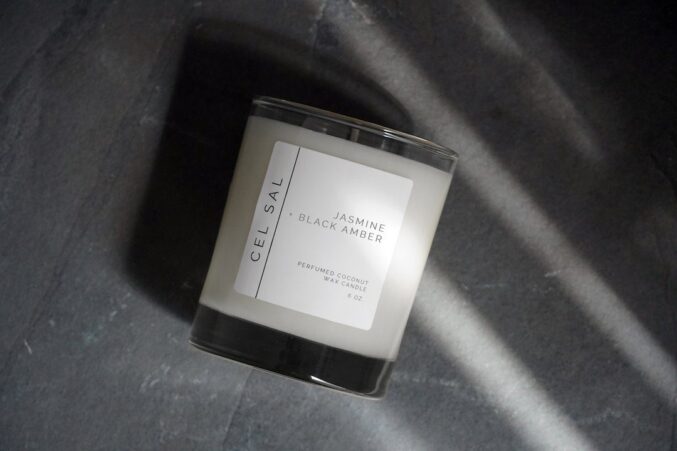 CEL SAL's eco-friendly candles are made with all-natural coconut wax and essential oil-infused, phthalate-free fragrance oils. CEL SAL's scents are formulated to be unisex; most customers flock to Jasmine + Black Amber. "This is a creamy, woody, complex, androgynous fragrance with notes of sultry black amber, sparkling mandarin, and exotic wood," says CEL SAL.

Decor the Day describes Cotton Blossom, their most popular scent, as "a blend of fresh floral blossoms with a hint of subtle vanilla, musk, and cotton." In addition to their pre-poured candles, Decor the Day offers customizable soy wax candles for birthdays and special events.
Gluttony Candles are handmade by Bryce Murphree, a trained chef. Murphree develops each culinary-inspired fragrance, which ranges from gourmand to fresh. Each candle is packaged in an upcycled soup can. Their bestseller is Wild Arugula, which his wife Maggie describes as a clean, simple, and fresh scent. "It reminds me of freshly cut grass and of summers in Ireland and my dad," she says. "He was a lover of his garden and the outdoors. When I light this candle, it brings me back. I love that scents can transport us to a memory that may have been forgotten."
When 26-year-old Miesha Johnson moved to Dallas, she wanted to define her new home with sophisticated decor. After struggling to find candles that fit her aesthetic, she decided to develop Gold Soul Candle Co. The matte black designs are chic enough to display full-time on a coffee table or shelf. Johnson's most popular scent is Bae. "This scent is based on men's cologne with notes of spicy berries, citrus, lavender, and a heart note of amber," says Johnson. "It's a crowd favorite."
Phillip and Victoria Hamilton, founders of Gratus Candles, develop their products with safety in mind. The couple chose soy wax because it burns cleaner than paraffin wax candles and lasts 30 to 50 percent longer. Gratus Candles are also free of toxins, carcinogens, and soot. "Our signature scent, Atmosphere Relief, provides notes of eucalyptus, peppermint, with hints of cedarwood and lavender," the founders say. "The scent livens up and brings a refreshing, welcoming, luxurious scent to any space."
Haus of Saj uses recycled vessels, like Topo Chico bottles, to create their eco-conscious, Reiki-infused candles. Though some are soy-based and others coconut, all of Haus of Saj's wax blends are vegan. The most popular scent, Soulful Butterfly, is a sweet floral with a hint of spice. It's citrusy, says the company, with middle notes of rose, jasmine, wood, musk, earth, amber, and cotton candy.

Henry's Daughter collects wine bottles from local eateries like Pizzeria Testa, then cuts and sands them into pretty vessels for their hand-poured candles. Grapefruit Mint, one of the company's bestselling scents, is a fresh blend of grapefruit, bergamot, lemon, lavender, and rose with a base of peppermint. Another, Fig & Musk, is an earthy and bright blend of fig and jasmine grounded with musk and wood notes.
Founder Jenna Moayedi describes Indigo Aura Self-Care as "a series made with good energy and non-toxic ingredients." The most popular scent is Dallas Babe, which has notes of vanilla, musk, and jasmine. "It's luxurious, warm, and cozy with a tart, floral finish," says Moayedi.
While Kuma's Candles is best known for, well, candles, the company also produces wax melts and bath salts. You'll find eclectic scents like Library, which has notes of leather and teakwood, as well as pop culture-inspired scents, like a comforting amaretto blend based on Taylor Swift's new album folklore. Sangria, a fragrance created in collaboration with Austin Eastciders, is the most popular. It's rich and fruity, with a base of fresh strawberries and juicy notes of lime and peach.

In addition to its essential oil-infused soy candles, M.A.D Candle Co. offers DIY candle kits and classes via Zoom for crafty customers. (The next class is on August 20; get your ticket here.) Mahogany Teakwood, which has notes of fine woods blended with light scents of lavender and geranium, is the most popular scent blend.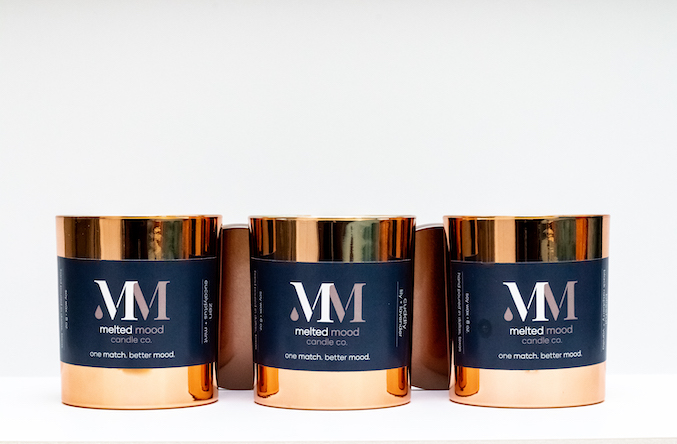 When COVID-19 hit Dallas, Ebby Simmons was inspired to finally fulfill a lifelong dream and start her own candle company. "The idea is to create positive moods through candles and to help shed light and love into our customers' homes," she says. Her most popular scent so far is Cuddly, a blend of lily of the valley and violet with notes of balsamic, lavender, gardenia, and amber. It's reminiscent of a fresh laundry scent, she says.
Tierra Gerdine started MilanMonet Luxe Co. in 2019 "to help women and men make self-care a regular part of their daily routine in the midst of the daily grind," she says. Her daughter, Chloe, is a budding entrepreneur as well; her colorful handmade bracelets are available in MilanMonet Luxe Co.'s online store. The company's most popular scent is Champagne Wishes No. 29. "The smell makes you want to celebrate whether the candle is lit or unlit," says Gerdine. "It's very sweet; there are notes of strawberries, champagne, and Chardonnay."
Jackson Vaughn's moody, apothecary-esque storefronts in Bishop Arts and Preston Center are among D Home's favorite gift shops. Founders and interior designers Pamela Jackson and Jeremi V. Headrick stock their boutiques with handcrafted candles, vintage goods, and other home finds. Society's bestselling scents are Dallas (from the store's Texas Collection) and the No. 2 (from its proprietary collection). Dallas has notes of native fig, tanned leather, and double-oaked bourbon, while No. 2 is an amorous fragrance with cocoa beans, white florals, and sensual patchouli.
Ashley Augurson, a single mother of two, developed Soy Devine to show her daughters the importance of creating their own career opportunities. Her candle company's bestselling scent is Very Vanilla. "Let's just say it's vanilla on steroids," she says.
Old Flame Candle Co.'s unique model is both chic and eco-friendly. The company hand-picks its vintage vessels, so no two candles are the same. Once the wax is depleted, you can mail the vessel back to be refilled with a new scent or wipe the vessel clean to repurpose as home decor. The most popular scent is Woodsy Fig, a soft, ripe fig fragrance with subtle floral tones and an earthy base of amber and cedarwood.

"OLPHACTORY CANDLES is my daily dedication to jazz, art, fragrance, and style, where each distinctive candle creation is a sensory experience," says founder Brant Anderson. "While HERITAGE is our signature scent, each candle in the collection records equally compelling grooves with every top, middle and base note. Our scents are an ode to jazz, through wax."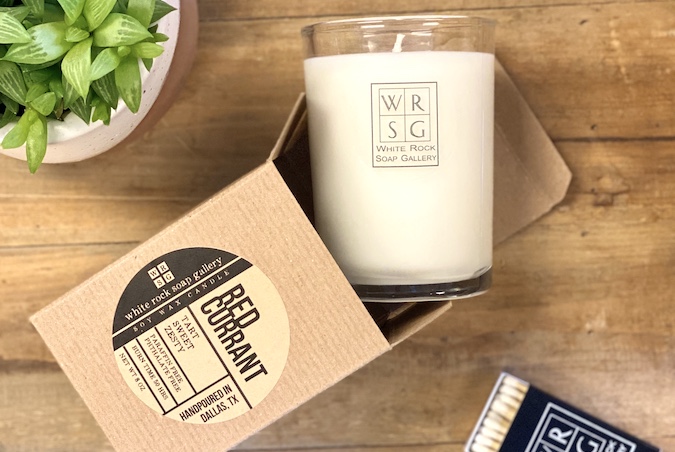 While this Lakewood storefront is one of Dallas's most popular destinations for handmade soaps and bath products, the company's candles shouldn't be slept on. Red Currant is the most popular candle scent. "It's a fresh, crisp, and clean blend of fresh currants with floral and fruit undertones," says founder Keith Bailey.

Zyn Candle Co. donates a portion of its proceeds to racial and social justice-related organizations, including For Oak Cliff, The Black Woman's Health Imperative, and The Innocence Project. Customers tend to choose the Tennessee Rain candle, which has a classic aroma with a hint of luxury. "The aroma is warm and mildly sweet, with a hint of spice, sea salt, vanilla, musk, amber, and clove," says founder Zyah Reeves.
Get the AtHome Newsletter
Enjoy Dallas' best trends, hot properties, and tips from local designers to help you nest in style delivered weekly.