This year, our Cutest Pets in Dallas competition had 1,000 incredibly charming entrants, and we invited our D Magazine audience to help us choose the cutest of them all.
Last week, we tallied the nearly 99,000 votes and announced the top 20 competitors. (For a refresher on these 16 dogs and four cats, click here.)
Today, the cat's finally out of the bag. Without further ado, here are the winners of the Cutest Pets in Dallas 2020.
Readers' Choice: Bourbon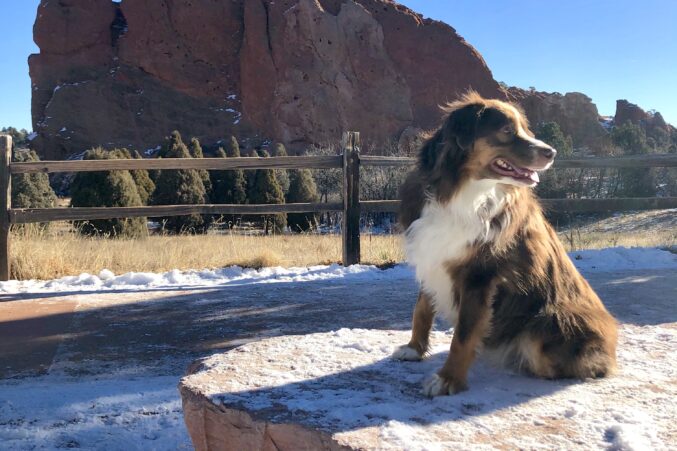 Our Readers' Choice title is determined by votes alone. The most popular pet in 2020 was Bourbon, a 5-year-old mini Aussie.
Bourbon's owner, Melanie Hewitt, had wanted a dog her entire childhood. In 2015, after years of research and waiting, Hewitt took the plunge. She selected a breed, a breeder, and a name, and a few months later, Bourbon was born.
When two-month-old Bourbon arrived in Dallas, he was small enough to fit in a cowboy boot. Now, he's fully grown, and we're happy to report that this red tricolor Aussie is just as sweet as he is cute.
"He has a big heart," says Hewitt. "If anyone in his vicinity is upset, he's the first to go in for kisses and cuddles to help them feel better."
Bourbon's best friend is his "sister," Annabelle. Hewitt adopted her shortly after bringing Bourbon home. The two can often be caught grooming one another at the end of a long day.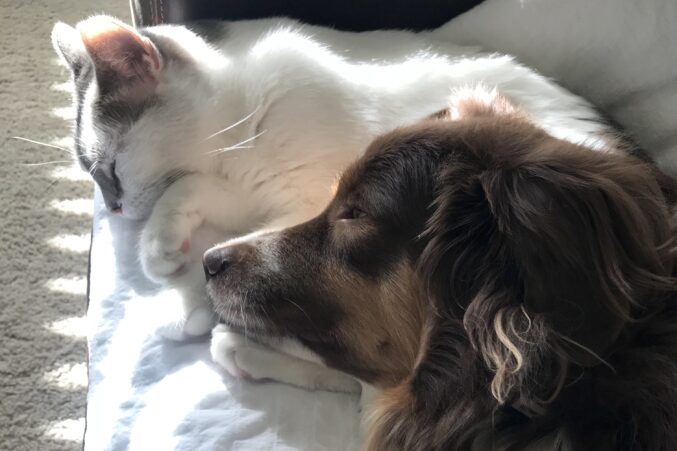 When Bourbon is out and about, passersby often comment on his cheeriness. "He always has a happy little smile on his face when we walk on the Katy Trail," Hewitt says.
He's also a hit when he accompanies Hewitt to work. "After greeting my coworkers and getting out his excitement, Bourbon lays by my desk all day. If someone walks by, he will roll over for a belly rub and hope they might stop to play. I make sure to have a toy with me to toss up and down the hall for him, too."
In their spare time, Bourbon and Hewitt love to go hiking in the mountains. They often road trip to Nashville to hike with Hewitt's family, but they'll go "anywhere with cooler weather, plenty of shade, and a creek to jump in when it gets hot," she says. Bourbon also loves water, whether it's kayaking, swimming, strolling along the Trinity River, or jumping in mud puddles.
Bourbon is sharp as a tack, says his owner. "When I got Bourbon, I was working at the Houston Zoo, and most of my coworkers were experienced with positive reinforcement animal training," says Hewitt. "They helped me learn how to apply the same theories with Bourbon." He knows how to sit, shake, high five, beg, dance, roll over, play dead, take a bow, lay down, and balance snacks on his nose.
"He is an incredibly special dog," says Hewitt. "Everyone that meets him instantly falls for those big brown eyes."
Follow Bourbon on Instagram here.
Editor's Choice: Boots the Wonder Cat
Once we had our Top 20 determined, our esteemed panel of pet-loving D Magazine staffers met to choose our Editor's Choice winner. Several of us are cat owners, and we were delighted to see four felines make the cut this year. After much discussion and debate, we agreed to crown Boots the Wonder Cat as our 2020 Editor's Choice winner.
Boots' life story lives up to her name. This full-breed Manx now lives with owner Kimberly Tyner, but she was once a stray on the streets of Houston. By day, Boots would hop from roof to roof, and by night, Tyner's mother-in-law would feed Boots and find her a warm place to sleep. When Hurricane Harvey hit, Tyner's family fled the city, and Tyner's sister-in-law scooped up Boots and put her in a duffel bag. The family headed to Tyner's home in Dallas with Boots in tow, and she's called Dallas home ever since.
When Boots transitioned to living indoors instead of on the streets, she gained a few pounds. Tyner decided to start training Boots in agility to keep her active and fit. Manx cats are built like gymnasts, says Tyner. They're stocky with muscular legs, and they're known for how high they can jump. Boots is excelling at her agility training and is learning to jump through hoops.
That's not her only talent. Boots is also trained to walk on a leash, and she loves to explore the world with her owners. On the weekends, the family goes sailing. Boots is thrilled to be out on the open waters, though she isn't wild about the boat's loud motor. Her owners hope to go on a long sailing expedition one day.
"After having Boots, I'll train my next cat to use a leash so that they can have the same opportunities she's had," says Tyner.
Boots is a cuddly cat who loves to be carried around and greet her owners at the door. She's so friendly, in fact, that she's already won over several cat skeptics. "She'll pick that person and go love on them," says Tyner.
"Society breeds the idea that cats are aloof and don't care about us and don't need to be loved as dogs do," says Tyner. "None of that is remotely accurate. Boots is friendly, fun, and warm, and she loves everybody. I'm so proud that she's the very first cat to make the list."
Follow Boots the Wonder Cat on Instagram here.
Get the Living Newsletter
Get the insider's guide to the best in Dallas style, beauty, and wellness delivered right to your inbox each month.