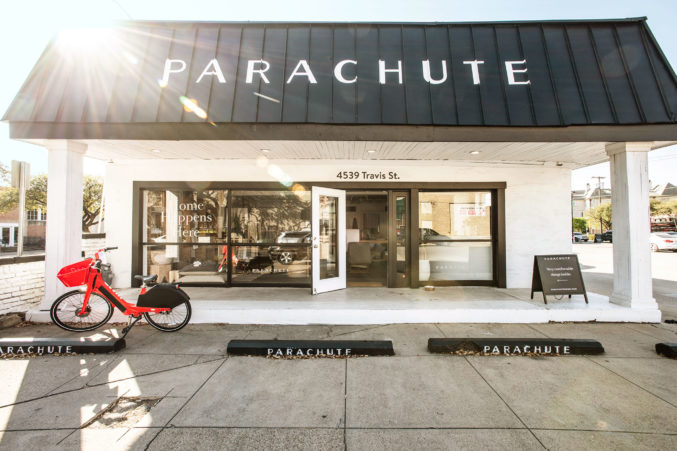 A Round-Up of This Week's Biggest Dallas Retail News
Favor the Kind's Swap and Flea goes digital, Parachute's Knox location closes its doors, and more.
Parachute's Dallas Location Closes
A year after opening as a pop-up shop, Parachute's Knox location quietly closed its doors. The luxury home store is still operating online, though, and the company has several other locations nationwide. An Austin outpost on South Congress is in the works, too.
Though Parachute's stint was intended to be temporary, its location (a compact retail space on Travis Street) can't seem to lock down a long-term tenant. In the past few years, the building has housed custom furniture store Quatrine, a boutique called Original Octane, STAG Provisions, Outdoor Voices, and Parachute. Is the space simply too small to be a permanent retail location? Is the parking inadequate? Is it just cursed? Once a new tenant moves in, we'll find out.
Shasa Mitcham Joins The Conservatory Team
Our 2017 article "The Best Nose in Dallas" introduced D readers to Shasa Mitcham, Forty Five Ten's resident fragrance guru. Mitcham is a sommelier of scents: he spent years as a global ambassador for Jo Malone, can detect the most nuanced of notes, and knows the histories of leading perfumers by heart. At Forty Five Ten, Mitcham offered coveted consultations with shoppers; he'd consider their preferences, lifestyles, and personalities before suggesting a signature fragrance or two.
Last week, Mitcham announced that he's joined The Conservatory's team as a Wellness & Beauty Specialist. It's a major win for the shop, which stocks fine fragrances from artisanal lines like Salle Privée and Maison d'Etto in addition to beauty, bath, and body products. Like many of its Highland Park Village neighbors, The Conservatory has re-opened. Hours are Monday through Friday from 11 a.m. to 5 p.m.

Favor the Kind's Swap and Flea Goes Digital
The Henderson Avenue boutique's Swap and Flea events are usually akin to sidewalk sales. (Racks and racks of discounted Favor the Kind merchandise are displayed in the shop's parking lot, and local artisans and vintage shops are invited to set up booths as well.) For this edition of Swap and Flea, tune in to Favor the Kind's IG stories from 10 a.m. to 3 p.m. tomorrow to shop thousands of discounted products. You can also follow #swapandflea to shop pieces from vintage vendors like Hazie Sue, which stocks fun floral dresses and other retro styles, and Krisen Home, known for its dreamy selection of rattan furniture and boho décor.