Dallas-based potter and painter Katie Fuerst is known for her mobile painting parties. She'll bring all the supplies (from the pottery to the glazes) to you. She's adapted her business model in the past few weeks to deliver the experience her customers love while maintaining social distance. Her DIY kits include supplies to paint stemless wine glasses, Easter eggs, or geometric planters. Once you've finished painting, she'll pick up your pottery and fire it. Follow @katiefuerstart to learn when new kits are available.
Artist Maya Modi is known for her cheery, whimsical pieces and her watercolor workshops around Dallas. Her popular DIY kits are ideal for those who aren't quite confident in their artistic abilities. Modi provides the outline of the piece, but you have the creative freedom to fill it in. Pick up a kit on her website.
Baker Chrysta Miller is known for her playful and artfully crafted custom cookies. (Our recent favorites: waffle-shaped cookies for a Stranger Things party, pint glass cookies for Peticolas' anniversary, and Lucky Charms-shaped cookies for St. Patrick's Day.) Her new DIY Cookie Decorating kits were designed to entertain little ones during the quarantine. Dessert Kits include un-iced cookies, royal icing in piping bags, and sprinkles. Paint Your Own Cookies are oversized vanilla almond treats that function like a coloring book, complete with a palette of edible colors. Miller is currently offering curbside order pickup at her home in Mesquite. Check out Miller's Instagram for details.
Local artist Alli Koch is known for her simple, elegant monochrome florals. You've likely seen her work around town–it's featured on countless public murals and art installations around DFW. Her books Modern Florals and Florals by Hand include step-by-step instructions for drawing different flowers, like poppies or pansies, alongside blank practice pages. For something more simple, try Bloom, a coloring book of Koch's artwork. Pick up a copy of any book on her website.
Artist Brie Milam has led several local workshops in watercolor, but she also leads guided meditation classes. Her live webinars incorporate a bit of both. Students focus on learning the fundamentals of watercolor; Milam also discusses how painting contributes to mindfulness. Upcoming webinars will be held on March 31 and April 1; sign up here. Be sure to add a supply kit to your class enrollment.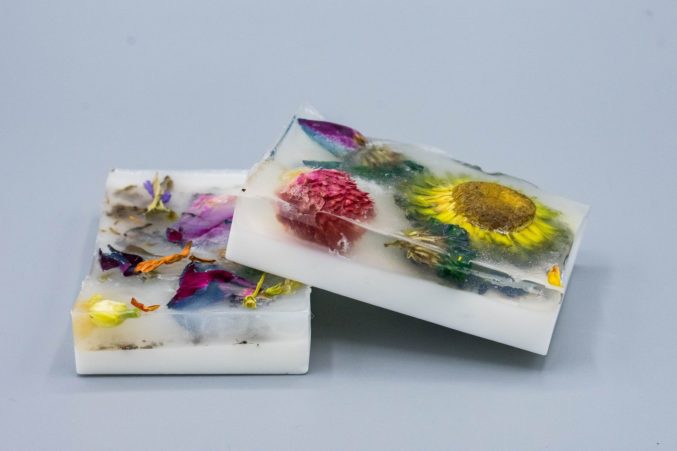 The Hobbyist Box's DIY kits were created to make crafting simple, whether you're creating a eucalyptus wreath or an all-natural candle. These floral soaps aren't just for show–with a light lavender citrus scent and a cocoa butter base, they're functional, too. One kit makes two bars; click here to buy yours on Etsy.
Get the FrontRow Newsletter
Get a front row seat to the best shows, arts, and things to do across North Texas. Never miss a beat.