Brick-and-mortar retail is in a flux, as online retailers offer what today's consumer expects without paying rent–a current, curated, and customizable selection. There are clothing rental memberships, online personal styling services, swipe-ups from influencers, everything done in the name of sucking you into your screen. In comparison, once-dominant department stores feel impersonal and overwhelming; the endless racks of inventory, a predictable rotation of national brands, and windowless cookie-cutter interiors.
Macy's is struggling, no doubt–125 locations will close in the next three years–but behind the scenes, the retailer is rethinking its model and reinventing itself. The store's recently opened concept, Market by Macy's, is almost the antithesis of the style of department store in which it made its name. This concept offers a succinct and constantly revolving inventory from some national (but mostly local) lines in a compact and beautifully designed interior with a neighborhood hangout vibe thanks to an in-store café and a calendar of community events.
Macy's brand experience officer Rachel Shechtman, who spearheaded the Market by Macy's concept, calls the store "a gathering place." The Southlake Town Square storefront is 20,000-square-feet, a tenth of the size of an average Macy's. The interior is modern, airy, and bright, thanks to big windows and wall murals painted by local artists add pops of color. Upon entering, display tables (aptly called "Tables of Contents") greet guests with spreads of curated, gift-able goods. On the first, I spotted a cloudlike pink sweater, a rose-colored gratitude journal, bone broth dog treats, and Sugarfina gummies.
Market by Macy's does stock a selection of Macy's brands. Polo Ralph Lauren's Golf collection, for example, has its own alcove. But far more of its inventory is from local companies, like Dallas-based jeweler B. Stellar and Austin-based menswear lines Criquet and Texas Standard. The store also features up-and-coming lines introduced via their signature pieces, like floral-print silk dresses by sustainable fashion line Tucker and studio-to-street athleisure by APL.
In the apparel department, electronic screens replace traditional price tags, updating in real-time to reflect sales. The dressing rooms kindly offer customizable lighting, mimicking different times of the day.
The children's section includes apparel, accessories, and toys from buzzy brands like Rockets of Awesome, known for kid-size neon bomber jackets. The department is ingeniously designed to entertain kids so parents can browse: there's a sequin wall, a massive Lite Brite, and giant foam blocks.
There is no furniture department at Market by Macy's. Instead, the pieces serve as places for tired shoppers to sit, arranged thoughtfully amid the racks of clothes. And they are all for sale. I spotted a sheepskin chair by Scandinavian brand HAY and a chartreuse sofa. A velvet and gold bar with an art deco feel was a standout in the men's section, where it housed cocktail-related gifts.
There's even a houseplant department, filled with snake plants, succulents, and trailing leaves, as well as gardening books, modern watering cans, and a metallic gold hose.
Market by Macy's compact, clean-lined take on a beauty department resembles a store within a store. Getchell's Apothecary is a tucked-away space with teal blue tiling and its own checkout counter. You'll find over 80 brands, from the well-known (Kiehl's, Clinique, Drybar, and Mario Badescu) to the up-and-coming (Indie Lee, Loli, and Vapour). Here, too, you'll find Texas-made selections, including Dallas' own Fitish, a line of CBD-infused products.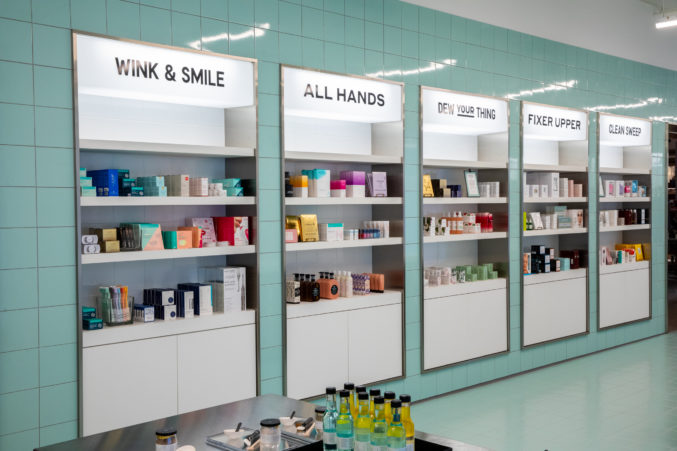 You'll find in-store café Herald near the exit, but it's more than a place to grab a coffee on your way out. The menu (created in collaboration with Dallas Morning News' former food critic Leslie Brenner) includes full meals, beverages, and snacks. Texas favorites are abundant, from Oak Cliff Coffee to Lone Star beer. As I browsed, a local woman dropped off cookies from her bakery for the staff to consider stocking.
Herald's bright interior was designed by SWOON, the Dallas-based design firm behind The Adolphus. Should you choose to dine in, your order will be served on vessels available for purchase, from the plate to the cutlery. The café's shelves are filled with products from select Macy's brands (like Lucky Brand Home, Martha Stewart, and The Cellar) alongside locally crafted home goods.
Herald is also a venue for the store's events. Expect retail-focused gatherings (like pop-up shops and chances to meet local and national designers) as well as cooking demos, workout classes, book clubs, and art workshops. Christina Geyer, former editor-in-chief of PaperCity Dallas, leads Market by Macy's event programming. Her knowledge of fashion, beauty, and art (in the Dallas market and beyond) inspires a well-rounded calendar of events, featuring well-known and emerging creatives in several sectors. In February, for example, the store hosted a morning yoga class with a Southlake-based yoga instructor, a terrarium-building workshop with Dallas' Urban Spikes, and an essential oil mixing class with a local health and nutrition coach. (View all upcoming events here.)
As the Southlake location puts down roots and establishes its neighborhood presence, another location is in the works in Fort Worth's WestBend. Whether these pioneers of hyperlocal retail succeed at connecting with their communities and attracting North Texas consumers remains to be seen. For now, we can attest that an afternoon of leisurely shopping and a glass of wine at Herald is well worth the drive.