Here at D Magazine, we're big fans of houseplants. (I currently have five on my desk.) But despite our best efforts, we can't always keep them happy. Occasionally a beloved plant will dramatically wither away without warning. Was it the light level? The watering schedule? Something else entirely?
Sol Planted, a new Dallas startup, wants to take the guesswork out of plant care. The company will help customers choose a plant that matches their lifestyle, then hand-deliver it, set it up, and give a full overview of maintenance.
Sol Planted's founder, Zawwar Khan, was inspired to start the company after struggling to find accessible, affordable plants in Dallas.
"[When I buy plants at] Home Depot, employees offer little or no help and the quality is questionable," he said. "Nurseries have amazing customer service, but the price point is high. I wanted to make plants approachable in an easy, 21st-century format."
And thus, Sol Planted was born.
Sol Planted is a passion project for Khan, who has no formal horticultural training. He studied mechanical engineering and works in research and development. "I [just] love nature and bringing it indoors," he says. At the moment, he has 24 plants in his 500-square-foot home. "[It's] a little enclave, a little safe space."
Sol Planted stocks exotic yet easy to care for plants, many of which are tropical: spider plants, snake plants, Pothos, zebra plants, and more. "[Tropical plants have] unique character and detail, color and identities," says Khan. They also thrive indoors, because their natural environment–70 degrees, low light levels because of tree shade–is easily replicated in our homes.
To match customers to a plant that fits their lifestyle, Sol Planted created an online questionnaire. It considers a customer's previous experience with plants, the level of maintenance they can handle, what kind of light their home gets, and whether they have specific needs (like something pet-friendly or air-purifying).
Sol Planted isn't the first innovative houseplant company. Competitors like The Sill and even Amazon feature customized suggestions, online ordering, and quick shipping. A cross-country shipping journey is hard on plants, though, and they often arrive damaged. Sol Planted sets itself apart with local white glove delivery service, ensuring every plant arrives safely.
Delivery will be offered in Dallas County and several northern suburbs like McKinney and Frisco. Customers can choose their delivery window, including weekends. The Sol Planted expert will bring the plant inside and consider factors like light level and humidity to find the ideal spot for it. They'll also walk through maintenance tips, such as what to do if leaves start to curl or turn yellow. Each plant also comes with a comprehensive care guide to answer future questions.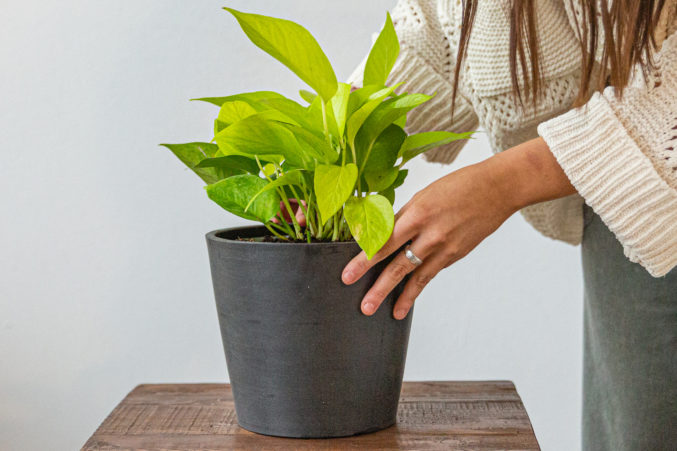 Sol Planted orders come in pots crafted from a sustainable blend of 80 percent recycled plastic and 20 percent stone. Each has drainage holes to prevent root rot. (Khan says most people actually kill plants from over-watering, not under-watering.) The pot size gives the plant room to grow, so customers won't need to re-pot right away. Each pot contains a hand-mixed blend of soil and natural organic fertilizer.
Plants come in two sizes—a medium potted plant (7" diameter) and a large potted plant (12" diameter). Exact prices aren't yet available, but Khan says smaller sizes will be roughly 30 percent less expensive than those of competitors like The Sill, and larger sizes will be roughly 50 percent less. Each purchase will aid reforestation efforts around the world, thanks to Sol Planted's partnership with nonprofit One Tree Planted.
Sol Planted will kick off its launch with booths at the Boho Market in McKinney on March 7 and CURATED at Legacy West on March 22. The company will then open its online store. Until then, follow Sol Planted's growth at @solplanted and solplanted.com.
Get the AtHome Newsletter
Enjoy Dallas' best trends, hot properties, and tips from local designers to help you nest in style delivered weekly.