Winter in Texas doesn't always bring snowflakes and frosty temps, but for stylish Dallasites who love their fluffy coats and sleek trenches, that's a good thing. Here, outerwear can be a fashion statement rather than a practicality.
While we've seen less and less fur in Dallas in recent years, most outerwear is still made with wool, which is not always sourced in an animal-friendly way.
Valerie Garmino
, one of our city's up-and-coming designers, is introducing Dallas to cruelty-free, ethical, fair-trade wool.
Garmino is an expert in the sensorial experience that fine clothing can offer. "I believe that people build lasting memories of [fabrics] they touch and feel strongly towards them," she says.
Most of Garmino's pieces are made from baby alpaca wool, which comes from the animal's first shear. She primarily sources wool fabric from Peru. This wool is obtained through a shearing process that usually takes place between spring and summer; shearing keeps the animals fresh and cool in the heat. Expert shearers are employed to maximize the efficiency of this communal practice and to ensure the animals are well taken care of with the least amount of stress. Then, advanced technology is used to transform the alpaca wool into high-quality fabric.
Alpaca wool has many advantages over other fabrics, including its soft and light feel. An alpaca coat will keep you warm without the weight, bulk, or density of down or fur.
"My love for alpaca began way before I started studying luxury fabrics and their properties," Garmino says. "When I was a little kid, I got an alpaca sweater from my mom as a gift. The softness, comfort, and beauty of the alpaca wool have a special place in my heart."
While well-known for using fabrics derived from a steadfast, cruelty-free and fair-trade process, Garmino is also highly regarded for her timeless design aesthetic. In addition to outerwear, Garmino's collections include delicate blouses, scarves, accessories, and more. Each piece embodies femininity.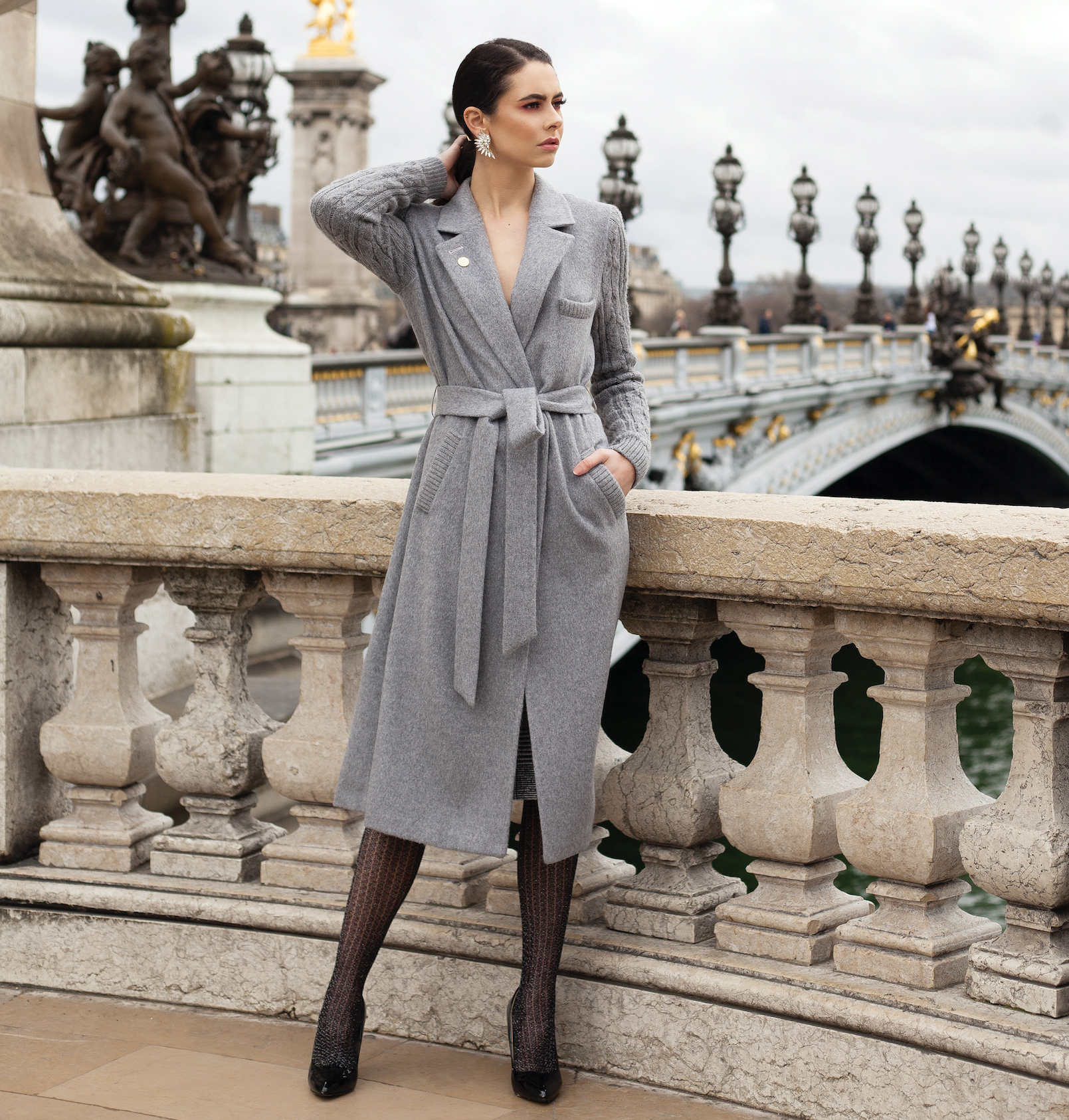 "Since [I was] a little child, I was always involved in fashion. My grandmother used to show me different types of fabrics and unique accessories that she got from her trips around the world," she says. "Then growing up, I started developing and making alterations to my own clothes as I wanted to have a unique fashion style."
After completing her fashion studies in Paris, Garmino was determined to share her fashion view and philosophy beyond her inner circle, dreaming of creating a business with her designs. Valerie launched her company in Dallas in 2018. She thought it was a perfect fashion scene: Dallas women have a passion for being well-dressed. She notes that her Dallas clients also love that her unique pieces involve an interesting story behind their creation.
"I believe that people build lasting memories of [fabrics] they touch and feel strongly towards them.

VALERIE GARMINO
As Garmino's first clients received their orders, they began to request personal styling sessions to learn how to integrate the pieces. Garmino's Wardrobe Exclusive Sessions were born, and these consultations are now a big component of her brand and business. The sessions include on-site service: Garmino visits her clients' homes, styles them with pieces from her collection, and demonstrates how to refresh their wardrobe by incorporating new pieces into their personal styles.
Today, Garmino's designs are worn by notable Dallasites like Kameron Wescott, who posed in a baby pink Valerie Garmino coat and brooch on Instagram earlier this year. Garmino also has an international presence: in 2019, her designs were showcased at Paris Fashion Week.
This winter, says Garmino, "I'm excited about our newly designed capes and coats made of the finest and softest baby alpaca and Loro Piana cashmere."
Shop her latest styles at 
www.valeriegarmino.com
.
Get the Living Newsletter
Get the insider's guide to the best in Dallas style, beauty, and wellness delivered right to your inbox each month.