This New Year's Eve, Tricia Lewis toasted to three years of sobriety (November 14, 2016, to be exact). For the charismatic 38-year-old creator and host of the Recovery Happy Hour podcast, you don't have to identify as an alcoholic to question your relationship with alcohol. "If it's making your life worse, it's okay to decide to stop. I want to reassure people that life not only goes on—it gets better."
With close to 40,000 downloads each month, it's clear listeners want to hear more. Lewis is also gearing up for her sold-out January retreat—"Beyond the Bottle: Mind, Body and Spirit"— featuring two days of intensive workshops (think brain spotting, yoga, nutrition, writing exercises) along with two nights of booze-free dining and partying. "Thirty people are flying in from all over the country. It's going to be the practice of what I preach," she says. "I want to facilitate others sharing—and ultimately changing—their life stories. There's a domino effect that's incredibly fulfilling."
Lewis, a Culinary Institute of America graduate who has worked with Two Sisters Catering and founded the paleo-focused service Gourmaleo, doesn't shy away from talking openly about her personal challenges with alcohol. "Having been in the hospitality industry, it's really common to work 15-hour days, then drink—a lot—at night when you get off. It was socially appropriate. I was able to get away with it for a really long time." Having a brother dependent on drugs and liquor exacerbated the problem. "I grew up a perfectionist, successful at a young age. Having a genetic predisposition with addiction, combined with the career I choose, allowed me to use drinking as a crutch for so many things," Lewis says. "I partied just as hard as I was able to achieve."
A painful divorce in her mid-30s ramped up the inevitable. "I couldn't remember a day I didn't go without drinking. My tolerance and dependence continued to grow. I'd keep going until I went to sleep or passed out," she says. About to expand her business, Lewis realized she couldn't do both. "I was either smart—or lucky—enough to understand the consequences. Quitting was the only option."
It didn't take long to discover she wasn't alone. Her personal journey included 12-step meetings, one-on-one therapy, recovery podcasts, and online accountability groups. "There are so many different ways to get sober now. The cool thing about social media is that it makes it easy to connect with people who have similar problems and issues," she says.
With the launch of her Recovery Happy Hour in July 2018, Lewis had one primary goal: to share with listeners what happens after you get sober. Each podcast features a 10-minute, off-the-cuff talk—from why we compare ourselves to other people to getting through the holidays sans cocktails—and a 45-minute in-depth interview on what life in recovery is like. "I want people to walk away feeling inspired, rejuvenated, excited. I literally get goose bumps when complete strangers reach out and tell me it's given them the courage to stop drinking," Lewis says. "It's the best thing I've ever done."
Achieving life balance continues to be an essential piece of the puzzle, says Lewis. This past November, she joined Dallas-based Zalat Pizza restaurant group; in her spare time, she works on recovery-related pursuits including carving out time for self-care. What once was a bottle of wine in the bath is now a therapy appointment, a long walk with her dog, or an indulgent coffee drink. "I found my life purpose being sober," Lewis says. "I wake up and know that what I'm doing matters. What else could you ask for?"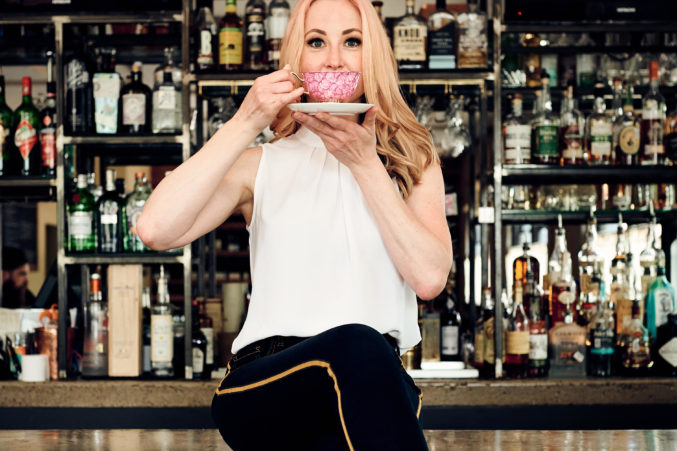 A Few More Thoughts from Tricia Lewis… 
On Alcoholics Anonymous: No one walks into an AA meeting because they're having a great day. But ultimately you learn how to live an even better life than you ever thought possible.
Favorite podcast: Recovery Elevator and Buddhist counselor Josh Korda. Getting to interview him for my podcast was really special.
Hoping to repeat: Working with Chris Marshall, owner of Austin's pop-up alcohol-free Sans Bar, at Sober by Southwest (an unofficial party during last March's South by Southwest). We booked a bunch of bands, put together a great mocktail menu, and offered B12 shots. The cool thing was we weren't pushing sobriety—it was just an afternoon off during a boozed-soaked week.
Best mocktails in Dallas: Sachet, Rapscallion, Asian Mint.
Other advances in mocktailing: The non-alcoholic wine and beer selection at Total Wine. Seedlip, an English gin-inspired, alcohol-free clear liquid blend that contains botanicals like Jamaican allspice berry, cardamom and citrus peel, available at Pogo's Wine & Spirits. Jun Kombucha (sans alcohol) made with raw honey and green tea at Bar and Garden Dallas.
Three words to describe myself before getting sober: Driven. Perfectionist. Funny.
Three words to describe myself after getting sober: Irreverent. Curious. (Still) funny.
Get the Living Newsletter
Get the insider's guide to the best in Dallas style, beauty, and wellness delivered right to your inbox each month.