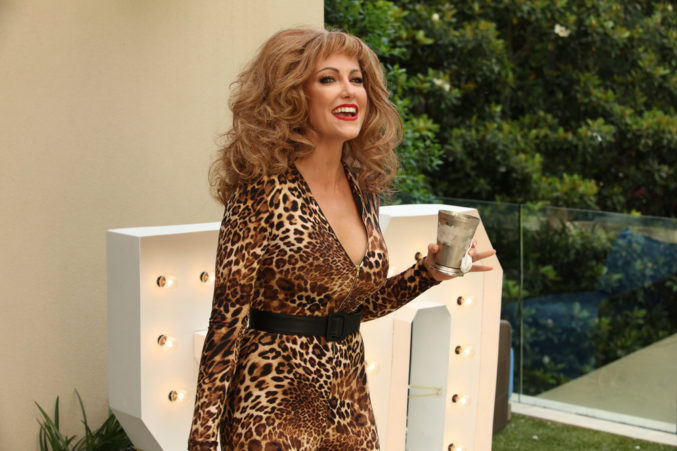 The Real Housewives of Dallas Recap: Mid-Season Crisis
What do you know about Thailand?
Guys, I have a theory about last night's weird filler of an episode. I'm convinced "My Life on the Dee List" was comprised entirely of scenes filmed at random points throughout the season. Scenes that could easily have been cut, but were cobbled together to fulfill an episode quota, or provide some padding between LeeAnne's wedding and the cast trip to Thailand.
Hear me out! Travis' birthday was the finale of season 3. Now it's just some random middle-of-the-season set piece? I mean, it's possible the shooting schedule was slightly different this year, but I'm calling A Weekly Dose of B.S. on that.
Kary's jewelry photoshoot? That could have happened anytime. Kameron absolutely owning the elite sport of archery? Not beholden to any sort of schedule. D'Andra and LeeAnne just sort of casually cruising by each other at Travis' party to say, "Hey, nice wig." That doesn't feel right!
I mean, honestly, who cares. This isn't "West World." A little timeline smudging won't cause irreparable damage to any plots. (Plots, lol.) But something definitely felt off, and random, and unnecessary about this week's episode, and this theory might help explain that.
Anyway, there were a few scenes that were definitely shot sequentially. Travis' 50th birthday was clearly the through-line of this patchwork quilt of an episode, and I loved every minute of it. Mainly the Medieval Times situation. And mainly Stephanie in absolute hysterics during the Medieval Times situation. "You're welcome, assholes!" she says to two grown men upon arriving at the Irving-headquartered family dinner theater chain. She called ahead to make sure they both got knighted in front of a large group of people, which is cruel and amazing. She laughs for a long time in a very I'll-have-what-she's-having sort of way and I hope it's the last thing I see before I die. What a joy.
What wasn't a joy was seeing our sweet Stephanie in tears talking with her sweet mother Susan. It's so hard to watch someone so clearly loved and wonderful say that they don't feel like they're enough. And yet, that's exactly the kind of person who might be able to help others who don't feel like they're enough. Stephanie forever.
So, actually, Medieval Times was the pre-birthday party. The real birthday party was a Mid-Life Crisis-themed affair with a $75,000 band in the Hollman's sick backyard and a 50-year-old man in head-to-toe Gucci. Kameron is not in attendance for reasons that aren't wholly clear, which is a bummer because I like it when Kam does costumes. Brandi arrives in a horrible blonde wig and a Playboy Bunny outfit (a nod to the late Playboy Bun Bun perhaps?). Stephanie is Peggy Bundy and looks incredible even though she says she says she's never felt so ugly in her life. Kary got a spray tan?
D'Andra arrives as a slutty Dee and I love that for her. She's even wearing earrings that spell out "SEX" just to drive it home. There's a roundabout explanation as to how she's a young Dee having a mid-life crisis that seems… shaky at best, but she truly nailed this look. Sure, it helps to have the actual hair of the person you're dressing up as, but a well-executed costume is a well-executed costume. She once again gets absolutely zooted (remember the bus times?) and quickly levels up to the Misplacing-Precious-Items stage of intoxication. In a moment that will be the closest this show ever gets to referencing The Sixth Sense, she loses Dee's bumblebee pendant. (She finds it later.)
LeeAnne was too tired to pull together a costume which seems aggressively out of character. I myself am too tired to come up with another theory as to why. Maybe someone will ask her and Brandi at BravoCon this weekend. (I did appreciate Kary pointing out that the outfit LeeAnne wore, a t-shirt that said "Hear Me Roar," was something someone would wear to the mall. Tough mall burn.)
In a very astute moment, Stephanie points out that she believes D'Andra gets drunk at events with LeeAnne because she doesn't know how to talk to her old friend. That totally tracks.
We end on a hallmark Housewives scene: packing for a trip. The producers cruelly ask each woman what they know about Thailand, to which Kameron says, "It's really far away. It's all the way on the end." A true education is a never-ending process.
I do just want to say, I'm happy to see all these gals sitting in first class this season.
See you next week in Thailand!