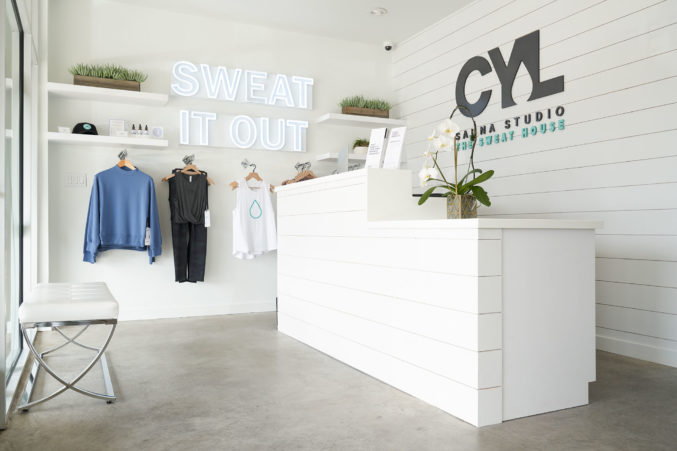 CYL Sauna Studio is Weirdly Addictive
Visit the new Dallas wellness spot for a serious detox.
There are all sorts of odd-but-good-for-you activities in the weird, wonderful world of wellness. You can jump on trampolines to promote lymphatic drainage, or blast vaporized liquid nitrogen on your face for more radiant skin. I once drank a shot of apple cider vinegar every morning for weeks, and—like most wellness-adjacent things—while I'm not sure it did anything good for me, I know it didn't do anything bad.
A luxury sauna studio is actually one of the less weird concepts to crop up in recent years. We know saunas are good—Finland has been reaping their health benefits for thousands of years. Streamlining the experience in a studio format is just smart 21st-century thinking.
CYL Sauna Studio on Greenville Avenue, a local franchise from the Nashville-based brand, opened this September, giving Dallas its first opportunity to sweat it out for 30 minutes in their own cozy little pod.
I've paid a couple of early-morning visits and am now thoroughly addicted.
How it Works
There are loads of reported infrared sauna benefits, including pain relief, improved circulation, and stress reduction, but the big one is detoxification. Compared to a typical sauna, infrared saunas lure out far more toxins (up to 20 percent) in your sweat. I'd be curious to find some substantiating medical data, but for me personally, the real benefit is being able to conveniently book and experience a sauna-level sweat. And, of course, it's never a bad idea to ask your doctor if infrared heat is okay for you.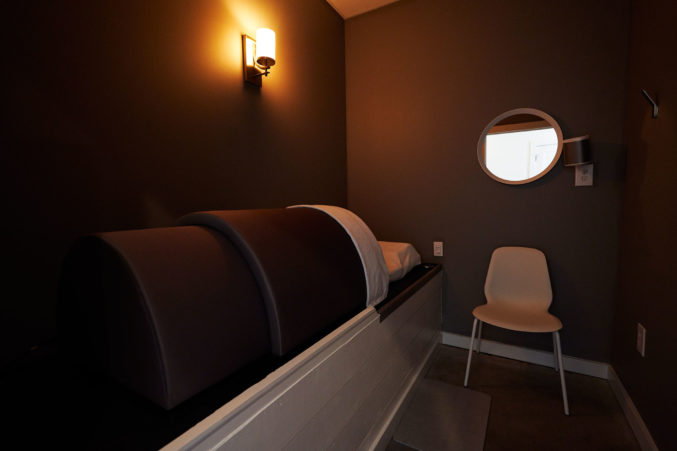 What to Bring/Wear
Definitely loose clothing. There's nothing worse than trying to pull up a pair of leggings or (worst case scenario) jeans over a pair of drenched legs. It's infuriating and unnecessary. Don't do that to yourself. I also wore a bathing suit underneath that loose clothing.
Bring headphones or a Kindle. 30 minutes is a long time to sit still and stare at the ceiling.
They sell Flow water at the studio, but maybe bring a bottle you can sip while you sweat.
The Experience
Setup-wise, CYL Sauna Studio is identical to a tanning salon. The pods even look like tanning beds, but you get to keep your head out in the open and, you know, not expose your skin to harmful UV rays.
Both visits, an employee set my level to seven, which is apparently the average for beginners. I popped in some Airpods, stripped down (the bed is covered in clean towels), and settled in for a 30-minute session in the quiet, dimly lit room. I had been told that I may not start sweating at all until about 15 minutes in. I was in a full-body sweat in about five. I'm fine with it.
About halfway through the session, an employee popped in to give me a cold, eucalyptus towel. I was deeply grateful.
On both visits, my session was pretty pleasant until I got to the last five minutes. I became incredibly antsy as—at this point—I had become very, very sweaty. I never felt like I was going to pass out or anything (my heart rate felt like the result of a light jog), but 30 minutes is a long time to sit still. I see why some people reportedly take naps in there. But then, a little timer beeps, and I was a bit sad to de-pod. As I walked back to the lobby, I noticed practically all the rooms had signs that said "sweat in-session."
The Effects
The pricing of CYL is structured to encourage multiple visits, with feel-good benefits developing after your body adjusts to infrared heat. But after just a few visits, I can say that I felt energized all day after my sweat. My usual afternoon caffeine run was shockingly unnecessary. I imagine the experience and the effects are different for everyone (and for every visit), but I can see why CYL is so often booked up.