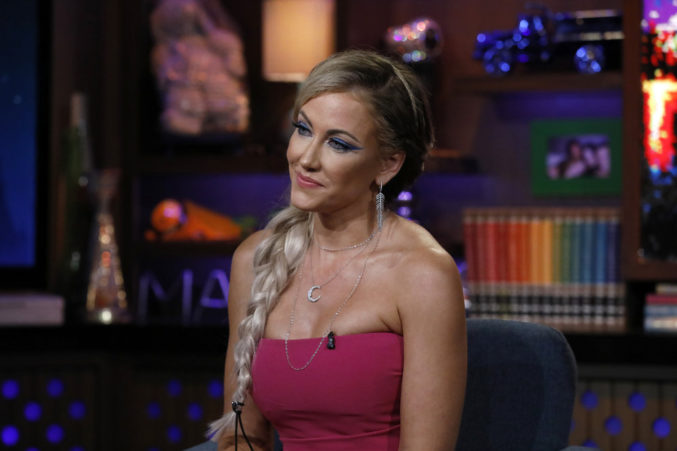 The Real Housewives of Dallas Recap: Life is a Lingerie Party
It's 1pm on a Wednesday somewhere.
It's episodes like these that remind you that, sometimes, the true heroes of these shows are the secondary characters. The Serve server who brought Kary's daughter a jar of iced coffee. The random girl working at Ultimate Living who may or may not have a job today. Hilton and her trunk. D'Andra's business scarf. Cary (!) bringing it in her new role as "friend" in a dangerously slicked back pony. This is how I want my Cary!
But the real secondary hero of this episode was Travis, who brought something to the screen during what should have been two pretty mundane scenes. Just pure magnetism. It's weird, because I've met Travis, and he's a cool dude and all, but there's something about seeing him in the context of this show that just works. I mean, Kam and Stephanie had a very rare confrontation and I barely remember it. But when Travis says, "Is there a way you can cash out of your situation?" Tell me more!
But enough about me. The women are finally back from Mexico and they have things to do. Kam explains the ins and outs of Texas' hardcore stance on sleepaway camps. (Her daughter was 18 months old when Kam put her on the list for this camp. She's 8 now so that is, in fact, pretty hardcore.) Court says Dallas is "Mommy Camp," which is something I'll have to unpack on a later date.
D'Andra and her scarf arrive at Hollman Lockers for an absolutely magnetic conversation about saving her business, which now has like four to six weeks left. "Don't keep anything that's not making you any money," Travis says. Come to Brazil!
It does seem that D'Andra is going to have to fire some folks and move the business into her very cool home so she can save $8,000 a month and potentially her entire company. "It's this week, babe," Travis assures her and, somehow, me.
Later, Travis sits down at home with Stephanie after calling her "Lil Pea," and gives her the platform to be the Lauren Conrad of the episode. Stephanie recaps the whole Mexico trip, and when she tries to blame herself for a confrontation with Kam, Travis (truly the Whitney Port in this analogy) shuts that negativity right down. This is a fun gossip corner. This is a safe space.
It's 1pm on a Wednesday somewhere, because it's time for LeeAnne's lingerie shower. The theme is technically Moulin Rouge but there are multiple context clues that the theme is actually Circus. What Nicole Kidman was doing in 2001 and what Britney was doing in 2008 were both important but not one in the same. The outfits are wild though. Brandi's is like a Dallas Cowboy Cheerleader's take on Moulin Rouge and I wouldn't expect anything less. I think Kam was calling someone a "ho" but I got distracted after she said "spoochin'."
D'Andra isn't invited to this or any of LeeAnne's parties (how many are there?), so instead we check in with her at the Ultimate Living offices where, without Travis or Dee, I find myself uninterested. Also, every time I see an employee there I feel bad because it's like… I'm sorry you're about to get fired. It's a bleak situation.
Honestly, it's a shame D'Andra didn't get to be at the shower, because all the ladies get to bring the jokes when LeeAnne tells a simply wild story involving Rich drilling a hole in a neighbor's fence. Brandi wins with "Woody Woodpecker." (What are we doing with our lives!?) LeeAnne set everyone up for testimonial success there. Cary, perhaps unburdened from the pressure of trying to stay in the main cast, slyly reveals that LeeAnne orchestrated one of her own surprises. Give 'em hell, Cary.
Now it's time for the Kam/Steph fight, and I'm pretty sure Kameron just wants to be friends with Stephanie. She wanted to be the person that Steph went to and had a heart-to-heart when she was feeling low. She doesn't understand why Stephanie wouldn't want to do that the day after Kameron called her a bad friend. Not a safe space!
This whole conversation is a tilt-a-whirl to spoochin' nowhere and we needed Travis there.
See you at "Girls and Gays" next week. (Ugh, did we learn nothing from Nene Leakes' "Girls and Gays Never Forget All White Party Seafood Soiree?")