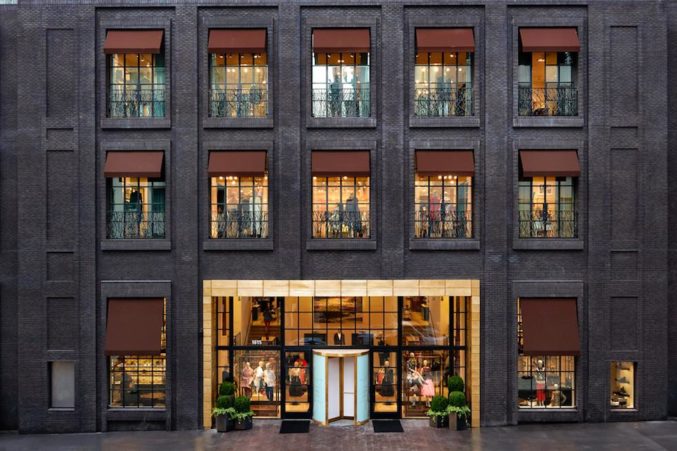 Cult Danish brand Ganni is coming to Dallas this weekend. Founded by Ditte and Nicolaj Reffstrup, the cool girl brand is known for their irreverent approach to Nordic style. Think thick knits, green tiger print, and a uniquely Scandinavian take on cowboy boots. The brand departed on their Ticket to Ride tour, a cross country road trip from New York to Los Angeles, September 30th, with plans to arrive in California on October 18th. "I love the romanticism of road tripping; driving towards wide open vistas and dramatic desert sunsets. On this tour, we're exploring both the familiar and the unknown en route to our next adventure – growing our community of U.S. #GanniGirls," Creative Director Ditte Reffstrup said on Instagram.
After a brief stop in Austin, you can expect to find Ganni's brightly stickered airstream downtown at the "Eye" outside Forty Five Ten from 12pm – 6pm today, and tomorrow at Forty Five Ten's Highland Park Village location from 10am – 6pm. So far, the tour has included stops in Nashville (for karaoke) and New Orleans (for ghost hunting), with a brief segue at Dollywood. Along for the ride is a string of influencers, including Lebanese filmmaker Pam Nasr, Teen Vogue beauty editor Michelle Li, model Shereen Mohammad, photographer Sandra Diola, and holistic nutritionist and painter Bianca Valle, all acting as brand ambassadors. Both Ganni and their #GanniGirls have been chronicling the journey via Instagram, so if you can't make it out Friday or Saturday, you can follow along via the #GanniTicketToRide. Ganni Girls aside, the airstream will be packed to the brim with exclusive tour merch available for purchase.
Sunday the tour will continue on its way west to Marfa, Texas.