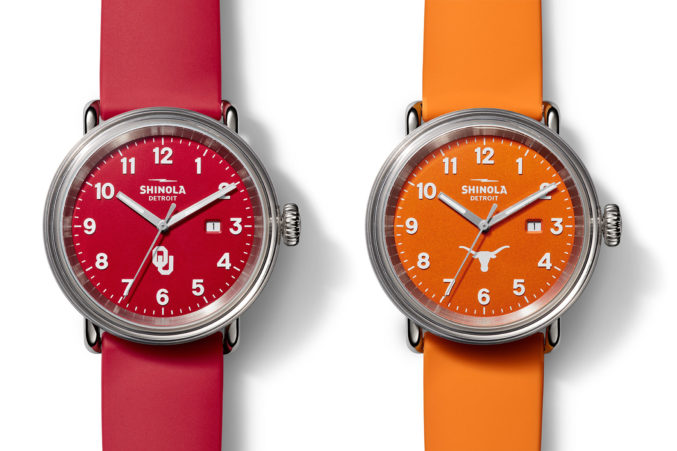 Where to Find Unique Game Day Accessories in Dallas
No need to sacrifice style for sports.
This month, Neiman Marcus and Texas-based Shinola teamed up for a limited-edition watch collection inspired by the rivalry between University of Texas and the University of Oklahoma. They Detrola style is modern, unisex, and understated—apart from the bold crimson and burnt orange of it all. And given that there are only 250 in existence (available at Neiman Marcus' flagship downtown, as well as NorthPark, San Antonio, Austin, Houston, and Fort Worth), the watch is a bit of a collector's item.
It's also a stylish, simple way to show your spirit. You could truly wear any outfit your heart desired and get away with it because of this small but aesthetically authoritative timepiece. No one can say you don't have school spirit. No one can pressure you into buying a burnt orange dress if that's not your color.
Here, we've rounded up a few other local finds to help you feel chic through football season and beyond.
To be honest, there's nothing inherently Dallas about this bag (although you can find them at Nordstrom in NorthPark Center), but it is a super chic way to navigate most stadiums' clear bag policy.
View this post on Instagram
Lele Sadoughi Headbands
The Dallas native, whose knotted, studded headbands are the face of the Great Headband Resurgence of 2019, is debuting a Cowboys-inspired headband with Forty Five Ten featuring silvers stars. (She'll also be popping up at the Highland Park Village location for a personal appearance this Saturday from noon to 2pm.) But truly, Lele's popular accessory (available locally at Forty Five Ten, Neiman Marcus, Tootsies, Studio Sebastian, and Nordstrom) comes in enough shades to express spirit for almost any team.
Miron Crosby Boots
With these boots, made in West Texas and found at Miron Crosby's studio in Highland Park Village, burnt orange could be anybody's color.
Flea Style's Game Day Collection
To celebrate the upcoming opening of a new store (and restaurant!) at The Star, Flea Style is launching an entire collection devoted to custom sports apparel, which are currently hitting the floor at their original Deep Ellum boutique.