Lawyer Ginger Appleberry's story is a familiar one: a busy, working mother had a hard time finding the studio of her dreams, so she decided to create her own. "I was in the best shape of my life when I went with my sister to a Lagree class. I was one of those people who bounced around to various fitness boutiques in the city, but I quickly saw the change it made to my body," Appleberry says. "Nothing else had done that."
And while it's not necessarily the natural progression to go from Lagree fan to opening a studio of your own, Appleberry was determined to create a space that could offer everyone a similar aha moment. Opening this September in University Park (in the newly built space above Baldo's along Hillcrest), Tight will feature the city's first M3X Megaformers, an elevated space (a lighting designer ensured there are no unflattering fluorescents), and late-night weekdays classes for those whose schedule doesn't adhere to 9-to-5.
I caught up with Appleberry last week to discuss the Dallas-based studio. Tight will open to the public on September 1, with a sneak peek of classes from August 26 to 30, and presale packages available now.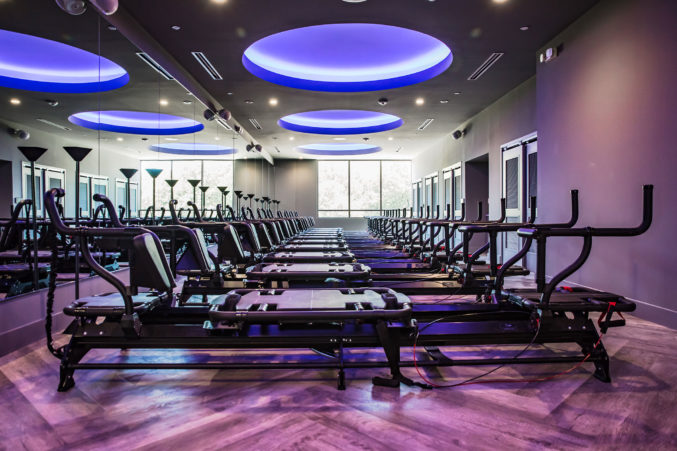 Those M3x Megaformers look insane. What went into the decision to go with those?
When I decided to do this, I thought, well why not go for the best? I think one of the biggest obstacles is going to be the fact that they look really scary.
The reason I really like these machines, though, is that they offer a very individual workout. They redid all the handlebars and accoutrements to the machine, so you really feel like you're in your own little space. It was important to me that everyone who walks in, no matter what their fitness level is, still leaves feeling like they had a great workout. I never want someone to feel like Lagree isn't for them because they're not as skinny as that 20-year-old or as cut as the guy in the front.
I love that Tight will offer late-night classes, and even evening workouts on the weekends. Why was that important to you?
It was so important to me because I have one of those schedules. One of our instructors is a nurse actually, and she came to us because she was like, Oh I'm so excited about your hours. We're catering to a whole different group that hasn't been catered to before.
Lagree is no joke. How do you make sure everyone is doing it right and doing it safely?
We only have 10 spots for class. We want instructors to be able to see everyone.
Another thing we focused on in training is making sure that instructors communicate to everyone how they should be feeling. It's hard to tell if you're doing something right because right and wrong can look the same visually. If you're clued in to the fact that you might not be doing something right, they can help you.
People tend to bounce around in boutique fitness. Do you feel like Tight could be someone's only gym?
I've seen people coming out of Pilates class getting ready to go on a run, and I was like, there has to be a better way to do this. I think we've got to the point that the workout [at Tight] is so difficult that you probably couldn't work out afterward.
With the M3X machines, it decreases your transition time, which is good because your heart rate stays up longer, but at the same time, you don't really get a break.
Now that you're so close to opening, can you talk about the studio aesthetic?
I spent a lot of time and energy on the studio itself. I think our Dallas is showing a little with the décor. We were definitely going for a more glamorous feel.
One of things that was really important to me is that I didn't like the way I looked under the fluorescent lighting in some studios. So I worked with the lighting designer who actually did Reunion Tower. He designed lighting especially for us. We have a whole lighting system that instructors can incorporate with the music. I very much wanted Tight to be a place where people felt comfortable and confident looking in the mirror, because then you're going to have a better workout.
Get the AtHome Newsletter
Enjoy Dallas' best trends, hot properties, and tips from local designers to help you nest in style delivered weekly.