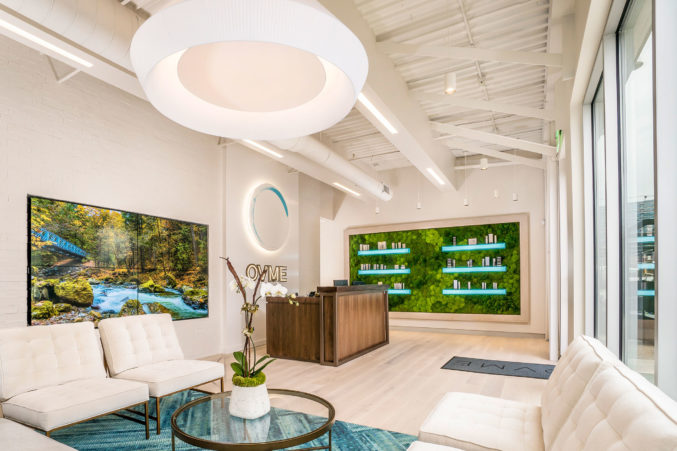 OVME Brings Its Streamlined Aesthetics to Dallas
The luxe Atlanta import, offering microneedling and same-day Botox, opens in Oak Lawn today.
Following a successful run in Atlanta and Nashville, Dr. Mark McKenna set his sights on Dallas for the third location of OVME (pronounced "of me"), a modern medspa hoping to become a bit of a disruptor in the fast-growing medical aesthetics industry.
After selling his last practice to Lifetime Fitness in 2015, McKenna spent more than a year and a half perfecting his concept for an aesthetics experience that truly caters to the client. The first OVME opened in Atlanta in the spring of 2018, offering an aesthetically pleasing space for medical aesthetics. Technology is used to from the consultation process to studio arrival and appointment follow up. "We were really able to dive deep into studio design, consumer journey, and product and service mix," McKenna says. "We really got in the weeds with every detail, down to how it smells in the studio."
Clients have apparently been responding. According to McKenna, the original studio in Atlanta's Buckhead neighborhood is often booked to capacity, and Nashville's OVME is performing similarly. (We can't yet vouch for Dallas' barely-opened OVME, but the previous locations' Google reviews are solid.) "The industry is growing so quickly. There's a lot of opportunity to disrupt a stale landscape," McKenna says. "We're really trying to reinvent that mold and make it more about the consumer. Empowering, educating, and being transparent with them."
A membership looks like it will be the easiest way to gain that power. There are two options: Access ($50 a month) and Elite ($99 a month). Both include same-day Botox appointments ($11 units of the neurotoxin are reduced to $9 for members) and a complimentary weekly B12 shot. Elite members also receive a free monthly peel and facial. In addition to Botox, Dysport, and dermal fillers, OVME's services also include Halo laser resurfacing, microneedling, BroadBand Light therapy, and IV hydration, offering more reasons to incorporate OVME into a beauty and wellness routine.
Of course, it all comes down to trust when it comes to injectables. "We spent eight months staffing this location," says McKenna. "We only hire the best of the best. I think, ultimately, you'll feel it when you come in."