Calling all creatives: this Saturday, the Mosaic Makers Collective will be kicking off an intimate educational series called "Retail Ready" with limited spots available.
Founded in 2018 by Katy Sensenig Schilthuis, the Bishop Arts District shop is home to many handmade, female-designed goods designed for the Dallas community. The store's classes will be formatted to help local makers, small business owners, and product-based businesses develop a better understanding of their personal brand and how to sell it.
"We have all built our businesses from the ground up," Schilthuis says. "We started from scratch, and we didn't know exactly how to do things. We have all talked over time about how we wish we could have had a resource to help us get started. So, we wanted to bring that to the public."
With only eight spots available for each session, the intimate discussion will center around techniques needed to sell products professionally, led by the makers whose works stock the shelves of Mosaic Makers Collective. "We wanted to keep this small so everyone had the chance to be noticed and really helped along the way," Schilthuis says.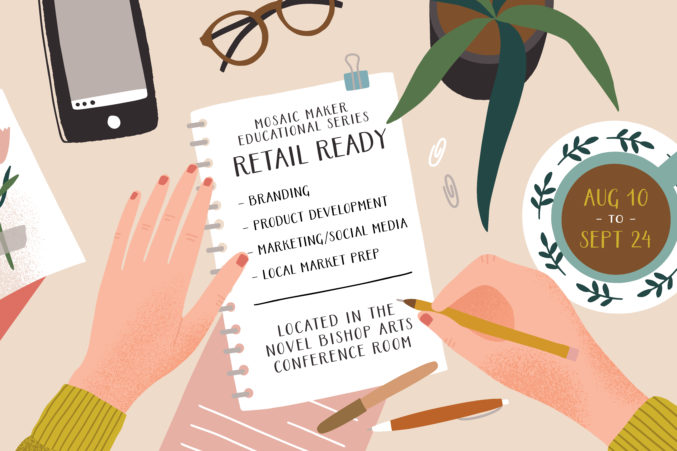 The makers leading these sessions specialize in their own art. There's Onderkast Studio, a letterpress and design studio here in Dallas, which plans to educate on "Branding," while "Product Development" will be taught by Etsy shop owner, I Latina Creative. Schilthuis also runs her own paper and gift company, Fresh Out of Ink, and will be hosting the "Marketing + Social Media" session. The Boho Market is giving away their secrets during the last session over "Local Market Prep." The makers are already considering repeating the series next spring, and brainstorming of ways to build off of the series.
"We are really excited to do this for people," says Schilthuis. "There are not a lot of maker 101 classes out there, and the fact that we can offer this and help other people grow is just as exciting for every one of us who are teaching."
Click here for details on tickets, available online now. The series begins this weekend and will finish on September 21 with all classes beginning at 11am. Attendees can expect their Saturday mornings to be filled with learning, but also coffee, snacks, and personalized instruction.