Dallas Can Now Use Getaway to Unplug and Escape
Their tiny, Wi-Fi-free cabins just landed outside the city.  
I'm not sure how I missed the memo on Getaway, the tiny house rental startup founded by two Harvard Business School grads. The founders were featured on Shark Tank, where they walked away from $500,000. Getaway's initial fleet of cabins, located outside New York City, Boston, and Washington, DC, have garnered more than a handful of write-ups. But what I'm most thrown by is that none of these minimalistic square gems made their way to my Instagram feed. I would have noticed! I would have followed. And I probably would have been deeply disappointed to find out that none are located by Dallas.
Until this month, when bookings officially opened for Getaway's newly constructed Dallas cabins in the Piney Woods (about an hour-and-a-half drive from the city). The wellness-focused retreat was created to help city dwellers get back to nature and unplug—literally. All cabins are Wi-Fi-less (you have to Instagram them later) and promote the Dutch concept of Niksen (aka "doing nothing"). Amenities include customized guidebooks (for hikes and such), board games, card decks, books, and everything you need to build a campfire. A fully-functioning kitchen is stocked with pots, pans, and provisions (including pasta and Swedish Fish) for purchase.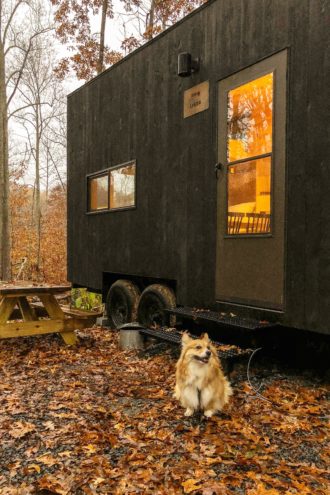 The first available Dallas bookings begin in October, which is when Getaway's popularity apparently begins to ramp up. A quick mental escape during the holiday season (currently ranging from $99 to $199 a night) sounds like an excellent gift to yourself.