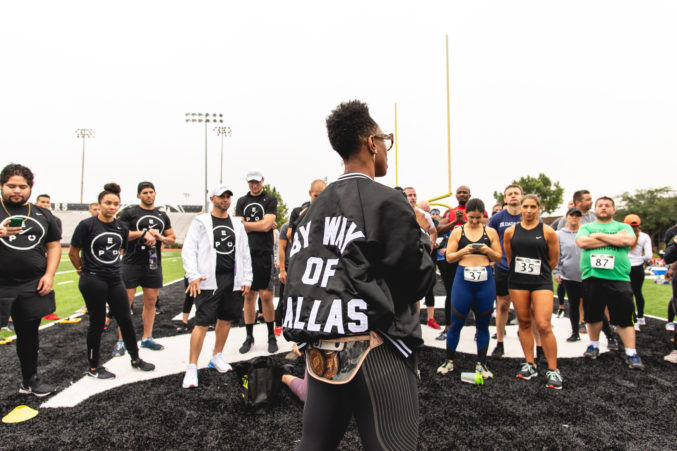 What to Expect at the Everyday People Combine
The annual event, modeled after the NFL Combine (but doable), brings together our fitness scene's most passionate trainers, and will be bigger than ever this year.
Have you ever finished a Barry's Bootcamp class and felt, even if just for a moment, like an Olympic athlete? Maybe you wrapped up a strength training sesh at Class Studios one day and thought, Yeah, I could probably crush a triathlon. But then, life gets busy, you miss a few classes, and the feeling fades.
"When you switch from sports to just working out, there's no real destination," says Crystal Pollard, a local fitness veteran and personal trainer. "Just 'getting into shape' isn't definitive enough—you see a lot of peaks and valleys in terms of motivation." So Pollard decided to create an event to help the sneaker set stay motivated throughout the year—one that wasn't crazy intimidating.
"You don't need to spend hours training like you would for a marathon. It doesn't have to be CrossFit, and you don't have to feel like you need to be a freak of nature to do it," Pollard says. She led the first Everyday People Combine in 2017 at Bishop Lynch High School.
This year, the event, which counts Nike as a partner, is bringing its 40-yard dash and power ball toss to The Star in Frisco. We spoke with Pollard for what you need to know before the September 28 event.
What to Expect When You Arrive
So, you check in, there will be an athlete's village, and we'll have a group warmup where a coach leads the entire crew. After that, you can break off and do any additional type of warmup you need. Then we bring it in for a huddle—there's a lot of rap and a lot of hip hop. We get everybody pumped up, and then we start the event.
The events are similar to what you would do in a combine, like the NFL combine, but the scoring is more like a decathlon. You get points in each event, and you roll them all up for a total at the end. There are top performers, but not necessarily winners. People will want to know their score so they have something to compare it to next year.
Who is the Everyday People Combine For?
If you love high intensity interval training, this event is made for you. Ultimately, it's a way for fitness lovers to identify the areas they need to work on, and continue to test their growth for years to come.
Who are the Coaches?
Pollard tapped several trainers she's gotten to know during her 15-plus years coaching in Dallas, but she also took recommendations. The focus was on trainers who are truly invested in the growth of their clients and building communities.
"Sharif Abboud with Evolve is a big one. He's awesome," Pollard says. "There's a guy named Isaiah Stanback who probably doesn't get as much love because he works out in Las Colinas, but he's a Super Bowl champion and just an incredible human being." 
Will it Ever Be More Than Once a Year?
"My goal is to really build this in Dallas. When you get big brands involved, they always want to pull things out of Dallas," Pollard says. "Ultimately what I'd love to do is have these combines in different markets all over the country, and then pull together some huge event that's not just movement, but live music. We'll just make it a whole vibe."
Head here for more information and to register for the Everyday People Combine.