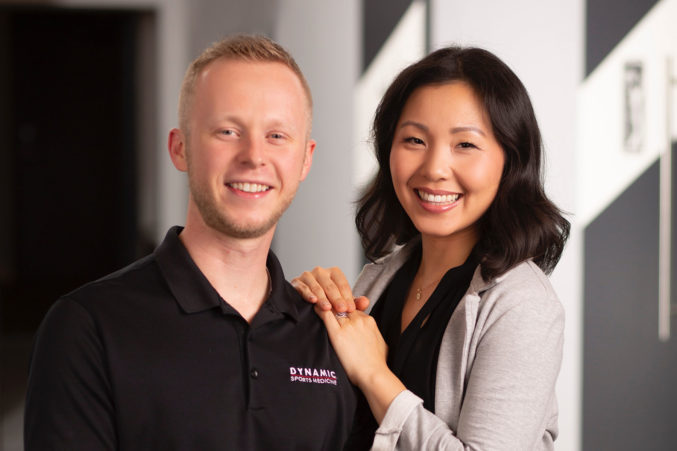 Dynamic Sports Medicine Isn't Just for Athletes
You can even book time with the doctors on ClassPass.
Dynamic Sports Medicine, situated summer in one of North Dallas' homogenous strip centers, is pretty unassuming from the curb. Inside, however, you'll find some of the best recovery equipment on the market, a pro golfer in need of spinal decompression (depending on the time, of course, but it's always likely), and Dr. Brian and Dr. Jinna Mann, a couple hoping to bridge the gap between chiropractic and Western medicine.
"I feel like we're a lot more approachable than a typical chiropractic office," says Jinna, who worked in a prenatal pediatric clinic before opening Dynamic Sports Medicine last year with her husband, Brian, who spent time traveling and working with PGA athletes and the U.S. Olympic team. "A lot of people don't want to be adjusted, which is fine. There are a ton of other things we can do to help."
For those who'd like to opt out of the controlled force of a chiropractic adjustment (which Dynamic also offers), there's also acoustic compression therapy (a deep tissue massage that replaces hands with undetectable sound waves), CBD-infused massages, and pulsed energy technology (PEMF), described by Jinna as a "battery charger for your cells." "All of our equipment is super high end—each piece is over $20,000," says Jinna. "We want to give all our patients access to the same equipment pro athletes get."
Dynamic recently earned more approachability points by becoming the first local healthcare facility on ClassPass. "We're a doctor's office, we take insurance. But because we have certain services that aren't billable, and we're boutique recovery, we feel like we fit with ClassPass," says Jinna. Dynamic also partners with boutique gyms like Flywheel, Rise Nation, and One Lagree for the occasional pop-up recovery.
And though they regularly get referrals from surgeons, and see athletes of all kinds,, the convenience of ClassPass may also encourage the more casual fitness enthusiasts to incorporate Dynamic into their routine. "We're here to support you on your journey, and help you level up in your fitness and health," says Jinna. "We want to make you make you feel better."