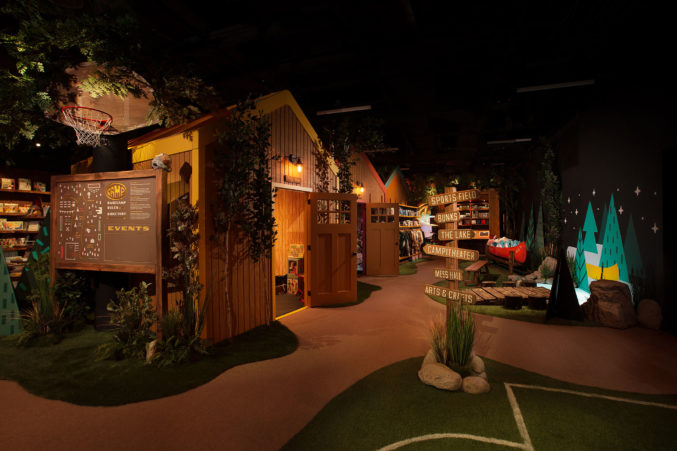 What You Need to Know About Camp's Immersive Retail
After a successful debut in New York City, Camp is bringing its experiential, family-focused stores and "magic door" to Dallas.
Camp, a family-focused "experience store," really took off when it debuted in New York City's Flatiron District last December. It's not hard to see why: it's the stuff of dreams for both kids and parents. There are story hours, theater performances, and hands-on crafts. There's the nostalgia trip of the Canteen, a thoughtfully merchandised gift and book shop designed to evoke a small-town general store. There's a "magic door" built into the millwork that leads beyond the front-of-shop retail into an interactive and ever-changing themed experience. (In New York, the current theme is "Cooking Camp," and includes activities such as "DIY Pizza" and "Marshmallow Monster Paintings.")
This October, Camp is coming to Dallas, taking over 13,000 square feet in The Hill Shopping Center for its second location. "We've been spending the last eight months or so looking at locations across the country," says Tiffany Markofsky, Camp's chief marketing officer. "Dallas stood out in our mind as the right place. We're really excited to come to the market and draw from all the really wonderful neighborhoods."
We spoke with Markofsky to learn a bit more about what to expect when Camp opens this fall.
What's the Origin of Camp?
Founded by Ben Kaufman, chief commerce officer at BuzzFeed, and his wife Nikki, Camp is a modern take on the toy store, giving parents and kids a reason to shop brick-and-mortar. "I think part of it was all of us becoming parents ourselves in the last few years," says Markofsky. "Our personal experience in the city was constantly struggling to find places to take our kids where there's something for everyone. We really wanted to blend play and product in a special way."
How Does the Magic Door Work?
"Built into one of the millworks is a wall that pivots. When kids press the magic door, they're transported into this amazing interactive experience. It's a really special moment for kids and parents," says Markofsky. "There's a themed experience behind the door that will change every few months."
What Theme Will Dallas Open With?
The Hill Center location will kick things off with Base Camp, the original theme for the New York flagship. "There are tons of trees, cabins, and a little dock. It's all sort of play and make believe, but there are very theatrical sets inside," says Markofsky. "There's also a disco cabin that's lined with sequins where kids can write their name."
Keeping Things Local
Shoppers enter Camp through the Canteen. In New York, Milk Bar is currently serving up sundaes, though Dallas will have its own spin on the space. "It's going to feel like a retro soda fountain, with some amazing, exclusive flavors. We're going to do something really fun in the Dallas location and partner with local businesses," says Markofsky. "For example, we'll feature the known singalong guy, or the known musician, or the known bakery and do a cupcake decorating class with them."
What Type of Merchandise To Expect
"You can find a handful of the kinds of things you might find at a Toys 'R Us or Target, but we have an incredible team of buyers," says Markofsky. "We merchandise it all in this very fun, surprising way. Some of it is our own little inside joke."
Parents are also encouraged to shop for themselves. "For example, we brought in a lot of family cookbooks for Cooking Camp, and great cooking kits you can do with your kids," adds Markofsky. "But we also have some really beautiful kitchen utensils and accessories."
A Membership and Perks Are Available, But Not Required
Camp is technically free, though there are some members-only activities and perks, including guest passes, one free "date night" drop off (see below) a month, a free coffee or tea each day, and an express pass to get through the magic door when a line forms. Dallas' membership pricing will differ from New York's, though it's yet to be announced.
Camp Can Lend a Date Night Assist
"We do something called 'date night,' which is where you can drop your kids off for a few hours and go have dinner," says Markofsky. "We do a craft activity with the kids, give them pizza, and either do a story time or a screening of a show for a little wind down before parents pick them up. All of our counselors are trained in CPR and safety."