Alli Koch (known simply as Alli K to her nearly 70,000 Instagram followers) wears many hats. Her black-and-white, floral-fueled style has led her to a variety of creative endeavors, including being the go-to artist and muralist for local brands and companies such the newly opened Punch Bowl Social and Uptown Dallas Inc.
But just five years ago, after graduating from University of North Texas, Koch was having a hard time getting hired—anywhere. She'd pursued a degree in marketing, and had applied for a slew of different 9-to-5 jobs to no real avail. Today, she's authored two books, flies around the country for projects, and just this week launched a home goods line. Suffice to say, things worked out. "My art became an unintentional business," Koch says. "Growing up, I never had an of example of someone pursuing a business like this."
Koch's completed her latest install, a living mural, for Uptown Dallas Inc. last week. You can spy her newest imaginative strokes beneath the Hall Street Bridge portion of the Katy Trail, which is affiliated with the Uptown Underpass Project. "Alli was the very first artist we commissioned for project," says Anita Simmons, director of marketing and communication for Uptown Dallas Inc. "Dallas isn't necessarily known for our art scene the way New York or L.A. are, but we have superstar talent. Texas is known for its southern hospitality, and we want you to get to know the locals."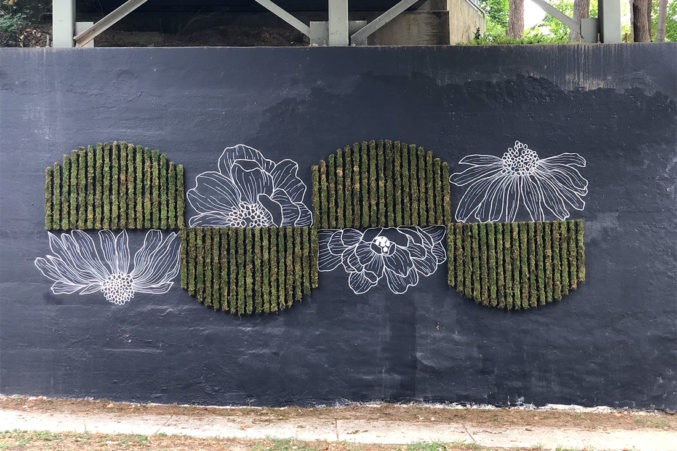 Koch credits the Uptown Underpass Project for creating a sense of community among fellow artists in Dallas. The new mural is in line true to Koch's signature black-and-white florals, but mixed with moss and wood elements—a result of a partnership with another local artist, Arrowhead Designs. "I don't want fellow artists to think of one another as competition," Koch says. "We are all creating and have different styles."
Uptown is home to a variety of Koch murals, but you can locate her nationwide works on her website, where you'll also find a newly launched collection of pillows, prints, tea towels, and more. (Her specialty-designed cheeseboards are, unfortunately, already sold out.)
Get the FrontRow Newsletter
Get a front row seat to the best shows, arts, and things to do across North Texas. Never miss a beat.