A Beginner's Guide: SculptHouse
The new Inwood Village studio has a reputation for being tough, but the workout might actually be one of the most accommodating.
Any new workout is intimidating. But one with self-powered treadmills and something called a "Megaformer" might sound particularly daunting. SculptHouse, the Atlanta transplant that combines the Lagree method with interval cardio and is fronted by a very chic boutique, opened in Inwood Village this May. And though it doesn't seem to have had any trouble filling its relatively intimate classes, I have heard from a few friends that they're "straight up scared" of SculptHouse.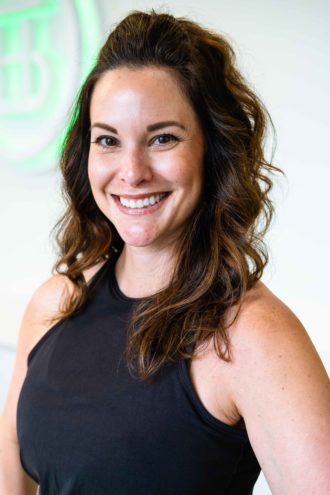 "I remember teaching at another studio and hearing about ScultpHouse and thinking, How does that even work? You're on a Megaformer and a Curve treadmill? When you switch, what happens?" says SculptHouse Dallas' lead trainer Aimee Urista. "So I totally get it."
We spoke to Urista about what to know before you head to new studio.
D: Even if you're not a first-timer, it's always helpful to get the rundown of what's going to happen on the machines during class. What time should people get to the studio?
Aimee Urista: I think 10 minutes prior to class time is a good rule of thumb. As trainers, we can see who's coming in, so we know when we have some first-timers. I normally open the doors seven minutes until class time. Because I want to have time to go through my whole spiel.
*Note: you can always shop SculptHouse's selection of high-end activewear labels while you wait for class.
D: Should you bring sticky socks and tennis shoes?
AU: Yes! We also sell sticky socks at the studio. Your first time, which is when you'll be most likely to forget them, you get 50 percent off sticky socks. 
D: Should people take a Megaformer class first before SculptHouse's signature CardioSculpt class? 
AU: If you're not familiar with Lagree, the StrengthSculpt class is great. It's just the Megaformer for 50 minutes. That's how you'll actually learn the exercises. A lot of people don't know about that class. But CardioSculpt really is a great introduction to both machines.
D: Any tips for acclimating yourself to the Woodway Curve? Is it actually harder than a typical treadmill?
AU: I have a runner's background, and I remember feeling like my form was super wonky the first time I ran on a Curve treadmill. But the more I ran on it, the more comfortable I got. My form was actually better than on your typical treadmill. It just takes a little bit. The Curve also really is harder—you're using every muscle to turn that tread over and over.
However, it's not like "dynamic mode" on a treadmill. I don't want people to think that and get scared. It's similar in that you have to move the treadmill yourself, but it's a totally different feel.
D: Do you think it's easier to start on one machine versus the other?
AU: For guys, I would absolutely tell them to start on the Megaformer. 100 percent. They sweat so much even without doing cardio first.
Personally, I like starting on the Megaformer and finishing with cardio. But if I take a 5:30am class, I want to start on the Curve first, because I want to get my blood pumping and heart rating going before I'm doing my strength exercises. It's such a personal preference though.
D: SculptHouse is much more intimate than you might think. There's a lot going on but you never feel like you couldn't get help if you needed it.
AU: I feel like, having been in fitness for a while, I really want SculptHouse to be the studio that stands out in terms of technique. Like, every trainer is a personal trainer to you when you come in. We're constantly adjusting, and looking at your form, and making sure you're working safe and effectively. If you're not in the correct form before you even start, then there's no point in even moving through the exercise.
D: What would you say to someone was truly on the fence about whether or not they could handle it?
AU: The good thing is—and this is what I love about SculptHouse—our cardio programs are based on how your body feels. So it's not like we're saying, "You need to run. You need to sprint." It's like, how does my body feel? It's so personal. Because the workout is so customizable, it appeals to a wide range of ages and fitness levels.